The crowd is alive with energy in the Prescott Valley Events Center in Prescott Valley, Arizona. The camera scans around the capacity crowd, cheering and waving while holding up signs for their favorites.
A spotlight then begins to shine and the crowd cheers as ring announcer Justin Decent steps out onto the stage. The handsome exhibitionist jogs out to the ring, slapping hands to the fans who reach out to him.
He is handed the microphone by Jason Adams as he runs up the ring steps and climbs inside of the six-sided SCW ring and walks around, pumping his fist in the air to the tune of the crowd's chants;
Crowd: "SCW!"
"SCW!"
"SCW!"
Justin then hops up onto the corner turnbuckle and smiles, looking out around at all of the fans filling the rows of seats. He drops back down and takes his place in the center of the ring and brings the microphone up to his lips.
Justin: Ladies and gentlemen, welcome to Prescott Valley, Arizona, and welcome to Sin City Wrestling and Climax Control!
The crowd cheers!
Justin: Please welcome the Hostess With the Mostess for "Climax Control" -- Miss Amanda Hugginkiss!
The crowd cheers and applauds as a spotlight shines center stage, and illuminates Amanda Hugginkiss. She is dressed in a sequined gown with long, cascading hair. The beat of the music starts, as she snaps her fingers along to it.
Amanda: Some folks like a pussy, a budgy or a tit,
Some take up with a spaniel push that fills up the house with [woof, woof]
Now I keep chickens and I've a favourite one,
He's my little cockerel and I don't know where he's gone.

Has anybody seen my cock, my big Rhode Island red,
He's mostly pink with a little bit of blue and purple on his head,
He stands straight up in the morning and he gives my wife a shock,
Has anybody seen, anybody seen, anybody, anybody seen my cock.
He's a stiff necked little up start and I've had him all my life,
He gives me pride and pleasure and a torment to my wife,
Sometimes he's magnificent and sometimes small and thin,
He puffs up like a chicken when you tickle him under his chin.
Has anybody seen my cock, my big Rhode Island red,
He's mostly pink with a little bit of blue and purple on his head,
He stands straight up in the morning and he gives my wife a shock,
Has anybody seen, anybody seen, anybody, anybody seen my cock.
His two enormous woggles hanging down, he's the best you'll ever find,
Madam you may stroke him if you like, if you feel that way inclined,
Be careful he doesn't spit in you eye though.
Has anybody seen my cock, my big Rhode Island red,
He's mostly pink with a little bit of blue and purple on his head,
He stands straight up in the morning and he gives my wife a shock,
Has anybody seen, anybody seen, anybody, anybody seen my cock.
Has anybody seen my cock, my big Rhode Island red,
He's mostly pink with a little bit of blue and purple on his head,
He stands straight up in the morning and he gives my wife a shock,
Has anybody seen, anybody seen, anybody, anybody seen my cock.
The song stops and the spotlight fades slowly as the crowd applauds and cheers, whistles and laughs at the performance.
Simone: Hello everyone and welcome to Prescott Valley, Arizona for SCW Climax Control! I am Belinda Simone!
Adams: Did you know it's against the law in Arizona to have sexual relations with a rodeo clown in an elevator on Tuesdays? I mean, I'm Jason Adams!
Simone: Who is apparently using Google for an all new level of boredom. We are bringing you seven matches tonight, including two championship matches!
Adams: And it starts when a former tag team champion returns to SCW to kick things off!
Simone: That's right. JT Midas makes his SCW in-ring return to take on everyone's favorite rock n roller in Alex Rush. It has been awhile since we last saw Midas in the ring. Can he pick up where he left off in the path to success?
Adams: Hm, I dunno. Alex just might turn Midas's dreams into fools gold. Get it? Midas? Fools gold? Huh? Huh?
Simone: I get it! I get it! Then we have a rematch of sorts from Violent Conduct III when Ryan Keys challenges Steve Ramone. Ryan made a bit of noise with the bosses, stating that the only reason why Steve won in California's Coal Miner's Glove match was because of the outside interference of Kaylee Saunders, so Ms. Saunders has been barred from ringside!
Adams: Yeah but Cyrus and Andreas are still allowed at ringside. Didn't Ryan consider them?
Simone: I'm sure he did but the big difference is, that Ryan CAN hit Cyrus and or Andreas back if they try to get involved in this match!
Adams: Ohhhh!
Simone: Then a tag team match is next, being contested under Roulette rules! Roulette Champion James Tuscini reunites with his partner, Dmitri in the Unholy Alliance, facing the recently returned tandem of Andrew Garcia and Ivan Darrell, namely Dying Breed!
Adams: Dying Breed already got a big win last week, but Tuscini and Dmitri are going to be a tougher challenge!
Simone: That they are because Ivan and Andrew are facing a reigning champion and the current top challenger for the World Heavyweight title!
Adams: Then it's our first title match of the night! Despayre makes his first defense as a two-time Internet Champion against Matt Spears!
Simone: Despayre did the unthinkable when he managed to wrest the title away from his own teammate, Rage, at Violent Conduct III. There is a whole slew of challengers now waiting to face him for the belt, and Matt Spears is just the first among them.
Adams: Then the Bombshells are in action! Two former champions going at it one on one when former two-time World Champion Sam Marlowe takes on former Roulette Champion, Veronica Taylor! Can you believe Veronica actually thinks the Roulette title should be handed back to her?
Simone: Unfortunately, I can believe it. Veronica has a superiority complex that rivals anyone else on either roster.
Adams: But she needs to stop worrying about the Roulette title for now and start worrying about Sammy Marlowe!
Simone: We are still trying to figure out just what Travis Nathaniel Andrews is thinking. Last week he came out here to speak words of seeming encouragement to the new Internet Champion Despayre, then actually hauled off and slapped the poor kid!
Adams: Yeah and now all he's been doing is congratulating him on social media and acting determined to find Despayre the proper challenger for his title.
Simone: Well "Mister TNA" has bigger things to worry about because there is someone who took exception to his striking Despayre like he did, and that is Despayre's own teammate...
Adams: You don't mean...!
Simone: I do! The Original Sin and raging lunatic in his own right, Chris Shipman will be meeting Travis inside of the ring!
Adams: Oh bloody hell! Say goodnight Gracie! Er, Tracie... er, Travis!
Simone: Then it's the Main Event for the World Bombshell Championship! Crystal Millar defends against former champion, Mercedes Vargas!
Adams: Mercedes is a thorn in the side of any Bombshell champion, as she's proven time and again she can win any and every championship made available to her!
Simone: And we understand Crystal is still trying to get out of this defense, as she is not just facing another challenger. She is facing a Grand Slam Champion!
Adams: Stop keeping me in suspense! Let's get started!
---
The camera cuts backstage to the parking lot area, where the tour bus of J2H sits in the parking lot of the Prescott Valley Events Center, his picture covering the side of it. The crowd in the arena boo as the camera switches to the inside where J2H sits along along a long sofa, his SCW World championship belt across his legs, next to him, Melody Grace sits with her head on his shoulder, laying across the other side of the L shaped sofa. Dexter the duck waddles across the floor in front of them.
J2H: I think I prefered Paris to this shit hole in the middle of Arizona.
Melody runs her hand over his chest.
Melody: It's not too bad. Lots of my Melephants here.
A cheer comes from the distance from the arena.
J2H: I just think we should have stayed in Paris, done a video link to this so I don't have to put up with the smell of Arizona. Who's idea is it to book SIN CITY, out in Arizona. A state that offers us nothing but desert and immagrants?
Melody playfully taps J2H on the chest as the crowd boo.
Melody: And my Melephants of course.
The crowd cheer in the arena, but before J2H can say anything, a tap on the door can be heard and Ms Rocky Mountains puts her head around the door.
Ms. Rocky Mountains: Hello?
Melody: Rocky!
The excitement in her voice puts a smile on Rocky's face as Melody sits up, causing J2H to roll his eyes. Rocky walks in to the tour bus, looking around with an impressed smile on her face.
Ms. Rocky Mountains: This is amazing.
Dexter: QUACK!
Rocky looks towards the duck as he waddles towards her, stopping at her feet.
Ms. Rocky Mountains: So cute.
J2H: You wouldn't call him that if you knew he's only standing there to look up your skirt.
Melody sits up straight, as J2H smirks, she calls Dexter over.
Melody: Dexter Duck! Come over here now!
Dexter turns around and waddles towards Melody. Melody reaches down and picks Dexter up, waving her finger at him.
Ms. Rocky Mountains: While I'm here, can I ask you a question J?
J2H: Make it quick and then go away. I had to be here, I had to be on the show but I don't have to leave this bus now.
Ms. Rocky Mountains: Last week, Christian Underwood told you that you will be defending your title against Dmitri at the halloween show after you said you wouldn't defend against Dmitri again, how do you feel about that?
J2H: I think Christian Underwood is over compensating for his own fuck ups! The man is clearly an awful boss that wanted to make himself the center of attention by making himself a guest ref, and when that wasn't enough, he had to have a baring on the ending, just for wanting to be center of attention. Last week, again, he had to jump in to the limelight again by running out to the ring and shouting and trying to act like he has any power here, when no one respects him. He made this match just so people could cheer him again.
J2H looks down the camera.
J2H: Wake up call Christian, no one cares about you! You couldn't run a bath let alone SCW, and I can't be the only one that's noticed since Hot Stuff stopped coming to shows, this place has gone down hill because of Christian Underwood getting himself involved in things he shouldn't. Just sit in the back and sign papers rather than being an attention whore Christian cause you're dragging SCW down by forcing me to face this loser again.
J2H looks at Rocky.
J2H: Christian is dragging us down, forcing me to face him Rocky. Everyone knows what the out come is gonna be. The only thing people are wondering about is when I beat him again, is he gonna do a Keira Fisher impression and ask for another shot? I'm past Dmitri, I'm done with his fake ass. I'm done with having to beat the same loser over and over again. I will beat him, I have no doubt about that. I will destroy him once and for all. It doesn't matter what stupid match some big titted eight hundred year old picks...
J2H looks at the camera.
J2H: We know you're gonna have that stupid fucking woman Elvira at the show again Christian, we're not fucking stupid and you are fucking predictable like that.
J2H looks back towards Rocky.
J2H: It doesn't matter what she picks out of a pumpkin, I will be defeating that fake vampire. I'm an adult, this whole childish concept of Halloween might get Christian and a bunch of children excited, but to me, I'm walking in to that show all business and I'm walking out with the SCW World championship.
Melody taps J2H on the shoulder and hands Dexter to him.
Melody: Will you have a word with your son?
J2H grinds his teeth.
J2H: He's not my son!
Melody looks at Rocky and smiles.
J2H: Now go, I got better things to do than talk to you or a duck
Rocky turns to leave and the camera fades out.
---
Justin Decent climbs into the ring and brings the microphone to his lips as the lights in the arena dim, with a single spotlight shining on the entrance ramp. The opening chords of Yelawolf's hit single, "Daylight," play and the crowd begins to buzz. On the ramp you see a man step into the spotlight. His head is down and covered with a hood, as he psyches himself up for his appearance in the ring. The tempo of the song picks up as the main verse kicks in, and the lights come back on as JT Midas looks up at the crowd around him. He smirks, slowly walking down the ramp with his focus on the ring in front of him.
Justin: The following contest is scheduled for one fall, introducing first weighing in at two hundred eleven pounds from New Orleans and now residing in Las Vegas Nevada, JT Midas!
JT reaches the foot of the ramp and bounces up and down as he pumps himself up. He quickly climbs up the steps and to the top rope as the song's chorus begins to play. Once atop the turnbuckle, he removes the hood from his head and throws his arms out at his side, taunting the crowd as they react loudly. He hops down from the top rope, bouncing up and down in the corner before making his way to the center of the ring.
Gold stars start to flash around the stage entrance as the arena lights start to drop out and a voice is heard saying "Do you wanna get rocked?" The name Alex Rush appears on the screen and the fans instantly burst in to cheers as Def Leppards "Let's Get Rocked" blasts through the speakers.
Justin: From Westminister, London, England, weighing in at two hundred and ten pounds, he is Alex Rush!
Smoke appears at the top of the ramp as a spotlight hits the entrance way to see the back of a long haired man with one hand in the air holding up the devil horns sign. He turns around to more cheers as the spotlight shines on the face of Alex Rush! A line of security as seen either side of him as the lights brighten to show fans "held back" by security at the top of the ramp. Alex is wearing black leather pants with a red stripe down either side, a white shirt with the devil horns hand sign on in a faded gray colour. Around his wrist, a multi coloured scarf is tied. He looks to the held back fans and wave a hand at them in a presidential fashion before making his way down to the ringside area. Alex steps up the steps and through the middle and top rope and in to the center of the ring, his arms in the air with the devil horns sign as gold sparks fall from the roof. Alex reaches down, removing his shirt and throws it to the crowd as his opponent watches from across the ring.
Simone: This matchup between Alex Rush and JT Midas looks to be very even on paper.
Adams: But the six sided ring is made of paper. I think that experience will play out in this match...
Simone: But whose experience?
Adams: We are about to find out because there is the bell.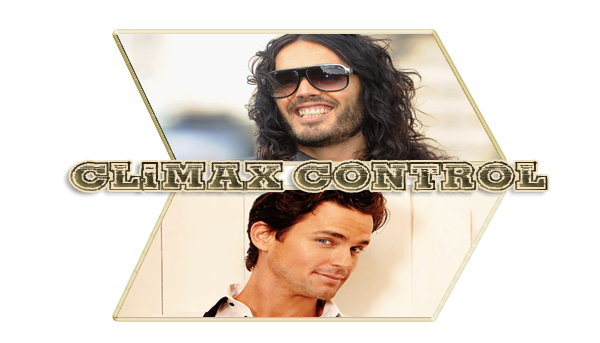 The bell rings as JT Midas and Alex Rush move to the middle of the ring. Grinning widely, Alex shoves his hand towards Midas who gives the man a look then grasps his hand and pumps it once before releasing it and backing away to begin circling a smiling Alex who points at Midas to the fans. The referee motions for the match to begin which gets a nod from Rush who puts a somewhat serious look on his face as he circles with JT Midas. The pair locks up in the middle of the ring with a collar and elbow that Alex turns into a headlock. Midas pushes Alex into the ropes and then drops as Alex bounces off the ropes and charges over Midas to bounce on the opposite side then catches Midas with a clothesline that spins him out of his boots.
Adams: What a start to the match. First being all friendly now Rush is spinning Midas out of his boots with a well-timed clothesline.
Simone: Alex Rush looks like he can't believe what just happened.
Midas slowly gets to his feet as Rush moves around the ring in celebration. Midas grabs Rush and spins him around to begin to throw rights hands into the head of Alex Rush who backs towards the ropes and covers his head trying to protect it. Midas stops for a moment which allows Alex Rush to pull his hands away from his head only to have Midas send him to the mat with a final right hand. Midas is motioned away from the downed Rush by the referee as Alex Rush reaches for the ropes and rolls out of the ring for a bit of a breather. Midas watches him as he walks along the ringside area towards the ring steps. Midas moves back as Rush climbs the stairs and slides between the ropes.
Simone: A show of respect and fairness by Midas. I like this match for the way both men are keeping it on the up and up.
Adams: Being a gentleman is good but maybe what they have to remember is that we need a winner here and oh my...
As Alex Rush turns to Midas, JT takes him down with an uppercut. Grabbing his chin, Alex looks surprised as Midas drops to his knees and catches the leg of Rush and locks in an kneebar. Alex arches in pain as he slaps the arms of Midas before turning to crawl towards the ropes that are nearby. Midas tries to keep him in the middle of the ring. Alex rolls back over and then launches a kick with his other foot that rocks Midas's head back. JT loosens up the hold on the leg and grabs at his head as Alex pulls himself the few inches toward the ropes to pull himself up. Getting to his feet, he gingerly begins to try and walk out the pain as Midas rolls to his hands and knees.
Adams: Well now, we have a wrestling match. Midas was smart taking out the leg of Alex Rush and Rush used one of those rock and roll kicks to break that kneebar was really good thinking.
Simone: True but this match is not a groupie trying to grope the Firecrotch singer, this is JT Midas working on a comeback.
Alex rushes over to Midas and quickly rolls him over and into a pin that Midas quickly kicks out of. Alex gets to his feet and pulls Midas up to his feet and uses a quick upper cut with rocks Midas back. As Midas once more faces Rush, surprises JT by reaching over and pinching his cheek then tries to clap the ears of Midas but is blocked as Midas throws up his arms. JT manages to then grab Rush by the head and pulling him downward, uses a few hard knees to wear down Rush. Alex staggers back after pushing Midas away then is taken off his feet as Midas rushes towards Alex and hits him with a backstabber. Rush grabs at the back of his neck as he rolls to the ropes. Midas rolls to his feet and moves toward Rush who holds up his hand as he puts his arm over the ropes. The referee moves between the two which allows Alex Rush to catch his breath as he rubs at the back of his head and neck.
Simone: I think this might be the opening that JT Midas needs against Alex Rush.
Midas moves around the referee who is checking on Alex Rush. Catching the rock star by the arm, Midas whips him into the ropes and catches the rebounding Rush with a drop toe hold that lays him out on the middle rope. Looking at the man on the ropes, JT looks around and then charges across the ring to bounce off the ropes and hit the "Fool's Gold" on Rush sending him skidding into the middle of the ring. Midas rushes over and grabbing Rush's leg, rolls him up for a two count. Alex manages to get his hands along the sides of Midas and breaks up the pin by tickling JT.
Simone: Is Alex Rush tickling JT Midas?
Adams: He was pinning Rush but turned out it was a ticklish situation for Midas.
Rolling away from Rush Midas shakes off the tickling as he rolls out of the ring. Leaning against the ring apron, Midas doesn't see Alex charge across the ring and bounce off the ropes and hit him with a baseball slide that sends him hard into the barricade. Alex Rush gets to his feet and pulling Midas to his feet, Rush tries to whip him into the ring post but Midas reverses it and Alex slams into the ringpost then collapses as he grabs his face. In the ring, the referee is making his ten count as Midas moves around the ring and picks up Rush to roll him back into the ring. Climbing on the apron, Midas looks over the fans then climbs the turnbuckles to launch himself onto the downed Midas with a fourfifty splash but Rush is able to avoid the contact by rolling out of the way. Midas clutches his midsection in pain.
Simone: Alex Rush just barely made it out of the way as Midas looked to end it with the It`s Lit splash.
Adams: But it doesn`t look like he will be able to capitalize on the mistake JT just made.
Alex slowly works his way to his feet as does Midas. Both men are using the ropes to help them remain upright but Alex is quicker to recover as he moves towards Midas who is laying back in the corner catching his breath. Rushing quickly across the ring, Alex launches himself with a running splash attempt that Midas evades as he drops allowing Rush to land chest first on the turnbuckle. With the air driven from his lungs, Rush collapses on his knees near Midas who rolls over enough to lock on a dragon sleeper. Alex weakly tries to fight the hold but JT locks it in harder. In desperation, Rush kicks his feet with one actually falling on the bottom rope which forces the referee to tell Midas to break the hold. Midas rolls away from the prone Alex Rush as the referee checks on him. Getting to his feet, Midas picks up Rush and uses the corner turnbuckle, hits him with a tornado DDT that lays out Rush. Getting to his feet, Midas once more climbs the turnbuckles and looking down at Rush who hasn`t moved, he launches himself from the ropes onto Alex with another four fifty splash that connects. Rolling away clutching at his own chest, Midas gets to his knees and crawling towards the downed Rush, and then grabbing both of his legs, Midas rolls him up in a pin as the referee drops to his knees and makes the three count. Rolling away, Midas works his way to his knees then feet as the referee signals for the bell and raises JT`s arm in victory.
Simone: JT Midas has beaten a very game Alex Rush in this contest.
Adams: Alex Rush gave him a run for his money for sure. Both men have no reason to be ashamed of their performance this week.
Justin: The winner of the match...JT MIDAS!!!
Midas climbs the ropes in the corner as the referee checks on Alex Rush who is slowly coming around. Rush rolls out of the ring and with the help of the referee moves towards the back giving Midas the spotlight.
---
Devil's work from Uncle Acid and the Deadbeats hits the sound system as we see Dmitri emerge from the backstage area. A spotlight shines on the vampire as the arena goes black as the number one contender for the world title slowly walks towards the ring.
Simone: There is the man that at our Halloween special will challenge once more J2H for the world title. A match that our champion did not wanted to experience
Adams: Damn right Belinda and both men have their reasons why it should or should not go on, but Dmitri got his wish by one of our bosses in Christian Underwood
A replay from last week shows the three men discussing in the ring before the owner made the final call as that infuriates the champion. After the replay is over, we see Dmitri stand in the middle of the ring, his hair is hanging loose before his eyes as he slowly lifts his microphone up to his mouth.
Dmitri: Last week was a moment of redemption, a moment of where some of you would call justice upon the one you did not wish it would be granted upon... a moment that kept our champion up at night, bathing in his own sweat as he relived that moment over and over again in his sleep.
The crowd boos as some of the fans cheer the vampire on, but Dmitri ignores them all.
Dmitri: To know that the date of October 30th of your lords year of 2016, that destruction comes upon this world... a destruction of the dead searching this planet for the living... Samhain is upon us people and you have no idea what I am intending to do upon you J2H....
Adams: I get the chills from this guy, I thought Brother Grimm was bad, but this guy is even worse!!!
Dmitri slowly runs his hand through his hair as he pushes it back
Dmitri: You see James, you showed me how much you wanted to hold on to your belt, that it made me realize that I have to do the same. And tonight I will ask you to sit down, watch me closely how I demolish the Dying Breed along with my tag team partner the Roulette Champion Mr. Tuscini.
You see James, I intend to get the job done as I already got under your skin last week. This week I will just make you understand that I don't care anymore and next week?? Well let's just say, next week I'm going to get personal James... that's right, I will do something to you that you have wished it would have happened to me several times... and then you will know that I will do anything James... ANYTHING to get that championship and wash away your sins with your own blood.
The crowd is booing the number one contender now as some even chant the name of the champion as this causes Dmitri to look around
Dmitri: Blood will flow next week James, screams will be heard and fear upon the eyes of the innocent and it will all be upon you James. You got me to lose to you?? I will make sure that you will lose it ALL!! And what better day to have it happen at the night of Samhain... the dead is coming James... the dead... is.... Coming...
With that Dmitri escapes the ring as his music hits once more
---
The scene opens up behind a closed door that has Steve Ramone's name on it indicating that it's his locker room, the cameraman goes to open it but hesitates when he hears the trademark sound of Porn Music accompanied by Kaylee moaning.
Simone: Are they seriously filming a porno backstage?!
Adams: How did they clear that with Christian? I know Steve's seg from last week had an opening that looked like a Lesbian Love Scene from one of Kaylee's pornos.........not that I'd know anything about that.........but filming a porno at a wrestling show?!
Eventually Cyrus opens the door and we see that Steve and Kaylee aren't filming a porno, instead they are watching one of Kaylee's old pornos on Steve's laptop though Kaylee is sitting in Steve's lap and is scantily clad as usual, Cyrus clears his throat and Steve looks up seeing the cameraman.
Steve: I thought I said that I didn't want to be disturbed?
Cyrus: You did but the match is starting in about ten minutes and I don't think you have the stamina to have sex with Kaylee and then compete in a wrestling match.
Kaylee: You obviously haven't had sex with Steve.
Simone: I NEED BRAIN BLEACH!
Adams: SAVE SOME FOR ME!
Cyrus: Number One: I'm not in a hurry to have sex with Steve to say the least, number two I'm pretty sure you've just traumatized everyone in the arena, number three: Who's to say that you won't *ahem* keep Steve busy so long that he misses the match?
Kaylee goes to argue Cyrus's points but pouts.
Kaylee: Damn it! And as much as I want to be at ringside for this match Christian banned me from ringside.
Steve: Don't worry! I'll beat Ryan faster than I finish at sex! In under ten seconds!
Kaylee: Err.........
Cyrus: Give him a minute.
Cyrus says with a facepalm as Steve realizes what he just said.
Steve: FORGET I SAID THAT! Tonight in this so called rematch challenge I'll kick Ryan's ass so hard he'll think that he's in one of his gay pornos and once I'm done with him I'll come back here and tap Kaylee's ass in celebration! How long do I have?
Cyrus: Three minutes......
Steve: Let's go, babe, keep the seat warm for me!
Kaylee: Will do!
Kaylee hops off of Steve's lap before he leaves with Cyrus and Andreas, she sits down in the chair and the porno music starts up again as the scene fades.
---
Justin: This match is scheduled for one fall... introducing first...from Las Vegas, Nevada... Ryan Keys...
"I'm Made of Wax, Larry, What Are You Made Of?" by A Day to Remember plays. Ryan walks in loving the reaction from the crowd, he smirks while walking to the stage, flirting with the camera. He slides through the bottom ropes and jumps to a corner turnbuckle (right), where he tears his tank top off to get ready for the match.
Justin: And his opponent... hailing from Queen, New York... Steve Ramone...
"I pledge alliegence, to the flag, of The Fearless One Steve Ramone."
"I want what's coming to me."
"So what's coming to you?"
"The world chico, and everything in it"
Following that quote the opening riff to "I Want The World.....and Everything In It" by Battle Beast hits the speakers as the lights dim and the crowd boos as "The Fearless One" Steve Ramone comes out first air guitaring to the song before he is joined by Andreas and Cyrus, the three men ignore the fans at ringside whilst they walk down to the ringside as Steve sings along to the lyrics before they reach the ringside area where Cyrus and Andreas enter the ring first followed by Steve, they pose for the crowd before they turn to Ryan Keys.
Ramone, Cyrus and Andreas all step forward and all begin to trash talk Keys, but Keys screams back at them, as he gets a little closer, however, the ref quickly interferes and splits them apart and orders Cyrus and Andreas from the ring. They step out of the ring, as Ramone looks down at Cyrus and Andreas, while Keys backs away and waves at Cyrus and Andreas mocking them. Ramone turns his attention back to Keys and beckons him over before continuing his verbal assault on Keys, as Keys this time says nothing but just stares a hole through Ramone. Ramone raises one hand up but surprises Keys with a slap across the face.
Simone: I don't how Kaylee is banned from ringside but Cyrus and Andreas aren't.
Adams: Stupid little loopholes.
Simone: little loopholes... it's a massive *beep* up.
Ding...
Ding...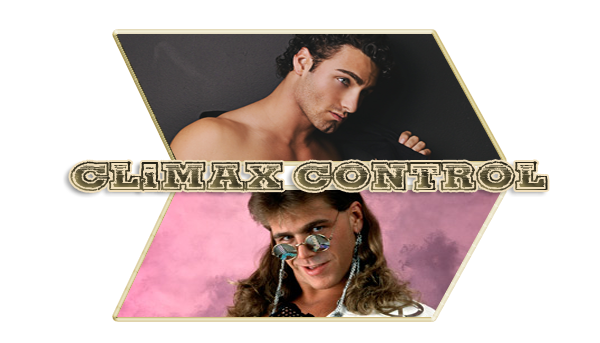 With that slap the ref indicates for the bell to be rung, as Keys goes for a swing but Ramone ducks, as Keys goes for a few more times but Ramone ducks them and catches Keys with two quick jabs and then a chop to the chest, which brings Keys down to a knee. Keys stays there for a moment as he looks up at Ramone., which Ramone smirks and raises his arms up to brag.
Adams: And we are underway with a slap to the face.
Simone: Cheap shot by Ramone more like...
Adams: Whatever it may be... Ramone using his speed earlier on as he chops Keys, who doesn't look too pleased.
Keys climbs back to his feet and watches and moves very slowly towards Ramone, which Ramone responds as he steps closer, they both then circle the ring before moving in, where Keys goes for a collar and tie lock up, but instead Ramone grabs Keys around the waist, which he quickly counters into a headlock before reversing into another before grabbing Keys wrist and twisting and bringing it up behind his back. Keys claws at his shoulder as he figures out a way to escape.
Simone: Ramone is usually flying around the ring... but tonight he is slowing things down.
Keys quickly manages to counter and it's now Ramone with his arm forced behind his back, but Ramone easily counters and grabs Keys around the neck, however, Keys goes to counter by grabbing Ramone, but Ramone goes over the top of Keys and lands on his feet, as Ramone stumbles forward Keys takes a few swings at Ramone but again Ramone has them scouted and ducks them before sending in several jabs to Keys face and hits another chop the chest of Keys.
Adams: A lot of counters here... as Ramone and Keys still try to get ahead in this match.
Simone: Ramone is a little bit ahead in this match.
Dropping to his knees, Keys looks at Ramone as Ramone throws some insults towards Keys once more. Keys shakes his head and glares at Ramone, before making his way to his feet before moving back in towards Ramone, where they lock up but only for Ramone to grab Keys arm and twists it and twists it again, putting pressure on Keys shoulder as Keys grits his teeth as Ramone then pulls at Keys and drives his shoulder into Keys not once but twice before giving it one extra twist, before pulling Keys in and getting him into a headlock.
Simone: This is very out of character for Ramone... he is usually flying around the ring.
Adams: Well Keys also uses high flying moves... maybe slow him down.
Simone: Obviously.
Ramone holds the move for a few moments before grabbing Keys arm and then taking him down to the mat with the headlock still in place. Keys begins to fight out of the move, before briefly putting his shoulder down, which the ref counts.
1...
Adams: Almost a pin... but I think Keys new what he was doing.
Keys quickly gets his shoulder up, as he continues to figure out how to escape, which he eventually rolls onto his front, which forces Ramone onto his knees with the headlock still in place, Keys continues to force his way to feet, which bring Ramone to his feet, however, Ramone takes Keys back down once more. Again Keys begins to fight as he tries to split Ramone's arms to lessen the grip, as again Keys pushes himself to his knees, forcing Ramone to his knees and then feet before climbing to his feet before pushing Ramone into the ropes.
Simone: Keys tried to escape but Ramone was back on him, but Keys is trying again and this time he looks like he is succeeding.
Ramone releases his hold as Keys pushes Ramone away. Ramone bounces off the ropes one set of ropes before coming back, Keys takes swing but Ramone ducks and bounces off the ropes again, this happens two more times until Keys stops Ramone with a vicious clothesline that stops and downs Ramone. Ramone lays on the mat staring up at the roof wondering what just happened, as Keys shakes and rubs his arm from the ferocity of the clothesline. Keys heads over to Ramone, where he grabs him by the hair and pulls him up, where he hits a few forearms smashes before grabbing Ramone's head and hits a running single hand bulldog. Keys quickly climbs to his feet and leaps onto the ropes and hits a springboard moonsault.
Adams: Here is the speed finally... and damn that clothesline.
Simone: Keys was pegged back at the start but now he has an opening and looks speed things up and get even with Ramone.
Keys goes for a cover...
1...
2...
Kickout...
Simone: Good try.
Keys shakes his head before grabbing Ramone by the hair and pulling up into a seated position, Keys quickly stands to his feet, where he delivers a hard kick to the spine of Ramone before driving a knee into his back. Keys then grabs Ramone around the chin and pulls back. Ramone grimaces in pain as he tries to break the hold, but Keys responds by letting go of Ramone chin and delivering several hard forearms smashes to the side of his head and chest. Keys then wraps Ramone up in rear naked choke.
Adams: So much for speeding this match up... straight back to ground work.
Simone: Unfortunately, Keys is an accomplished technical wrestler.
Straight away Ramone begins to fight as much as he can, as he grabs at Keys arms trying to break the hold but with little success and begins to fade. The ref moves in and checks on Ramone, where he takes Ramone's arm and lifts it up once and it drops. He doesn't it again and it drops for the second time and he lifts it up one more time and it half drops, as Ramone begins to elbow Keys knee, which loosens Keys grip by a small fraction and he does it again over and over until Keys releases the hold.
Simone: Ramone is beginning to fade.
Adams: The ref doing the usual checks, but Ramone's hand doesn't go down for the third time.
Simone: And Ramone begins to fight out of it.
Keys rolls away holding his knee, as Ramone lays on the mat catch his breath, as Cyrus and Andreas scream and shout at Ramone to get up and move. Keys gets to ropes and pulls himself up to his feet, where he flexes his knee a few times before heading over to Ramone, where he grabs him and pulls him to his feet and pushes him into the turnbuckle, where he delivers a couple of chops to the chest, before pulling him out of the corner and goes to whip into the opposition turnbuckle but Ramone counters sending Keys into and as Keys steps out Ramone hits a dropkick to Keys, while sends Keys into the turnbuckle.
Adams: Keys quickly gets back into this match, as he tries to continue his assault.
Simone: Unfortunately, Ramone has it scouted and hits a dropkick.
Ramone follows up the dropkick with a splash into the corner, Ramone steps back and throws Keys out of the corner, which Keys falls to the mat. Ramone follows up with a shooting star press and then goes for a pin...
Simone: Ramone now showing off his aerial skill here.
Adams: Pin...
1...
2...
2.5...
Kickout...
Adams: Keys barely kicks out.
Ramone slaps the mat, as he complains to Jasmine St. John that it was three... but she shakes her head and tells him to get on with things. Ramone glares at St John before climbing to his feet and pulls Keys to his feet, as he nods at Cyrus and Andreas.
Simone: What is he planning?
Cyrus and Andreas split from each other and separately climb onto the ring apron, as St John look at Cyrus and Andreas before making a beeline for Andreas, where he tries to get into the ring but he and Jasmine argue.
Adams: Here is the numbers game.
While the argue, Ramone holds Keys up as he invites Cyrus to hit Keys. As Cyrus goes to swing at Keys, Keys ducks and Cyrus catches Ramone, who falls to his ass, as Cyrus looks stunned as St John manages to dispatch Andreas. Cyrus slinks out of the ring still stunned that he hit Ramone.
Simone: Oops
Adams: Massive oops... might cost him the match here.
Keys tries his best to shake off the splash and shooting star press, he staggers to his feet, where he pulls Ramone up only to hit a single knee face breaker (Master Keys). Keys goes for a pin...
1...
2...
3...
Adams: And it has cost him the match and Keys pulls off an upset.
Justin: Winner of this match... Ryan Keys.
St John pulls Keys up and raising his hand in victory as he music hits over the p.a, however, the music is quickly cut short as Cyrus and Andreas slide into the ring and proceed to attack and beat down Keys. St John tries to stop the beat down, however, Ramone soon joins as the bell ring over and over.
Simone: The match is over... come on!!
---
We are taken backstage where "Stoner" Scott Oliver is interviewing James Tuscini and his Uncle-Manager Pinky del Ferrando. They appear to be standing in the hallway outside their dressing room. James is already in his wrestling attire while Pinky is dressed in one of his dark gray suits.
Scott: Tonight you take on two returning superstars, Andrew Garcia and Ivan Darrell, known as the tag team Dying Breed. How do you feel about this match knowing they are former Tag Team Champions and they just defeated the Surf Boys who are also former Tag Team Champions?
James: There's a reason both of those teams are "former" Tag Champs. I didn't see a great performance by either team at Climax Control 160. The Surf Boys were trying hard but trying and actually accomplishing something are totally different. As far as Ivan and Andrew go they got over on a weak tag team and they now feel they are the team that should challenge for the Tag Team Championship. Remember who defeated Team BJ recently. It was Unholy Alliance. We are the team destined to dethrone Team BJ and be installed at Tag Champs.
Scott: You were challenged for your Roulette Title recently by Travis Nathaniel Andrews and Steve Ramone. What do you think will happen with those two?
James: TNA ran off to chase after Despayre and the Internet Championship so I guess he got cold feet challenging me since I defeated him recently. Ramone would be a good challenge if he wasn't 0-3 against me. However if Management wants to throw Ramone or TNA at me I will take them on and defeat them as I did before.
Scott: I noticed Sandy isn't here during this interview. Where is she?
James: None of your *bleep*ing business Scott.
Scott: Okay don't get upset. What is your prediction for your match against Dying Breed tonight?
Pinky: James and Dmitri will make quick work of Dying Breed. I guess you could say that Dying Breed is a dying breed and that Unholy Alliance will move Andrew and Ivan to the "extinct" list.
Scott: Isn't that a bit of an over-the-top of a statement concerning this match?
James: Nope! Now if you will excuse us we want to get over to the entrance area so we are ready to go for our match. Just sit back and enjoy the show Scott.
James and Pinky turn and walk down the hallway toward the entrance area.
Scott: Two very confident men ready to have Unholy Alliance take on Dying Breed.
---
Backstage, Pussy Willow is standing before the SCW Roulette Wheel, along with reigning Roulette Champion, James Tuscini, and his Unholy Alliance tag team partner, Dmitri.
Pussy Willow: Fans, I am joined tonight by the Unholy Alliance, compromised of the current Roulette Champion James Tuscini and the number one challenger to the World Heavyweight title, the man known as Dmitri! In just moments they will be meeting Andrew Garcia and Ivan Darrell, Dying Breed, in a roulette rules tag team match, and it is now time to spin the wheel to see just what stipulation these four men will find themselves in for. Gentlemen?
Dmitri motions towards Tuscini, and being the champion, is given the honor of spinning the wheel as they are in his environment. Tuscini grabs the spokes of the wheel and gives it a hard spin. The camera focuses on a close up shot of the arrow as many a match stip passes by it, including;
Parking Lot Brawl...
Mud Pool...
Boiler Room...
TLC...
Steel cage...
And many more until the wheel starts to slow and comes to a stop on...
Pussy Willow: And it will be a Hardcore Rules tag team match! James, Dmitri... best of luck out there against Andrew and Ivan!
The members of the Unholy Alliance make their exits without a word, ready to kick some ass -- and possibly have some kicked as well!
---
Justin: Ladies and gentlemen! The following contest is a Hardcore Tag Team Match!
The crowd cheers!
Justin: Introducing first...!
The opening beat to Sully Erna's "Your Own Drum" start to blast through the speakers, as red and gold lights flash across the building, synchronized to the beat of the drums. The fans look confused as the lyrics kick in. Andrew lets out a roar, his arms out wide before he looks around the crowd, focused.
Justin: At a total combined weight of four hundred and seventy two pounds, the team of Andrew Garcia and Ivan Darrell -- Dying Breed!
The Orange Hulk and Ivan starts to walk towards the ring slowly, stopping halfway down the ramp and turning their heads to look at the booing crowd, their thumbs pointing down. Andrew and Ivan shakes his head slowly and turns back to face the ring, walking down towards the apron. Andrew puts his hand on the rope, and pulls himself up on to the ring apron and steps between the middle and top rope, Ivan climbs into the ring as the duo staring around at the booing fans as Andrew and Ivan raise their arms.
Justin: And their opponents...!
Mind Crawler hits the entrance way as the arena goes black and a golden spotlight hits on the entrance way as James Tuscini walks to the arena as the fans react to him. Extending their arms as the wrestler looks around and reacts to the crowd as Uncle Pinky walks behind him. The two play the crowd handing out high fives and shaking hands. They reach the ring as Dmitri emerges and the crowd goes silent for him.
Justin: At a total combined weight of five hundred and forty pounds, the team of Dmitri and the current Roulette Champion, James Tuscini -- the Unholy Alliance!
Staring down the big vampire as he walks to the ring, ignoring the fans before climbing on the apron and stepping over the ring rope. There he high fives Tuscini before focusing his attention back to their opponents in the ring.
Simone: Say what you will, but this one will not be pretty!
Adams: Forget their looks! This is going to be brutal with no rules to get in the way??
All four men are inside the ring as the bell rings.
Ding!
Ding!
Ding!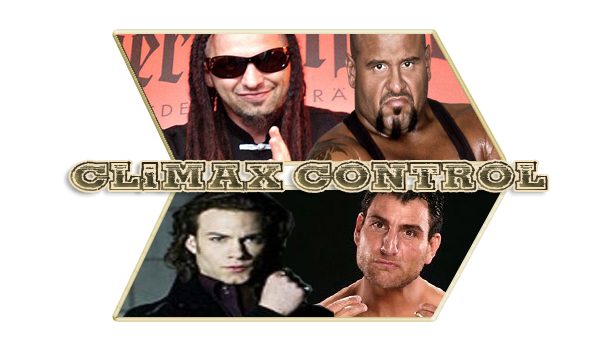 Ivan and Tuscini pair up as do Dmitri and Andrew. Dmitri gains up the upper hand over Andrew after a few right hands to the face. Dmitri steps back and clotheslines Andrew over the ropes, but Andrew grabs a hold of Dmitri and both men topple over and land crashing down outside the ring!
Adams: Not even a minute in and they're already outside of the ring! I love hardcore!
Dmitri is first up to his feet and picks up Andrew and Irish whips him into the steel guard rail. Andrew holds his back in pain as he gets up to his feet only to be met with a flurry of punches to the midsection. Andrew hunches over and is sent careening into the steel steps! Meanwhile inside the ring, Ivan Irish whips Tuscini into the ropes and lifts him up onto his shoulders in a fireman's carry, and then tosses him down to the mat with a Samoan drop!
Simone: Credit to Ivan, taking control of the Roulette Champion like he is!
Ivan comes off the ropes and dive bombs Tuscini with a fist drop right between the eyes! He covers the Champion, and Drew drops down to issue the count!
1.....
2.....
Tuscini kicks out!
Adams: You're gonna have to do more than that to beat the Roulette Champion!
Simone: Considerably more!
Tuscini gets back up to his feet and charges at Ivan, as Ivan does the same with Tuscini. They both charge in with a clothesline, but neither man falls down! Both rear their arms back and short arm clothesline the other again, and on the third attempted short-arm clothesline, Ivan gets knocked down to the mat!
Adams: Sturdy little bugger, ain't he?
Ivan lifts his upper body up as Tuscini bounces off the ropes and delivers a low big boot to Ivan's face, knocking him to his back! The champ makes the cover himself this time!
1.....
2.....
Ivan kicks out!
Tuscini drags Ivan up and then Irish whips him into the ropes, following straight into the ropes himself where he plows into Ivan with a spear that sends BOTH men tumbling through the ropes and they crash on the ringside floor, along with their tag team counterparts!
Simone: Tuscini has turned things around here on Ivan Darrell!
Ivan slowly gets back up to his feet as an equally dazed Tuscini darts across the ringside floor and leaps at his opponent but Ivan shows some strength by catching him around the waist and turning it around into a spine buster on the hard floor!
Simone: Okay, maybe not so much anymore.
After putting Andrew down, Dmitri walks a few feet forward, looking for something, before he glances downward and picks up a steel chair.
Adams: And with any hardcore match comes the steel chairs! Its like a law or something!
Dmitri brings the chair back and takes a swing at a now standing Andrew but Andrew sidesteps away and Dmitri hits the post with the chair!
Simone: he almost took his head off with that shot!
Dmitri drops the chair and shakes his hands out. While Dmitri is shaking his hands Andrew takes advantage and clotheslines him, sending him crashing back into the steps. Andrew then grabs a fist full of Dmitri's hair and begins slamming his head into the guard rail!
Adams: Dmitri may not be able to challenge J2H at this rate!
After five times Andrew lets go of Dmitri's hair and lifts him into the air and drops him chest-first on top of the guard rail! Andrew starts to throw heavy blows into Dmitri's body, but Dmitri soon fights back and begins to punch and jab at Andrew's face and chest himself! After a number of punches, Andrew ends his assault and gets knocked back. Dmitri gets up to his feet and wheels around before clobbering Andrew with a discus clothesline that knocks him back head over heels over the steel steps!
Adams: I bet Dmitri is hoping J2H is watching this match!
Simone: J2H would be a fool not to be watching this match!
Ivan lifts up Tuscini up to his feet and then hits Tuscini with an open hand chop to the throat. Tuscini holds his throat as he gets knocked backwards. Tuscini goes down on one knee as Ivan steps back and charges forward and goes for a big boot by Tuscini drops down and trips up Ivan by taking out the other leg. Ivan crashes down into some chairs, sending them scattering! Tuscini with the cover on the outside!
1.....
2.....
Ivan kicks out!
Adams: Not only is it a Hardcore match, but apparently Pins Count Anywhere too!
Tuscini gets back up on the ring apron and is about to get in the ring when he glances back and sees Ivan getting up. Tuscini jumps at Ivan as Ivan once again catches him in his arms and POWERSLAMS him on the hard floor!
Simone: Oh good god! A powerslam on the floor! There's no padding out there!
Adams: I hope Tuscini has a chiropractor on call after this!
Ivan kneels down and begins to look under the ring before pulling out a table, and tossing it into the ring! Across them outside the ring, Dmitri picks up the steel steps and sets them down. Dmitri then lifts Andrew and sets up for a piledriver! Dmitri revs up the crowd for it as Dmitri lifts up Andrew and drops with a huge piledriver right on the steel steps!
Simone: No!
Andrew's head bounces off the steel as Andrew is out cold! Dmitri is also down and after a few moments, regroups himself and looks over and sees a downed Tuscini and Ivan. Dmitri slides in the ring. Ivan sets up the table so its lying down in a corner. He then slides back outside of the ring, and rolls Tuscini inside. Ivan Irish whips Tuscini across the ring and into the opposite corner. Ivan runs at Tuscini and clotheslines Tuscini. Tuscini drops down to the mat, holding his chest as Dmitri slides under the bottom rope and begins to go after Ivan. Ivan and Dmitri then get into a brawl as punches are being thrown with neither man gaining the upper hand.
Adams: There's nothing like a good fist fight with no way to break it up!
The larger Dmitri gains the upper hand with a large right hand to the face of Ivan. Ivan stumbles back as Dmitri tries for a vertical suplex. He tries once and cant lift Ivan as Darrell blocks it with his leg. He tries again but again it is blocked. Tuscini is now back up to his feet and helps Dmitri as both men grab Ivan and send him crashing down to the mat with a big double suplex! Dmitri then bends Ivan back across his knee as Tuscini climbs to the center turnbuckle and comes flying off, crash landing into the prone Dying Breed member with an elbow drop!
Simone: They call that the Eternal Drop!
Adams: Tuscini and Dmitri showing some great teamwork.
Tuscini and Dmitri walk into the corner with the table and begin to set it up to finish this match. Ivan regroups himself and is able to get back up to his feet. He peers over and sees Dmitri and Tuscini talking as Ivan goes into a crouch and starts sprinting at both men! Before Tuscini or Dmitri can move, Ivan comes rushing at them and spears both men, sending all three of them crashing through the table!
Fans: HOLY SHIT! HOLY SHIT! HOLY SHIT!
Adams: I couldn't have said it any better myself!
Simone: But now all four men are down!
Ivan crawls over and covers Tuscini as Drew makes the count! Ivan covers Tuscini as the ref counts.
1.....
2.....
3 - NO!
Simone: Oh my god that was close! He almost beat the Roulette Champion!
At the last moment, Dmitri kicks Ivan off of Tuscini! Dmitri then grabs Ivan and sends him into the ropes! On the rebound, he catches Ivan with Shut of the Coffin! Ivan crashes down hard and Dmitri makes the cover!
1.....
A recovered Andrew is back on his feet and tries to get inside to break it up...
2.....
Too late!
3!
Ding!
Ding!
Ding!
Justin: Here are your winners! Dmitri and James Tuscini -- the Unholy Alliance!
The crowd boos as Dmitri and James exit the ring to celebrate while Andrew checks on Ivan!
---
The scene opens up backstage to the entrance of tonight's arena the sound of bustling traffic is heard and the murmur of people chatting. The cameras whirl around showing dedicated SCW fans rushing into the arena, heading off towards the merchandise stalls to pick up their favourite wrestlers gear. The cameras continue to pan around the entrance way until they hear the screams that could only come from teenage girls. Outside the main entrance of the building the Cockney King Ben Jordan could be seen as he was signing autographs for a group of fans. He had his duffle bag strung over his left shoulder so it freed his right arm up to drape it around the fans shoulders for photos. However behind Ben Jordan a tall slender but toned woman is seen dressed in a long black guess dress that pinched into her body displaying her small yet powerful curves. As the cameras pan up they see that the woman in Evie Baang causing the fans inside the arena to let off a mixed reaction. They hated her but they were glad to see that she was still alive. Ben Jordan quickly turned around to look at Evie who had her hair tied back in a high ponytail showing off her faint battle scars on her face from Violent Conduct like badges of honour. The Brit just smiled at her while Evie looked around at all the fans in disgust.
Ben: You keep looking like that and the wind will change.
Evie rolled her eyes as she took a step out from behind him, she could feel the fans eyes burning holes into her skin. As if they were questioning why Ben and her where in the same place at the same time.
Evie: Cute, real cute... now if you don't mind I'd rather skip the Cockney King Hoe Train and get to work!
The jaws dropped of the female fans that had flocked around Ben Jordan as she had just called them all out.
Ben: These lovely ladies are called dedicated fans Eves, you should really get some their the best.
The girls swoon as Ben sticks up for them but the look on Evie's face says it all she's not amused. She takes a step toward the building ready to leave this horrible picture but before she can continue she stops mid stride to look back over her shoulder to Ben and his fans.
Evie: You see fans and yet when I look upon these ladies, I see a girl who pictures you when she's all alone In the shower... a girl who has pictures of you covering her walls... a girl who would drop to her knees in front of everyone if you just said the words and a girl a good girl who wouldn't even know what to do with you but still when she is beside you... you make her feel more like a woman than she has ever felt in her entire life...
Each of the four girls where now blushing as if Evie had hit their agendas on the head and highlighted their personalities to the max.
Evie: Eighteen year olds, pathetic appalling shells of what a female should be... pretending that they know what it means to have a sexual prowess when in reality they would all just lay their like a starfish, none of them putting in any work... but yes Ben please continue to believe that you have loyal "fans" when in reality you just have a bunch of girls who have placed you on a list of who they wish they could fuck.
The salt in Evie's tone was that bitter Ben could probably taste it as he watched Evie wink sarcastically at him before turning on her heels and walking off towards the building leaving Ben to deal with the female fans that were now livid with Evie.
Ben: Ignore her, I think Alexis must have knocked a few cells out of place at Violent Conduct.
The girls all giggle but Ben's eyes stay on Evie as she makes her way towards the front door. After a few more selfies and autographs the Cockney King excuses himself and follows the line that Evie had just walked. He rushes and gets to the door before the young Australian does and he quickly opens it for her.
Ben: Ladies first...
He smirks down at Evie, who just rolls her eyes but she steps inside the arena slowly making sure she held his gaze.
Evie: Did you instantly remember that Hot Stuff put you on babysitting duties again tonight or did the reality sink in that the sure fire fiveway was going to be boring as fuck?
As Ben walked inside the arena he just shook his head, he didn't have an answer well one that he should say out loud and on camera. As Evie took off like a woman on a mission Ben followed behind her.
Ben: It's going to be a long night...
The camera than quickly pans out away from the Cockney King who has a cheeky smile plastered on his face.
---
Backstage, a most unusual sight greets us front and center with the camera picking up an extreme closeup shot of what appears to be a child's makeshift puppet theater made out of a cardboard box and colored with paints with 'curtains' made from the remnants of an old shirt. And in the front of the stage, presented to the camera, are two particularly decorated sock puppets;
One has long black hair on one side of the head with gray button eyes and colored black from the 'neck down' with a teddy bear's face painted on the front and a toy championship belt wrapped around it. The second puppet has brown button eyes, and spiked black hair, with cut-off shorts fashioned down around him -- and on the middle of this second puppets forehead was written in purple marker "Woe Is Me."
Puppet #2: Oh gosh Mister Despayre, sir! I sure am worried about my match tonight with you!
Puppet #1: You are? Why? I mean, that's right! You better be! ... But why?
Puppet #2: Because you're so big and strong and a fantastic wrestler! I just can't compete with someone like you!
Puppet #1: You're being much too hard on yourself! If you didn't deserve to be in a championship match, they never would have booked you against me in the first place.
Puppet #2: Oh sure they would! They do it all the time!
Puppet #1: Really?
Puppet #2: Sure! It's been done a lot in wrestling. The promoters book a champion against someone they know they can win against, so they go into a tougher defense down the road against a better challenger, and look better in doing so!
Puppet #1: Hm, I haven't quite thought about it like that. But I still think you have as good a chance as anybody when it comes to challenging me for the Internet title.
Puppet #2: Oh you're just saying that.
Puppet #1: I really mean it!
Puppet #2: Really?
Puppet #1: No. But it was polite of me to say so in the first place. Darn it! Why'd you have to drag the truth out of me!?
"Ahem!"
The camera pulls back and the crowd cheers as on the screen, standing before the 'puppet theater are Synn and Chris Shipman, who is also greeted with a rousing chorus of jeers and boos.
Synn: Joshua?
A moment passes along with a muttered...
"Excuse me..."
Before the top half of Despayre's head peeks over the top edge of the cardboard box, looking up at his father and his teammate in the Sins.
Despayre: Yesssss?
Synn: What exactly are you doing?
Despayre looks down and around his surroundings, then back up at the two men.
Despayre: What does it look like, silly? I'm shooting a promo for my match!
Synn: Ah.
He nods, and Shipman chimes in with a frown.
Shipman: With sock puppets?
Despayre nods.
Shipman: Wouldn't it have looked better in a toy ring with wrestling figures?
Despayre: Uh, no?
Despayre rolls his eyes.
Despayre: That would be immature!
Despayre looks to the right and there sits Angel on the director's chair.
Despayre: I know, Angel.
Despayre quickly glances at Shipman and then back at Angel and hoarse whispers...
Despayre: I know!
Shipman: Hey!
All eyes turn to Shipman and his own are glued on Angel, then at Despayre.
Shipman: What'd he say!?
But Despayre's lips are clamped shut, refusing to nark on his plush buddy -- not even to Stepmom. Synn puts a hand on Shipman's arm and steers him around.
Synn: Come on. Let's get everything ready for both your matches tonight.
Shipman: Seriously! What'd he say!?
As Synn escorts Shipman back down the hall, Despayre watches them go when Puppet #1 looks up at him.
Puppet #1: What's his problem?
Puppet #2: I think he forgot to wash the fruit off before he ate it.
Despayre: Who asked you!?
---
Justin: The following contest is for the SCW Internet Championship, introducing first, the challenger...
"Dragon Force" by Fury of the storm begins to play as Matt Spears makes his way to the ring.
Justin: From Chicago, Illinois, weighing in at two hundred and twenty five pounds, he is Matt Spears.
Matt ignores the fans as he walks towards the ring, his eyes completely focused on the task in hand.
Justin: And his opponent...
The pulsating beat of Orgy's "Opticon" begins to sound over the public address system of the arena. The fans turn their attention to the stage atop the entry ramp and their wait is soon rewarded. Accompanied by Synn, Despayre steps out onto the stage, holding his teddy bear, Angel, by the fuzzy arm in one hand, with Synn at his side and they are greeted enthusiastically with cheers.
Justin: Accompanied to the ring by Angel and Synn! From Vancouver, British Columbia, weighing 168 pounds, he is the SCW Internet champion -- Despayre!
Despayre holds his teddy bear pal up for the fans, and is rewarded with cheers and chants of "Angel!" "Angel!", and the "trio" begin their descent towards the ring.
Synn climbs up onto the ring apron and holds the ropes open for Despayre to carefully climb through, then the father figure steps inside himself. Despayre holds Angel up high over his head until Synn escorts him over to his respective corner for the start of the match.
Holly Wood is holding the Internet championship high into air as Despayre is busy conversing with Angel in the corner. Matt Spears is hopping up and down trying to psych himself up for this one chance to make history.
Adams: What is going through Despayre's mind right now?
Simone: Probably which Pokemon he should try to catch next or what game he should play with Angel.
Right as Holly reaches the championship belt through the ropes, "I Need You" begins to resonate through the sound system as a woman in a business suit and a clipboard steps out from the backstage area. The crowd seems to be split as Shawna Jennings narrows her gaze toward the ring. Despayre and Matt are wondering why this woman is out here as she walks around the ring and makes her way toward the announce desk.
Simone: Looks like we are being joined by Mr. TNA's personal assistant Shawna Jennings.
Adams: I wonder what's on her clipboard.
Despayre keeps his eyes locked onto this strange woman as she stops at her seat. She places the clipboard down in front of her while grabbing her headset. The bell actually sounds as Despayre is still not paying much attention.
DING DING DING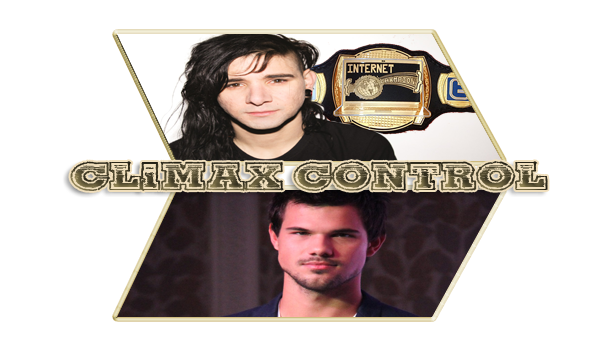 With him being distracted, Matt races up behind him and tries to pull a quick one with a roll up.
1
Despayre kicks out before the count of two as he quickly bounces back up to his feet. Spears is back up to his as he strikes with a quick knee to the sternum of Despayre, spears follows that up with a quick facelock followed by a snap suplex.
Adams: Welcome to the table Shawna.
Shawna Jennings: I am only out here to evaluate the first pick that Travis chose for Despayre.
Simone: What is that supposed to mean?
Shawna twists her head while dropping it to show a very distraught look on her face as Spears continues with the assault. After hitting the suplex, he lifts Despayre up into a seated position before slamming his shin directly into the small of his back. Despayre pulls his arms back abit while rolling over onto his side which then opens the door for a basement style dropkick from Spears, he goes for another quick cover on Despayre following the dropkick.
1
2
This time he manages to get a two count before Despayre pops the shoulder up. Spears gets into a mounted position while grabbing a hold of Despayre's head and firing rapid fire rights direct into the forehead. Each blow sounds like a shotgun going off as Matt jumps up to his feet, bounces off the ropes and comes back with a falling double axe handle perfectly placed into the chest of Despayre.
Shawna Jennings: It would appear Travis made a great choice for Despayre's first challenge.
Adams: What is Travis's obsession with Despayre?
Shawna Jennings: He is not obsessed. Travis is all about giving the idiot fans what they think they want.
The crowd is trying very hard to get Despayre back into the fight as Spears continues to drive the tip of his elbow into the pectoral region of Despayre. Matt lifts Despayre up off the ground and shoots him off towards the corner. Despayre slams his back into the corner followed by stiff corner clothesline. A loud gasp befalls the crowd as Despayre slumps in the corner. Holly is warning him to get Despayre out of the corner as Spears begins to put the boots into Despayre.
1
2
3
4
Matt eventually steps away while holding his arms high into the air. He tells Holly to back the hell up as he moves toward Despayre. Despayre catches Matt square in the jaw with a quick elbow followed by a wicked forearm shot. The blast manages to knock Spears for a loop as Despayre springs up to the top turnbuckle.
Simone: Despayre is looking to fly.
Shawna Jennings: He better do something impressive or my boss will flip.
Jason fights the urge to say a snarky comment as Despayre leaps off the top rope and flings Spears halfway across the ring with a hurricanrana. Despayre is quick to his feet as he follows the hurricanrana with a low angle clothesline. The velocity of the clothesline was enough to knock Spears down to the canvas. Despayre quickly goes for the cover.
1
2
Spears manages to kick out as Despayre begins to scratch his head. He gets back up to his feet, springs off the ropes and lands onto Spears with a lionsault. Despayre grabs at his midsection before falling back into a pinning attempt.
1
2
Spears kicks out after another long two count as Despayre looks toward Angel with both arms lifted midway into a confused look.
Simone: Despayre appears to be asking his pal Angel what to do next.
Adams: What would Angel tell Despayre?
Shawna rolls her eyes as she jots down something onto the clipboard in front if her. Despayre nods his head as if Angel told him what to do. It wasn't long before he ran the ropes and came back with a shining wizard. The crowd has finally come to life as Despayre continues to push himself. Spears is reeling as Despayre twists his arm around, lifts him up and then drops him square onto his head.
Adams: Beware The Stare, I do believe Despayre got all of it.
Simone: What a match?
Shawna reaches up to remove her headset as Despayre rolls Spears onto his back and deeply hooks both legs.
1
2
3
The bell sounds as Despayre rolls off of Spears and crawls over towards the corner.
Justin: Here is your winner and still SCW Internet Champion Desparye.
The crowd is going absolutely insane as Despayre is handed his championship belt. He is preparing to leave when "Smooth" strikes up over the speakers. The cheers turn into instant jeers as Ruby Rose steps out onto the stage.
Ruby Rose: Congratulations Desparye on another title victory.
The crowd cheers as Despayre's name is mentioned.
Ruby Rose: Travis had high hopes that Matt Spears would provide a tough challenge but he wasn't worth the rub.
More jeers begin to pour out towards Ruby Rose as Despayre is watching on from the stage.
Ruby Rose: The goal to make you the second greatest Internet champion in history. Your pal Chris Shipman will find out first hand how focused Travis is to prove a point here tonight. You morons had best keep your eyes peeled because the must see superstar will indeed steal the show. As for you Despayre, we will continue to search far and wide for the perfect challenge. Until then, enjoy your moment Despayre.
A smirk comes across Ruby's face as "Smooth" continues to play over the speakers. Despayre is looking confused as Ruby disappears behind the curtains.
---
Suddenly, Let it Go by Def Leppard begins to play over the event venue as the fans begin to call out. Stepping out on the ramp, Sam Marlowe poses before moving down along the aisle slapping at the hands of the fans who rush the aisle. Getting to the ring, she slides inside and moves to the middle of the ring as the fans continue to chant her name.
Simone: I wonder what Sam Marlowe could be out here for.
Adams: It looks like she is about to tell us.
Sam motions for the fans to quiet down before she begins to speak.
Sam Marlowe: I bet you are wondering what I am here in the ring for. Well I don`t want to keep you in suspense so I will tell you straight out, I am out here to talk about my rematch for the Bombshell title currently held by Crystal Millar.
Simone: I wouldn`t have thought that Sam Marlowe would be like everyone else demanding her shot like this.
Adams: And if that wasn`t a cue for Christian Underwood or Mark Ward to come out, I don`t know what is.
Sam waves at the fans who had begun to cheer.
Sam Marlowe: Wait a minute right there, it is not what you think. Let me explain myself. I am out here to say that I have seen what has gone on from others who have demanded things here in SCW. And I am not here to tear them down either but I sat back and watched and listened to everyone talk about me being a transitional champion and over rated and generally calling my two reigns as Bombshell champion flukes. Well, as much as they keep saying that, the thing is that I keep hearing my name on those peoples' lips.
Adams: That is true Belinda, they do tend to keep talking about Sam Marlowe but it is usually to tear her down for not having such a winning track record.
Sam looks around at everyone then smiles.
Sam Marlowe: And if I wanted to, I do have a one on one rematch for that title owed to me but I don't want it to be given to me. I want to do what the others really haven't done. I want to do what I hadn't really done either. I want to earn it. So that is what I am out here to demand.
Simone: I thought so, she is out to demand her shot just like everyone else.
Sam Marlowe: I am out here to ask for a chance to earn my way back to the title. I want to know that if I am getting the shot it is because I earned it by fighting my way back into contention. So Christian Underwood and Mark Ward, please consider this my request to challenge me to prove that I can be the Bombshell champion you want and these fans deserve.
Let it Go begins to play over the speakers once more as Sam climbs the turnbuckle and plays to the fans before jumping down and rolling out of the ring. Heading back up the ramp, Sam continues to slap the hands of the fans before stopping at the top to once more face the ring and smile for the fans.
Simone: Well now that was different. Sam Marlowe challenging the bosses to challenge her. What a concept right Jason.
Adams: It might just the something to set her apart from all the other bombshells in SCW right now.
---
"Unbreakable" by Fireflight starts to play in the sound system and a video montage of some of Alexis Edwards memorable moments appears on the screen. Seconds into the music, Alexis appears from behind the curtain, standing at the top of the ramp and throwing her hands in the air as her music plays, and the crowd now cheers her on.
Simone: Looks like Alexis is staying true to her word showing up here in Prescott Valley, but I wonder what she wants. Surely she can't be ready to get back in the ring following that brutal match against Evie just a few weeks back. I mean her scars haven't even healed yet!
Adams: You know Alexis. She's never been one to do things the smart way.
Alexis looks around the crowd and smiles before she starts making her way to the ring, high fiving and slapping hands along the way. Once to the ring she slides in under the bottom rope and jumps back to her feet. She jumps up to the second turnbuckle, throwing her hands in the air to another round of cheering from the crowd before she jumps back down as her music dies down. She takes a microphone from Justin Decent and heads to the center of the ring as the crowd quiets down, waiting for her to speak.
Adams: Maybe she's quitting for real this time.
Simone: Quiet, Jason. We're about to find out what she's here to say.
Alexis raises the microphone to speak with a slight smile on her face.
Alexis: You know, I told myself that I was going to wait to come out here in front of all of you until all my wounds had healed one hundred percent, but obviously you can tell I didn't exactly stick to my word on that. I'm healing quicker than I thought, but when you go through a match like Evie and I had a few weeks ago at Violent Conduct...well, those scars will be with me for the rest of my life!
The crowd cheers for her as she nods and keeps the smile on her face, not showing an ounce of disappointment that the match didn't end the way she had planned.
Alexis: Christian Underwood left the match stipulation in all of YOUR hands by putting up a Twitter poll to decide just how Evie and I would beat the hell out of each other and all I can say is DAMN! You guys really made a good decision. Everyone probably thought the two of us were out of our minds, but that match was exactly what we needed and honestly, I'd do it all over again if given the chance!
The crowd cheers again as Alexis lets out a laugh.
Simone: She's nuts.
Adams: Not as nuts as Evie. Evie was laughing during the match!
Alexis: And that is part of the reason why I'm out here in front of all of you people. I'm here to talk about a question that has been running through my mind the last couple of weeks that I've been recovering. A very important question....What next? After a match like that, what is my next move? Well...
Alexis stops for a minute, a saddened expression falling over her face. The crowd grows confused as she raises the microphone to continue.
Alexis: I have one ultimate goal I'd like to reach. One plan that I'm sure every Bombshell on the roster has at one point or another. One target so to speak, and I'm sure you all can figure out just what I'm getting at.
The crowd roars back to life with cheers and applause.
Alexis: The World Bombshell Championship. The very title that Crystal Millar is carrying around at this moment in time. You see, I could cash in my rematch clause for the Internet Championship and face off against Kate Steele, but that's not what I want to do. I want something more. Something....bigger.
The crowd cheers even louder, but Alexis holds up her hand.
Alexis: BUT...
Adams: Why is there always a but in these things?
Simone: I'm just as shocked as you are right now, Jason.
Alexis: I can't target the World Bombshell Championship until I prove myself, and considering I didn't exactly win against Evie Baang at Violent Conduct...Well, I need to right a wrong.
The crowd is a little quiet this time, slightly confused.
Alexis: You see, I didn't win in that match against Evie a few weeks ago. I didn't pin her. I didn't make her submit. BUT...she didn't do either to me! I never tapped out. My shoulders were never pinned to the canvas! Jasmine St. John stopped that match and declared Evie the winner, which is sort of crap in itself, but I won't go as far as J2H did and bitch and complain wanting Jasmine fired or removed from my future matches. What I am going to do is this.
Alexis turns her attention to the backstage entrance and she walks over to the ropes, leaning against them with the microphone to her mouth.
Alexis: Evie Baang...I know you're back there somewhere watching this,and that's good. Because I want you to be watching. Because right here, in front of everyone, I'm issuing you a challenge for a rematch. A rematch that will prove that I CAN beat you. I want that rematch in two weeks at the Halloween show and I want your answer by next week. You walked away after being given the win last time, Evie. Next time? You're not being given ANYTHING, girl. I'll be waiting for your response, Evie.
Alexis then tosses the microphone down and "Unbreakable" by Fireflight hits the sound system once again. She steps through the ropes and jumps down from the ring, making her way backstage, high fiving fans again.
Simone: Well, that was a bit unexpected. Alexis wants another match with Evie and she wants it at the Halloween show!
Adams: Not sure if that's smart or just plain stupid!
Simone: And we'll all be waiting for Evie's answer.
---
Simone: Last week at Climax Control Roxi Johnson announced that she was taking a maternity leave alongside Keira Fisher joining Melanie Gabrielle in the ranks of Bombshells taking time off for their kids.
Adams: Roxi will be missed but before she left she vacated the SCW Bombshell Roulette Championship which she had just won from Veronica Taylor at Violent Conduct III, Veronica wasted no time in demanding that the title be handed over to her but the bosses not only didn't listen to her but they put her in a match against former World Bombshell Champion Sam Marlowe!
Simone: And that match is next! Let's take it to Justin!
Justin: The following contest is scheduled for one fall!
"Do you really want to do this now" is heard before Def Leppard's Let's Go begins to play the image of fire begins to play against the curtain too backstage. Stepping through the curtain of fire, a woman walks out with a smile as she poses at the entrance.
Justin: Introducing from Houston Texas, she is the one and only, Sam Marlowe!
Sam raises her arms as she is introduced. Heading to the ring, she plays to the fans, slapping hands and posing with others. Finally, she climbs the stairs to the ring apron and lays herself across the middle rope and blows a kiss to the camera and then rolls inside the ring. Walking towards the corner, she unzips her short jacket and pulls it off. Handing it to ringside staff, she turns and begins stretching out for the match as she waits for her opponent.
Simone: Sam has been on something of a slump since her second World Bombshell Championship reign ended on its first defense but this could be her chance to bounce back!
Adams: Not if Veronica has her way!
Justin: And her opponent!
Turn my Swag on by Keri Hilison hits over the pa system as the lights begin to flash all over the arena, as the fans give a loud ovation of booing. As, a makeshift runway appears, and soon a red carpet is rolled on top of it. As, out from the back steps Veronica Taylor with outstretched arms as the fans boo her, before grabbing her mirror and blowing herself a kiss. After, a few moments she begins to do a model like strut on the red carpet runway as a few photographers appear to take her photos, as she poses arrogantly. She, then takes a look around her grabbing her perfume from Veronica's Secret and sprays it around to get rid of the "stench" in the arena.
Justin: From West Palm Beach, Florida, Veronica Taylor!
Veronica then stands at the end of the entrance ramp, doing some more poses. Before, raising her arms in the air as the fans fill the air with more boos. Before, she mouths to the camera "So damn first class baby", before blowing a kiss to the camera. As, she then moves to the ring apron, yelling at the referee to lower the ropes for her, which he does as Veronica enters under the bottom rope. As, she then stands in the center of the ring raising her arms in the air, before lowering them slowly. Then, she grabs out her perfume and sprays it all around killing the stench in the ring. As, Veronica then takes off her diamond necklace and hangs it on the corner, as she grabs her compact mirror and makes sure her makeup is done flawlessly. As she fluffs her hair, and blows herself a kiss.
Simone: Say what you will about Veronica but you can't deny the championship pedigree in this match!
Adams: Well you can once you remember that Veronica only won the Roulette Championship due to outside interference and that she tried everything she could to get out of her title defense against Twisted Sister.
Jacob calls the two women to the middle of the ring to explain the rules to them, however he doesn't even get a word in before Veronica slaps the taste out of Sam's mouth and once the surprise wears off Sam retaliates by firing some forearms into Veronica's face prompting Jacob to call for the bell.
DING DING DING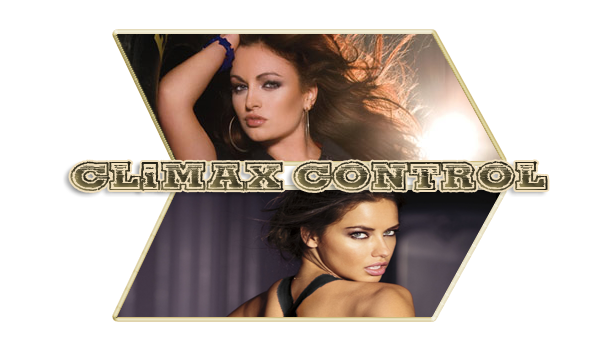 Simone: As if it wasn't obvious enough already but it's clear that Veronica has a chip on her shoulder because the bosses didn't listen to her.
Adams: Maybe she should form a club with the Metal and Punk Connection? Wait, no, Jessie would be to tempted to strangle Veronica, forget what I said.
By the time Jacob turns around Veronica has started fighting back thus starting a brawl with Sam as the two women go at it in the middle of the ring, eventually Sam is able to back Veronica up to the ring ropes and clothesline her to the floor knocking the Supermodel through a loop in the process, it quickly becomes clear that Sam isn't at all interested in giving Veronica any kind of respite because as soon as Veronica gets back to her feet Sam greets her with a Suicide Dive through the ropes!
Simone: I don't think Veronica was expecting Sam to be this aggressive.
Adams: To be fair Veronica did open up the match by slapping Sam, I felt that slap all the way over here!
Jacob starts his count anew as the two Bombshells regain their bearings on the outside but by the time Jacob's count reaches five Sam is the first one to get to her feet and she drags Veronica up with her before rolling her back into the ring and following her in to break Jacob's count, Sam goes for the first cover of the match 1......2........and Veronica kicks out, Sam goes to pick up Veronica for a follow up attack but Veronica meets her with a Jawbreaker stunning Sam long enough for Veronica to back up to the nearest corner where, whilst Jacob checks on Sam, she removes the padding for the middle turnbuckle and when Sam moves in to continue her attack Veronica grabs her by her hair and throws her face first into the middle turnbuckle!
Simone: Can't really say that I'm surprised by Veronica's tactics here, she's no stranger to using underhanded tactics.
Adams: And the award for biggest understatement of the year goes too......
Sam slumps down to the mat and whilst Jacob checks on her Veronica quickly puts the padding back on the middle turnbuckle to hide any evidence of her cheating before going for a cover on Sam 1......2....... Veronica puts her feet on the ropes for good measure.........but this time Jacob catches her in the act and stops his count! Veronica gets up and gets in Jacob's face.
Veronica: I WAS STRETCHING MY LEGS!
Jacob: If that's true then I'm Santa Claus!
Veronica shakes her head before dragging Sam away from the ring ropes and going for another pin-attempt 1.........2.........and Sam kicks out! Veronica shoots a nasty glare at Jacob but Jacob stands his ground and maintains that his count was fair, Veronica growls in annoyance only to be surprised by a roll-up from Sam 1.......2.......and Veronica kicks out! Veronica once again backs up to the bottom turnbuckle hoping to regain the advantage the same way she did earlier but Sam is wise to her tactics and hits Veronica with a running knee to the face!
Simone: Veronica went to that well one to many times and now she's paying the price!
Adams: With interest!
Sam doesn't let up as she follows up the knee by running to the opposite ropes and hitting Veronica with a hesitation dropkick! Sam drags Veronica out of the corner and goes for the cover 1......2......and Veronica kicks out! Sam goes to follow it up but Veronica hits her with a jawbreaker before rolling out of the ring and hopping over the barricade separating the fans from the ringside area apparently having had enough of the match!
Simone: Veronica's bailing on the match? I thought she wanted to prove her worthiness for the Bombshell Roulette Championship?
Adams: I think she cares more about saving face but I don't think Sam's about to let her leave!
Indeed, Sam has climbed the top rope whilst Miles Blake has been keeping Veronica busy by pleading with her to get back in the ring, it's Scott Sanders that spots Sam on the top turnbuckle first and the two men manage to duck out of the way just in time as Sam hits Veronica, who was a fair distance from the ring at that point, with a huge flying cross body from the top turnbuckle bringing the fans to their feet and restarting Jacob's count just before it hit ten!
Simone: OH MY GOD! What height, what distance on that Crossbody!
Adams: It may have looked cool but I bet it gave Christian a heart attack just now!
Crowd: Holy Shit! Holy Shit! Holy Shit!
By the time Jacob's restarted count hits five Sam has sent Veronica over the barricade and it's not long before the two Bombshells are back in the ring, whilst Veronica scrambles to her feet she grabs her perfume obviously hoping to spray it in Sam's eyes much like she did when she defended the SCW Bombshell Roulette Championship against Twisted Sister but it doesn't work as well this time around as Sam kicks the perfume out of Veronica's hands and nails her with a DDT! Rather than go for the cover however Sam drags Veronica to the corner and flips her onto her back.
Simone: It looks like Sam's about to end this with the Sammisault!
Adams: If this hits than Veronica's bad luck will get worse!
Sam climbs up to the top rope and she indeed nails Veronica with the Sammisault! 1.......2.......3!!!!!!
Justin: Here is your winner Sam Marlowe!
Simone: Despite Veronica's best, and often underhanded, efforts Sam has emerged victorious!
Adams: If anything this might put Sam in a position to compete for the vacant Roulette Championship!
Sam celebrates her win whilst Miles and Scott check on Veronica.
---
The scene opens up backstage at Climax Control where we see Jessie Salco sitting at her laptop in the cafeteria, she has her IPhone beside her laptop and a quick glance at the screen shows that she has Pokemon Go on and a can of Coke on the table.
Simone: Huh, usually we see Jessie working out to some metal song.
Adams: Wonder what she's doing in there? It's not like she's in action tonight.
We hear the familiar sound of a Skype Call being made and Jessie grins before turning off the sound on her IPhone and answering it, the camera pans around and we see that the person she's calling is SCW Co-Owner Mark Ward.
Jessie: Hey Mark thanks for agreeing to hear my case, Christian won't even give me the time of day.
Jessie grumbles under her breath before sighing.
Jessie: I'll get straight to the point, last week myself and Amy had a war with The Angel Clan and whilst it did end in a double count out it was still a hell of a match, and then there's the fact that Mercedes is challenging Crystal for the title tonight and, nothing against Mercedes, I have several wins over her and she gets a title shot before me?
Jessie says before leaning forward.
Jessie: I'll cut straight to the point, you and I both know that I proved that I belong at the top of the card in the Chamber of Fate match and whilst you may not be around as much nowadays I know you can make this shit happen, I want a title shot against Crystal at the next Supercard!
The shot switches to a full screen Hot Stuff, who is sitting shirtless around a pool, sunglasses on and drink in his free hand.
HS: Well it's good to see Christian doing such a bang up job in my absence.
Sarcasm comes from the SCW co owner.
HS: I have been watching the shows Jessie and you're proving to me week in, week out, that you're willing to work, even when you don't have to. I mean you're there at a show when you don't have to be, and this is what I like Jessie.
A smile crosses Jessie's face in the smaller box on Skype. Hot Stuff rubs his chin.
HS: Now you know I usually crucify people who just asks for shots, like I sure as shit wouldn't have give Dmitri another shot at the World title, like Christian did last week, because he has been defeated one on one by the same guy twice, Dmitri has earned shit, but you Jessie, you're a different case. You're someone who has been here years and worked hard for years, never come to me with complaints and fuck, you shoulda been getting that shot ahead of Keira Fisher at the last supercard. Unlike most Jessie, you've earned it so at High Stakes VI, at the Galen Center, in Los Angeles, California, on November 20th, you Jessie Salco will be in the co main event against whoever may have the Bombshell championship at that time. If Crystal loses in that time, you will still be taking on the champion.
A wide smile crosses Jessie's face.
Jessie: Thank you.
HS: Go, train, do whatever it is you do when it comes to championship matches, go beat up Crystal Millar, do whatever, because I got things to do here.
Hot Stuff moves the camera around to show bikini clad women around him. He smirks back at the camera and waves once before ending the call, leaving Jessie smiling as the camera fades.
---
Backstage, Sam Marlowe can be seen walking along the hallway after her match, one hand carrying her ring jacket and the other a small towel that is wiping away the sweat from her face. Suddenly she is stopped by the sound of someone calling her name. Turning, she spies Pussy Willow trying to get her attention.
Sam Marlowe: Hey Pussy, what's up?
Pussy Willow: I could ask you the same thing Sam. What the hell were you doing when you went out to that ring and said what you did. Challenging the bosses to challenge you? I don't know what to say to that...
Sam offers her friend a smile as she lays a hand on the shoulder of Pussy Willow.
Sam Marlowe: Listen Pussy, as much as I want to say that I am good enough we both know how Christian and Mark react to people just demanding shots for their titles and I am not that kind of person. I get the fact that when people have demanded their one on one shots, some people got them just to shut them up and others forced themselves into the title picture so I figure that as a good bombshell here in SCW, I need to prove and earn the spots I get and tonight was just the first step. And I am ready to take the next step and the next and when I am done, I will have earned the shot at the title I want and NO ONE will be able to deny me.
Before Pussy can say anything else, the pair arrive at the bombshell locker room door. Sam turns with a smile and a bit of a wave as she pushes it open slightly and turns with an apology to Pussy and motions inside.
Sam Marlowe: After the fight I had, a long hot shower is calling my name. Wish I could talk more but I think it is time to let my actions do my talking for me. Talk to you later okay?
Pussy Willow: Sure Sammi, but you gotta promise me an exclusive the next time.
Sam Marlowe: You're on!
After agreeing to it, Sam pushes her way into the locker room as the scene moves back to ringside.
---
Justin: Our next match is a Standard Rules match between Travis Nathaniel Andrews and Chris Shipman.
Adams: This should be an interesting match since TNA wanted a shot at Despayre and the Internet Championship but he got this match with Chris Shipman instead.
Simone: Travis knows that a match against Despayre would be a tough match but he needs to focus on Shipman in this match as Chris Shipman is one of the craziest wrestlers on the Roster.
Three golden spotlights shine down on the stage as a video package begins to play on the screen. Golden smoke fills the entrance way as "Smooth" by Santana, featuring Rob Thomas, blares through the sound system. Travis Nathaniel Andrews walks through the golden smoke with Ruby Rose walking by his side while he is wearing his trademark golden colored trench coat over white tights with gold designs. He stands on the stage, throws his arms high into the air while soaking in the loud boos from the crowd. As Travis as his arms raised high in the air, Ruby places a hand on his chiseled physique as she narrows her eyes toward the audience. His eyes are covered by his trademark sunglasses while his signature smirk is firmly planted across his face.
Justin: Making his way down the aisle, being accompanied by Ruby Rose, from Las Vegas, Nevada. He weighs in at two hundred and forty one pounds. He is SCW's Must See Superstar, please welcome TRAVIS NATHANIEL ANDREWS.
Travis starts to make his way down the ramp while smiling at the negative reactions he is receiving. Ruby Rose breaks off as they reach the bottom of the ramp. She moves toward the steel ring steps as Travis is standing in front of a few fans in the front row. He is openly mocking them before hopping up onto the ring apron. He holds the ropes open for his girl before entering the ring himself. He continues to bask in the negative response from the crowd as he walks over toward the far corner. He steps up onto the second turnbuckle and throws both arms out into the air. He curls both index fingers while mouthing "You're Welcome." He hops back down as Ruby Rose greets him with a kiss before taking his trench coat into her hands. Travis smirks and lays across the top rope while keeping his sunglasses on his eyes.
Adams: A rather confident and cocky TNA.
Simone: He's always like that.
Justin: Our next participant in this match hails from West London, England, and he stands in at 6 feet 5 inches and 265 pounds he is "The Original Psycho" Chris Shipman.
The lights go out as a group of people can be heard reciting biblical verses. Two lines of people wearing white masks with different facial expressions crudely drawn on them line the entrance way. The lights than go out as "Straight out the Gate" by Tech N9ne begins blaring. A red light focuses on the entranceway as Shipman, dressed in a white preacher's robe, can be seen holding a bible wrapped in barbed wire above his head as he stands behind a podium. Shipman begins walking as the lights slowly turn back on. He blesses his flock as he slowly walks towards the ring. Once he enters he holds the bible up to the crowd as the music fades and the lights return to normal.
Adams: Since this is a Standard Rules match use of any weapons, such as Shipman's barbed wire laced Bible, would be grounds for Disqualification. Not sure if Shipman would risk being Disqualified just to injure TNA.
Simone: I put nothing past Chris Shipman.
Referee Jasmine St. John makes quick work explaining that this is a Standard Rules match and she will not hesitate to issue a Disqualification call should the wrestlers violate the rules. Satisfied that both wrestlers understand where she is at on this match she calls for the bell and this match is officially underway. Shipman starts to charge across the ring and Andrews steps behind Referee St. John who asks him what is going on. Travis replies that Chris dropped the barbed wire laced Bible in the corner and he wants it removed from the ring to prevent Shipman from using it as a weapon and stating it was an accident. Jasmine St. John pauses the match to allow a ring attendant to reach up and put the barbed wire laced Bible out of the ring to keep it in a safe place at ringside for when the match is over. Chris Shipman is not happy about what Travis Nathaniel Andrews did so he makes a thumb across his throat motion to indicate he plans on destroying TNA anyway.
Adams: That shows you not to mess with personal property of Chris Shipman.
Simone: That's not classified as personal property that is classified as a weapon and this is a Standard Rules match.
Once the Bible is removed from the ring Referee St. John motions for the wrestlers to get to the action in this match.
DING DING DING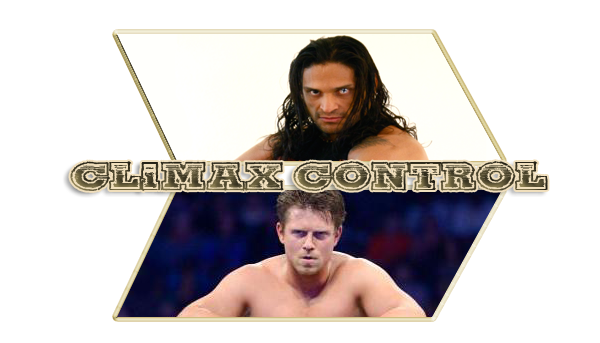 Shipman charges Andrews but TNA side-steps the assault, spins around behind Shipman and grabs him around the body. Travis shoves Chris into the ropes and he attempts to execute a suplex on the rebound but Shipman grabs the ropes and holds on tight causing Andrews to fall backward no longer holding Shipman in his arms. While TNA is on his back on the mat Chris leaps into the air to come down on Travis with his knees. Andrews quickly rolls out of the way and Shipman slams his knees into the mat. Although TNA is not known for a figure-four leg lock he quickly applies it to Chris Shipman to take advantage of Shipman slamming his knees into the mat. Once locked in the pressure on Shipman's knees is apparent at he barks out from the pain. Chris struggles hard to make it to the side of the ring where he can grab the ropes for a break. Jasmine St. John steps up to ask Shipman if he wants to submit and she gets a middle finger salute from Shipman indicating he will never submit in the match. Chris manages to inch his way over to the ropes and he is able to grab onto the bottom rope resulting in a break call by Referee St. John. TNA takes his time making the break but he does release the figure-four leg lock at a three count by St. John. As Travis stands up he takes the opportunity to stomp the knee of Chris a few times resulting in a warning from Referee St. John.
Adams: TNA is on fire in this match.
Simone: That's the only way to be when you are in a match against Chris Shipman.
Travis is standing over Chris laughing at him while Shipman is down on the mat massaging his legs to get the pain out of them. Shipman maneuvers himself into a corner and he is still sitting on the mat. TNA feels he has a major advantage so he steps into the corner to continue his attack on Chris. As Andrews enters the corner Shipman lunges and lands a head butt to the mid-section of TNA. Travis double over from the hit but he's still on his feet. Andrews again approaches Shipman and when Chris lunges at him again for another head butt Travis jumps up in the air to avoid the head butt but by doing so he gets a head butt from Shipman to the groin. Most of the men in the stands are groaning in pain from watching that hit. While TNA is rolling around on the mat holding his crotch and groaning me mumbles that Shipman should be disqualified for an illegal low blow. Chris protests telling Referee St. John that if Travis hadn't jumped into the air his head butt would have landed to his mid-section and not to his groin. Jasmine St. John agrees and she informs TNA that there will be no disqualification and that the match will continue. Travis continues to protest but when he realizes his protest will not change the Referee's mind he moves to the ropes and places his leg over the bottom rope thereby causing Referee St. John to step between Shipman and Andrews to prevent Chris from perpetrating an attack while TNA is on the ropes.
Adams: Another smart move on the part of TNA. Always do something to stop any momentum your opponent may have.
Simone: Seriously in any match against Chris Shipman anything you can do to slow the pace of the match and catch a breather works to your advantage.
Chris Shipman continues to try to push past Referee St. John so he can attack Travis but he is still in the ropes and St. John is not letting him get to him. Finally Shipman grabs Referee St. John and he pushes her out of the way. TNA decides to roll out of the ring and he drops to the arena floor preventing Shipman from attacking him. Jasmine St. John issues a warning to Shipman about attacking someone while they are on and tied up in the ropes. Chris gives St. John a one-finger salute and then he turns to look down at Travis on the arena floor.
Adams: I'm pretty sure what's gonna happen next.
Simone: I'm thinking the same thing.
Shipman wastes no time exiting the ring to the arena floor. He runs toward TNA who takes off running to avoid Chris. Referee St. John starts her count on the two wrestlers on the outside of the ring.
One...
Travis is on the other side of the ring from where Chris is located and he stops, grabs a metal folding chair, and he stands there waiting for Shipman to round the corner. The instant Chris Shipman rounds the corner he's whacked in the chest with the chair. This drops Shipman to the floor where TNA then whacks Chris over the back with the chair.
Two...
Shipman is down but he's not out yet. As TNA lifts the chair into the air to bring it down on Shipman's head Chris lashes with an upper-cut to the nut sack of Travis. Andrews drops the chair and grabs his crotch as he drops to his knees.
Three...
Both men are attempting to get to their feet. Shipman gets to his feet first and he picks up the folding metal chair that TNA hit him with earlier. The evil grin comes on the face of Shipman as he lifts the chair high into the air to drop it onto Travis.
Four...
As the chair is coming down Andrews manages to roll to the side causing Shipman to miss the hit. Deterred for just a moment Chris recovers and goes after TNA again with the chair. Travis is up on his feet and standing against the ring apron where the steel ring steps are located. Chris Shipman swings the chair back to the side and he launches a hard swing at Andrews. As the blow is coming Travis drops to the arena floor causing Chris to slam the chair hard against the steel ring steps. This causes the chair to drop out of Shipman's hands.
Five...
Travis takes the advantage to run to the ring apron and slide under the bottom rope to break Referee St. John's count on him but she continues the count on Chris.
Six...
Chris Shipman has recovered and he glares up into the ring to see that Andrews has already returned inside the ring. Shipman climbs the ring steps and he is about to duck through the ropes when Andrews charges him. Referee St. John steps up and blocks TNA from making the attack as Shipman is returning inside the ring. Travis is arguing with St. John and the two go back and forth with the Referee telling Travis she is in charge of officiating this match and not him. While TNA is distracted talking with the Referee we watch as Chris Shipman climbs to the top of the corner and he stands up on the top of the corner ready to launch himself into the ring. Travis tires of arguing with Referee St. John so he turns around and Shipman launches himself off the top ropes catching TNA with a drop kick that knocks him backward and across the ring.
Simone: That was a high-risk move by Chris Shipman but it worked.
Adams: Yes it could have easily ended up as a missed maneuver.
Shipman is slow to get to his feet while Andrews is still down on the mat from the high-flying drop-kick by Chris Shipman. TNA starts to get to his feet as Shipman approaches him. Chris grabs onto Travis by the arm and he whips him across the ring where TNA slams into the corner. Shipman follows him into the corner with a shoulder block. Chris again whips TNA into a corner and this time when Shipman comes running in he gets hit with a boot to the face by Andrews. Travis takes advantage by landing a few knees into the midsection of Chris causing Shipman to bend over. Travis grabs the arm of Chris and he bends it behind Shipman's back dragging him to the middle of the ring before dropping Shipman face first into the mat. TNA then locks in his Vegas Crime Scene Triangle Arm Lock. Referee Jasmine St. John steps in to ask Shipman if he wants to submit but he refuses. Travis keeps the hold applied tightly and there is nowhere for Shipman to turn and no way for him to escape. Finally Chris Shipman decides to tap the mat rather than suffer a permanent injury and Jasmine St. John calls for the bell to end the match. She orders TNA to release the hold on Shipman and move away from him and he does.
Adams: I didn't see that turnaround coming.
Simone: Neither did Chris Shipman.
Adams: A nice win for Travis considering he is challenging Despayre for the Internet Championship.
Justin: Here is the winner of this match, by submission, Travis Nathaniel Andrews!
Referee St. John raised the hand of Travis in victory and then she drops his hand. Andrews slides out of the ring and makes his way up the ramp and then he disappears behind the backstage partition. We return to the ring where we see a disappointed Chris Shipman exit the ring and slowly make his way up the ram to return to the backstage area.
---
Some time has passed since Jessie's Skype call to Mark Ward and we see her still in the cafeteria listening to the metal album "Mass Confusion" by Dust Bolt, once the album ends we see a familiar figure approach her and she looks up.
Jessie: Hey Amy, what's up?
Amy: Oh nothing... just watching the show. What about yourself?
Amy shrugs and asks.
Jessie: To be honest I haven't been paying that much attention, spent most of the night campaigning to Christian regarding a World Bombshell Title Shot but he was having none of it, I eventually had enough and contacted Mark via Skype and he saw my point.
Amy: So you have a title shot?
Jessie: Yep, High Stakes IV and I'm in the co-main event, it's my perfect opportunity to finish what I started at Summer XXXTreme.
Amy: Awesome! Hope you win this time!
Jessie: You and me both, want to chill out for a bit and listen to metal?
Amy: Sure.
Amy sits down as the scene fades.
---
---
EMF's "Unbelievable" suddenly blares across the stadium's sound system and the crowd ignites, standing on their feet and cheering while all eyes turn to the stage atop the entrance aisle! Christian Underwood steps out onto the stage and is immediately greeted with louder cheers and fanfare by the capacity crowd as he pumps his fist and moves his body to the beat of the music!
Simone: Things are about to get interesting!
Adams: They usually do when the bosses come out!
Clad in a fresh tailored suit of tan sans tie with white dress shoes, Christian stares ahead at the ring before he starts down towards the ring, slapping hands along the way! Arriving at the ringside area, Christian looks out around at the fans who are cheering for his appearance and slaps more hands the entire way around the ringside area. He smiles briefly before he then climbs up the steps and once on the ring apron, he pauses to look out to the fans before he turns his back and moves his backside to the music. He then steps through the ring ropes and accepts the house mic from Justin at ringside before taking his spot in the center of the ring.
Christian: You know, it isn't altogether that often where Mark and I are forced to deal with the ramifications of a championship vacancy. Very few people in the Superstar or Bombshell divisions willingly give up a championship, and the times that it does happen, are few and far between. God forbid, they do so because they are forced to for health reasons, but every once in a blue moon, a man or woman surrenders his or her championship because they are simply choosing to move on. Last week, one such young woman did this very thing, and her name is Roxi Johnson.
The fans immediately begin cheering at the name of the Bombshell legend and chants begin to echo throughout the arena...
Crowd: THANK YOU ROXI! **claps** THANK YOU ROXI! **claps**
Christian smiles and nods, holding the microphone up high to show his own support to the fans giving Roxi their thanks and their love. After several seconds, the chants slowly subsided and Christian lowered the mic down so that he could speak once again.
Christian: And being the gracious person that she is, Roxi knew that the lineage of the Roulette Championship would have to continue, and she passed the title belt, which you see here...
Christian holds up a small briefcase and pops it open, removing the SCW Bombshell Roulette Championship belt.
Simone: I bet somewhere backstage Veronica Taylor is having a coronary.
Adams: She's probably really mad too!
Christian cradles the title belt in his free arm and continues...
Christian: She passed the championship back into our care and now comes the time where we would have to decide what we were going to do with it. And before anyone gets any funny ideas...
Christian turns and stares into the camera.
Christian: NO, Veronica Taylor, we are NOT just going to give you the championship back!
The crowd cheers!
Adams: Ohhh BURN!
Christian: Now in a meeting with Mark, we tossed about some ideas for different ways we could fill this championship vacancy. The topic of a tournament was brought up, but who really wants to sit through another one of those? We want this championship filled as soon as possible, not over a matter of weeks, amIright!?
The crowd roars in agreement!
Christian: Then I suggested a Gauntlet match and my head is still ringing from where Mark smacked the shit out of me gob.
Christian frowns and looks into the camera.
Christian: Hang with a Brit, start talking like one. *sighs*
Christian turns back to the fans.
Christian: Then the solution came to us. It was so simple and right in front of our faces, I don't know why we didn't think of it before! In just two weeks, one of our most popular events returns to Sin City Wrestling! In two weeks, we bring to you a night filled with tricks and treats and things that go bump in the night!
Adams: But enough about his bedroom shenanigans....
Christian: That's right! SCW will see the return of the annual Halloween edition of Climax Control!
The fans erupt in cheers!
Crowd: SCW! SCW! SCW!
Adams: Hot DAMN! The Halloween show is back!
Simone: Where each and every match will have a special Halloween themed stipulation!
Adams: It'll be spooktacular!
Simone: .... Really? You just had to go there?
Back in the ring...
Christian: So it will be on that night, main evented by J2H defending the SCW World Heavyweight Championship against Dmitri, where we will crown a brand new Bombshell Roulette Champion!
Cheers!
Christian: Tune in or join us in California because if past years events are any indication, this is going to be in-SANE!
"Unbelievable" kicks off once again and Christian hands the mic back out to Justin before climbing from the ring and making his exit, slapping hands along the way toward the back.
Simone: What an announcement! The Bombshell Roulette Championship will be filled at the Halloween show in just two weeks!
Adams: Halloween can't get here fast enough!
---
Adams: It's main event time, folks and boy am I excited! Two of my favorite Bombshells duking it out with the World Bombshell Championship on the line!
Simone: This one has Match of the Year potential written all over it for sure, Jason.
Justin Decent: Ladies and gentleman it is now time for tonight's main event and it is for the World Bombshell Championship!!
The crowd erupts in a huge pop as all eyes dart to the entrance ramp.
Suddenly, the arena lights turn off and the crowd is hyped up for what was in store. As the opening of "Hold Me, Thrill Me, Kiss Me, Kill Me" by U2 blares across the PA system, the mood of the crowd changes instantly and the arena is under the subtle glowing of the lights. As the lyrics finally kick in, a figure emerges; the highlight of their attire is being under the illusion. Mercedes Vargas stops short of the entrance ramp, hands on waist, and overlooking the crowd.
Simone: Mercedes has everything it takes to end Crystal's reign tonight and become a two time World Bombshell Champion.
Adams: She does, but Crystal has been on top of her game lately and she's not going to give up without a fight!
Justin Decent: Making her way to the ring, from Buenos Aires, Argentina, weighing in at 125 pounds, MERCEEEEEDEEEES VAAAAAARGAAAS!
Cheers, boos and catcalls soon greet her. Oblivious and yet satisfied with their reaction for several seconds, she flips her long hair, then makes her way to the ring. As she goes up the steps and walks to the end of the ring apron, she climbs to the turnbuckle, then turns her head back as the camera shows her determined expression-perhaps a message that her opponent will be in for a tough fight. Mercedes vaults into the ring and walks over to the opposite corner where she relaxes along the corner ropes while waiting for her opponent to arrive.Her music finally dies down and all eyes are once again on the entrance ramp, waiting for the champion to appear.
5
4
3
2
1
THE SILVER SCREEN QUEEN IS HERE!!!!
Adams: Hellooooo Crystal Millar!
"I'm Coming Out" by Diana Ross begins to blast all across the speakers and as that happens we are able to see Christina Millar emerging through the backstage curtain and the roaring boos of the crowd are deafening. She isn't alone as her husband Jonathan comes out beside her. Crystal smiles as her grouping of paparazzi gather up in front of the ring and they snag photo after of the Latina beauty. She walks down the ramp as she begins to pie face the crowd. The crowd boos loudly in return as they glance back at the Hollywood hottie, and Jonathan stays attached to his wife.
Justin Decent: And her opponent being accompanied by her husband Jonathan...From Los Angeles, California...Weighing in at one hundred fifteen pounds...She is the reigning World Bombshell Champion...The Silver Screen Queen...CRYSTAL MILLAR!!!!
Her following of paparazzi meet her as does a red carpet. She takes in the appeal of the cameras smiling as flashes begin to go off one after another. She then runs up the steps where she walks towards the middle of the apron. She blows kisses out to the crowd before she drops into a split entering the ring. The crowd begins to go nuts and she walks to the center of the ring, reluctantly handing off the World Bombshell Championship to referee Drew Patton. As Drew raises the belt high above him, Crystal and Mercedes are locked in a staredown as they wait for the match to begin.
Simone: Drew is handing the belt off to the timekeeper now. Crystal is just itching to get her hands on Mercedes, judging by the look on her face.
Adams: And Mercedes is as calm and collected as ever. Seriously, how does she do it?
Simone: Years of experience I'd imagine.
Drew finally calls for the bell and the crowd erupts in another huge pop!
DING! DING! DING!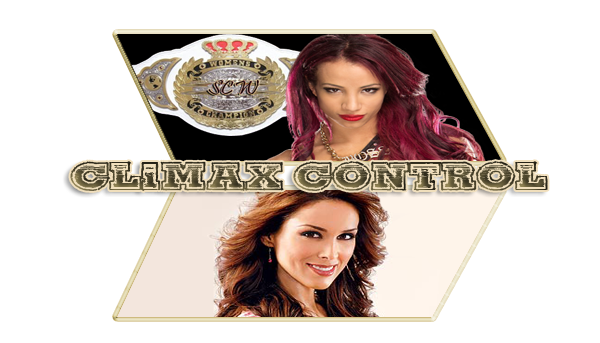 Crystal and Mercedes slowly start circling one another as the crowd quiets down. Crystal is smirking arrogantly at Mercedes as Mercedes has her hand extended, waiting for Crystal to go for the tie up. Jonathan watches his wife quietly from the outside and Crystal finally grasps Mercedes hand, then extends her other hand to do the same! Mercedes reaches for her other hand, going for the other tie up but Crystal takes her by surprise, getting her knee up into Mercedes midsection! Mercedes releases her grasp on Crystal's hand but Crystal doesn't let up on her early assault of the challenger!
Adams: Damn! Crystal just outsmarted Mercedes there! How did that happen?!
Simone: Your guess is as good as mine, Jason. That's a tough thing to do.
Jonathan claps for his wife on the outside as she delivers a rapid fire series of knees to Mercedes midsection, trying to wear the Argentinian Bombshell down quickly and early! Mercedes stumbles back against the ropes and Crystal takes her by the arm and whips her across the ring! Mercedes rebounds back and Crystal goes for the clothesline but Mercedes ducks it and runs against the ropes again! When she rebounds back she goes for a spear but Crystal does a leapfrop jump and Mercedes runs UNDER her! Mercedes is able to skid to a stop and when she turns around she's met with a pele kick from the champion!
Simone: Wow! What a move by Crystal! We don't see pele kicks very often but that was amazing!
Adams: She's going for the pin!
Crystal hooks Mercedes' leg and Drew drops down!
1!
2!
No! Mercedes gets her shoulder up!
Simone: Valiant effort there, but Mercedes doesn't go down that easily!
Crystal glares at Drew, not happy with that call or the "slow count" but Drew insists it was a two count! Crystal then crouches over Mercedes, grabbing a fistful of her hair and begins delivering a series of hard right shots to Mercedes' head before she gets back to her feet and reaches down, pulling Mercedes back to her feet! She takes Mercedes by the arm and whips her across the ring into one of the corner turnbuckle causing Mercedes' back to bounce off the turnbuckles and Crystal charges at her! Mercedes looks worn down but just before Crystal jumps at her with a running high knee, Mercedes ducks and Crystal jumps up to the second turnbuckle!
Adams: Never count Mercedes out! Never!
Simone: She has the passion and the flare, that is for sure!
Crystal blindly spins and jumps off the turnbuckle at Mercedes, but Mercedes is expecting her and she catches Crystal, taking her down in a power slam! The crowd erupts in loud cheers as she goes for the pin and Drew drops down!
1!
2!
2 1/2- Crystal kicks out!
Mercedes shoves Crystal's shoulders back down to the canvas!
1!
Crystal kicks out just before the two count!
Simone: Nice try, but if she kicks out once, she's not going to allow the three count on the second attempt.
Adams: Stranger things have happened, Belinda!
Simone: Indeed, but I don't think we've ever see THAT happen before!
Mercedes gets back to her feet and drags the champion with her. She delivers a nasty uppercut that sends Crystal stumbling back against the ropes and holding her jaw! Mercedes takes a few steps back and she charges at Crystal, attempting to deliver a big boot and sending Crystal over the top rope but Crystal drops down, pulling the top rope with her and Mercedes goes flying over the top rope! Mercedes crashes to the floor below, right near Jonathan and Drew Patton immediately warns Jonathan to back away!
Simone: Smart move, Jonathan. I wouldn't do anything that would cost your wife that title.
Adams: He wouldn't be able to live with her anymore!
Mercedes is still down on the outside as Crystal drops down and rolls out of the ring under the bottom rope. Drew yells at Crystal to get back into the ring, but she ignores his yelling and gets on the offensive against Mercedes once again! She reaches down and pulls Mercedes up, spinning her around before she sends her flying into the barricade by the front row fans! Mercedes' back ricochets off the barricade and a pained expression falls over Mercedes' face as she crumples down to the floor! Crystal comes back at her, bringing her foot up to Mercedes throat, pressing it against her airway and Mercedes fights to get a breath!
Simone: Not a wise decision with Drew watching her every move!
Drew warns Crystal one more time to get back in the ring, but she again ignores him and he's forced to start his count!
1...2...3...Crystal reaches down and pulls Mercedes up to her feet. Mercedes is coughing and gasping for air as Crystal goes to whip her against the steel ringpost!
Adams: Wake up Mercedes!
Simone: She needs to do something because I think Crystal's plan is to get Mercedes counted out.
Crystal goes to whip Mercedes into the ringpost, but Mercedes reverses it and sends Crystal flying into it instead! 4...5...6...Crystal's face bounces off of the steel and she collapses to the floor as Jonathan watches on in horror! Mercedes quickly rolls back into the ring under the bottom rope!
Simone: Crystal in trouble here!
Adams: And Jonathan is absolutely helpless to stop it!
Jonathan shouts at Crystal, trying to motivate her and she slowly starts coming to! 7...8...9...She reaches her hand up to the ring apron as all the fans are on their feet!
Adams: Even if Crystal gets counted out, she'll still be champion! Has everyone forgotten that!
Crystal quickly jumps up and slides in under the bottom just before the ten count, saving herself and the match continues!
Simone: Those few seconds gave Mercedes the opportunity she needed.
Adams: That and knocking Crystal a little silly with the ringpost!
Crystal is on her hands and knees trying to use the ropes for assistance back to her feet, but Mercedes won't allow it as she delivers a hard right kick to Crystal's side! She does it again and again until Crystal is down on the canvas, holding her side and Mercedes reaches down, pulling her away from the ropes! She stomps on Crystal's head hard once before she charges forward, leaps at the ropes and rebounds back with a springboard moonsault to Crystal and she immediately hooks her leg for the pin!
1!
2!
3-NO! Crystal gets her shoulder up!
Simone: And Crystal just refuses to give up! She continues to show exactly why she's the champion!
Adams: Mercedes is growing more and more frustrated now.
Mercedes gets up and reaches down to pull Crystal back to her feet and when she does, Crystal pulls her down into a tight inside cradle, and Mercedes' shoulders are pinned to the canvas!
1!
2!
2 1/2- Mercedes kicks out!
Both women roll back and away from one another as the crowd is alive and buzzing with excitement! Crystal hops back to her feet, growing noticeably exhausted and Mercedes is glaring towards her as she stays on the offensive to the champion! She charges at Crystal hitting her with a shoulder to the midsection, knocking her back into the corner turnbuckle where she continues to deliver shoulder after shoulder, wearing Crystal down!
Simone: This match is really anybody's game tonight, Jason. Mercedes and Crystal are really taking it to one another!
Adams: Never doubt the Bombshell's proving why they're just as main event worth as the men! I love it!
After the third shoulder shot to the midsection, Mercedes hits Crystal with a forearm to the head, knocking the champion silly once again. She takes the brief moment Crystal is loopy to climb to the second turnbuckle and grabs Crystal's head and starts delivering hard right shots as the fans count along with each shot.
1..2..3..4..5..6...But just before the seventh shot, Crystal gets her hands up and reaches around Mercedes, lifting her up and off the turnbuckle in a great show of strength! She takes a few steps away from the corner as the crowd is roaring with excitement and then drops Mercedes down in a powerbomb, but that move has taken just as much out of Crystal as it did Mercedes as BOTH women are down!
Simone: What a show of strength by Crystal!
Adams: And will power!
Simone: But it could have cost her! Both women are hurting and if Crystal wants to keep her title she needs to do something!
Crystal is the first to slowly start getting back to her feet. She gets to her hands and knees and crawls over to the ropes, grabbing the second rope for assistance as Mercedes gets back to her feet in the center of the ring. Crystal leans against the ropes for a second, taking in a deep breath trying to get her strength back as she turns her focus back to Mercedes who is slowly walking to the ropes, allbeit wobbly. Crystal shakes her head and gets a determined look on her face as she heads over to Mercedes and pulls her away from the ropes! She hits her with a hard right shot and drags her to the center of the ring, wrapping her arm around her head and trying to go for an asai DDT, but Mercedes fights as long as she can!
Simone: I think Crystal is ready to finish this off!
Adams: If Mercedes will allow it!
After a few blocked attempts by Mercedes, Crystal finally nails her hard in the midsection and immediately goes for the Asai DDT into a backstabber, nailing it perfectly!
Simone: That's A Wrap! She did it!
Adams: She's going for the pin!
Crystal immediately hooks the leg and Drew drops down!
1!
2!
3!!!
DING! DING! DING!
Justin Decent: Ladies and gentleman here is your winner and STILL SCW World Bombshell Champion....CRYSTAL MILLAR!
Crystal gets back to her feet and Drew holds the World Bombshell Championship out to her. She snatches it away and holds it high as Jonathan joins her in the ring, raising her hand in victory! Crystal looks down to Mercedes, smirking as Vargas rolls out of the ring, disappointed and Drew helps her to the back.
Simone: And another successful title defense by Crystal Millar! What a fantastic match that both women should be proud of!
Adams: I think Crystal is a little more proud than Mercedes but Mercedes put up one hell of a fight!
Jonathan helps his wife out of the ring and to the back, both ignoring the fans along the way.
Simone: Well that's all we have for tonight's show everyone! We hope you enjoyed all of tonight's action!
Adams: I'm Jason Adams!
Simone: And I'm Belinda Simone! Tune in for another episode of Climax Control next week!
---
Thank you! to Chris, Mark, Marge, Andy, The Lord MK, Dustin, Annie, Jenny, Court and Gerrit. Also again to Annie for the great match banners and to all our roleplayers.