cc
The large gym of the Fort Hood Military Base in Killeen, Texas has been completely changed for this event as the camera picks up open opening are the rows and rows of seats surrounding the SCW's six-sided ring! Each seat is filled with the brave men and women that call this base 'home' along with their friends and family! Fans aside from the military personnel are also on hand but the prime seats had been reserved for those brave souls that fight for our freedom around the world!
Their cheers are heard echoing throughout the large hangar as hundreds of signs for the favorites and not-so-much favorites are flashed before the cameras! The cameras continue to scour the entirety of the soldiers and fans as they cheer and clap their hands, rallying the men and women of Sin City Wrestling that have come to entertain them! The camera then switches to a shot of the ring where a young man in uniform stands in the ring with a microphone, and two soldiers flank him, one on each side and both holding a flag in their hands.
Justin: Ladies and gentlemen, if you would, I ask you to please rise and welcome Private Ryan Murphy as he sings 'America the Beautiful!'
One by one, everyone in the audience stands as the music begins playing on the sound system and Private Ryan Murphy begins to sing...
Ryan: O beautiful for spacious skies,
For amber waves of grain,
For purple mountain majesties
Above the fruited plain!
America! America! God shed His grace on thee,
And crown thy good with brotherhood
From sea to shining sea!
O beautiful for pilgrim feet,
Whose stern impassion'd stress
A thoroughfare for freedom beat
Across the wilderness!
America! America! God mend thine ev'ry flaw,
Confirm thy soul in self-control,
Thy liberty in law!
O beautiful for heroes proved In liberating strife,
Who more than self their country loved,
And mercy more than life!
America! America! May God thy gold refine
Till all success be nobleness,
And ev'ry gain divine!
O Beautiful for patriot dream
That sees beyond the years
Thine alabaster cities gleam,
Undimmed by human tears!
America! America! God shed His grace on thee,
And crown thy good with brotherhood
From sea to shining sea!
The performance finishes and the audience cheers and applauds as Ryan bows with a smile and steps out and the two men in the ring, pass the flags out to him carefully so they too can make their exit.
Simone: Hello everyone and welcome to Fort Hood in Killeen, Texas for our second stop on the Sin City Wrestling Military Tour! I am Belinda Simone, and at my side...
Adams: Wheeeeeeeeeeee!!
Simone: Is the man who will be showing everyone what he had for dinner if he doesn't stop spinning himself around on his chair!
Jason's chair slows down and finally comes to a halt. Belinda has to turn him around so he is facing the cameras.
Adams: Oh wow... I don't feel so good.
Simone: And yet you'll be doing the exact same thing next week.
Adams: Most likely!
Simone: Fans, we have a quick announcement to make! Ryan Kidd and Vincent Peterson were originally supposed to compete in our opening match, but Kidd was unable to make it due to travel issues.
Adams: Yeah and I understand Vincent's other personality booked himself on the wrong flight and god only knows where he is now!
Simone: But that doesn't mean we won't be battering down the roof with anything less than a stellar show this evening! Now 'Heavy Metal Princess' Jessie Salco opens things up when she faces crystal Hilton.
Adams: The Bombshells are all over the place tonight because after that, Mercedes Vargas is wrestling Zuri Chastain... AND Zuri's sister Blanca!
Simone: I can not believe that Zuri actually agreed to let her sister become involved in this match.
Adams: I can't believe Mark and Christian allowed it! You think they made hr sign a waiver?
Simone: They had better have, because Blanca has zero wrestling experience going in there with a champion! And speaking of champions, the never ending reign of Equinox may be brought to an end tonight as he puts the Roulette title on the line against kris Halc, a man that took him to the very limits at Violent Conduct II!
Adams: Then the hometown boy, Sean Jackson, goes up against Jon Dough. Now I know Sean has a way with the fans usually, but do you think he'll hear any cheers, being from Texas himself?
Simone: Don't hold your breath. And if you do, remember to exhale this time because we don't need you passing out again. Following that match, we have one of the biggest tag team matches ever when the team of Gabriel and Rage, representing the Seven Deadly Sins, takes on R.O.A.R.! There is a lot of talk that Rage and Gabriel are looking to run a little interference for their teammate Despayre who R.O.A.R. recently challenged for another crack at the tag team titles.
Adams: I don't know why. When has Despayre ever wanted someone's help inside of the ring?
Simone: Never. As a matter of fact, Despayre seems to get angry when someone tries to help him, so one has too wonder if the rumors are, in fact, true, or if Synn might be behind this.
Adams: Oh! The main event! Don't forget the main event!
Simone: How could we when we have one of he top titles being defended?
Adams: And in a Triple Threat match! Delia is putting her title on the line against not only Roxi Johnson, but Traci Patterson as well! Woo hoo!
Simone: So let's get this show started!
---
The scene opens up backstage where we see Jessie, Jake and Shane hanging out backstage, Jake seems to have struck up a conversation with one of the military personal presumably about Jake's military history and the two lovebirds seem excited about something.
Simone: Shane will potentially be the first SCW personality to compete on Reality TV as he'll be applying for Masterchef Season 6.
Adams: I just hope the bosses decide to put him in charge of catering for the SCW events!
Their conversation is interrupted by Ms. Rocky Mountains approaching them.
Ms. Rocky Mountains:: First off, Shane, good luck on Master Chef.
Shane: Thanks Rocky!
Ms. Rocky Mountains:: Second, Jessie tonight you face Mean Girls member Crystal Hilton, any final thoughts?
Jessie: I said all that needed to be said in my promo earlier this week I'm going to let my actions in the ring speak for themselves tonight.
Jessie responds before taking a deep breath.
Jessie: But what I will say is this, what happened at Violent Conduct II was a crime, plain and simple, I don't blame Amy for taking time off for her sister but I do blame Veronica and Liz for being too cowardly to beat me cleanly, tonight begins my revenge quest against the Mean Girls and I've changed my theme music to "Like Angels Weeping (The Dark)" by Kataklysym to reflect that.
Shane: That's not all though, we've finally decided on a wedding date!
Ms. Rocky Mountains:: Oh really? When is it?
Jessie: The wedding will be on the fifth of August.
Ms. Rocky Mountains:: Isn't that literally the day before Bloodstock.
Shane: Yep, and Bloodstock will be our honeymoon!
Rocky doesn't seem to know how to respond to that and just leaves.
Simone: That's the first time I've heard of a metal festival being someone's honeymoon.
Adams: I've heard weirder ideas.
---
Rory Justice, Zuri and Blanca's brother, appears on the screen while Zuri and Blanca aren't paying much attention. He doesn't seem to be real happy about this past week.
Rory Justice: Mercedes Vargas, when my sisters told me about how stupid you were I didn't believe them. Now, I can see it for myself. I mean you are practically using the Mean Girls to keep you relevant. I get it without them you would literally be a nobody. Someone who just uses people for their own personal gain. You even stole Liz Smalls' catch phrase which tells me that you can't come up with something original. Now you want to challenge me to a match. Wow, you really are stupid. Those hair products are literally killing your brain cells. I have signed my contract with SCW but I am not a wrestler. I just get inside your head. Oh, I am their half brother. Which means my real name is Justice not Chastain.
Zuri and Blanca over their brother running his mouth and they slap the back of his head.
Zuri Chastain: Mercedes, you see what you have done. You are the one making it fucking personal. After our match, we are far from over. In fact, I plan on ending you. I don't care what match you throw in front of me because I will be the one who knocks you back down.
Blanca chuckles as she caps off the small interruption.
Blanca Chastain: NO ONE CROSSES LADY JUSTICE.
The screen quickly cuts to black as the scene slowly cuts to commercial.
---
The scene opens up in the area of Fort Hood that has been set aside for Climax Control, in other words ringside, where we see Belinda and Jason talking about tonight's card.
Simone: We have a lot of great matches on the card tonight and every SCW superstar is looking to make the men and women of the military proud.
Adams: All accept the Mean Girls but they only care about themselves.
Before Belinda can respond "Dangerous" by Within Temptation begins to play over the PA system and the crowd comes alive for the arrival of "The Fearless One" Steve Ramone and sure enough the veteran emerges from the back with his wife Charlotte.
Simone: It seems we're being joined by Steve.
Adams: He's not in action tonight so I wonder what this is about.
Steve charges down to the ring and slides in before posing for the cheering crowd, he asks for the mic from Justin who is more than happy to hand it over before he leaves the ring.
Steve: ATEN-HUT!
Steve yells into the mic and the crowd cheers.
Steve: Fort Hood Texas, are you looking forward to Climax Control tonight?
Steve points the mic towards the crowd and they cheer in response.
Steve: Guys, your military, I know you can shout louder than that! FORT HOOD, TEXAS, ARE YOU LOOKING FORWARD TO CLIMAX CONTROL TONIGHT?!
Steve points the mic towards the crowd and they cheer even louder than before.
Steve: My wife tells me that I'm transforming into a clone of Drake Greene, if that means a shot at the Heavyweight Title then I'm not gonna stop the transformation!
Steve adds and the crowd laughs in response.
Steve: Seriously though, last week I outsmarted and beat Bruce Evans in my first match back from injury and you know what? I'm feeling really good about that, so whilst I'm not on the card tonight???.
Steve trails off and the crowd boos.
Steve: Yeah, I know, I hate that fact too, that doesn't mean that I won't be on next week's card! And to make sure that I am on the next card I'm issuing an open challenge to anyone who I have never faced before to meet me next week in a one-on-one match!
Simone: If my math is correct, I think that's about half the roster.
Adams: Sounds about right!
Steve: Oh trust me, the Roulette Title is still in my sites, but I have to win matches to get noticed and Bruce was just the beginning, I'll be waiting backstage boys!
"Dangerous" starts up again and Steve leaves the ring with his wife.
Simone: Seems like Steve's hungry for competition.
Adams: Let's hope that we get a good match out of it!
---
Justin Decent: The following match is scheduled for one fall! Introducing first, from Detroit, Michigan by way of Los Angeles, California.. standing at 5 feet 5 inches and weighing in at 115 pounds, she is??? "The Rose Goddess" CRYSSSSSSSSTAL HILLLLLLLLLLLTONNNN!!!
All of a sudden "Superstar" by Lupe fiasco starts playing all over the Pa system. Two lights are pointed at the entrance way. Crystal Emerges through the curtains and is greeted by multiple pyros that start shooting off one by one. The crowd roars at her with a loud ovation of cheers and she slowly makes her way out walking down the aisle. Crystal cracks a grin as her photographers line up to take a picture of her. She finally makes it to the ring and places one foot on the apron and stretches the other one on the apron as well. She does a split to enter the ring and she finally makes it to her feet. She smiles bouncing around a bit as she awaits her opponent to come out???
"Revenge, is a meal Best Served Cold..."
Justin Decent: Let's see if I can do this any justice here??? And her opponent??? from Tampa, Florida.. Standing at 5 feet 2 inches and weighing in at 120 pounds, she is??? JESSSSSSSSSSSSIEEEEE SALLLLLLLLCOOOOOOO!!!
The lights dim as the fast, charging riff of "Like Angels Weeping (the dark)" by Kataklysym tears the PA System a new one and Jessie comes out with her brother Jake, the two do some headbanging at the top of the ramp before Jessie gets a running start before sliding into the ring, once she's on her feet she poses for the crowd before showing off her NXT armband and staring across the ring at Crystal Hilton.
DING! DING! DING!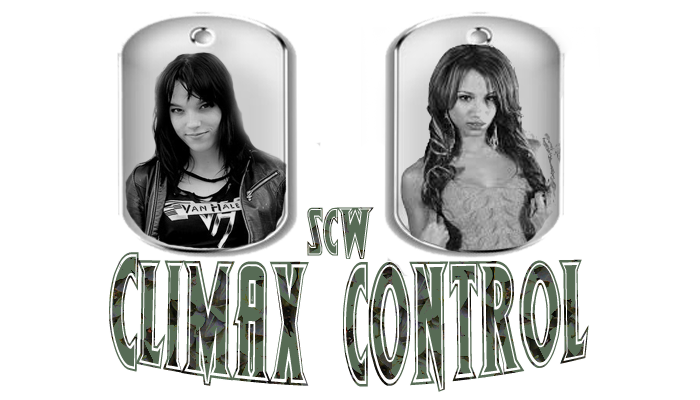 Jacob Summers takes his time stepping from between the two. However, this doesn't stop Crystal and Jessie from charging to the center of the ring, digging their nails into each other's hair to start things off. The fans cheer loudly at this display as Jessie gets a slight upper hand. The fans are on their feet as Jessie swings forward with a hard punch to Crystal. Crystal returns a vicious knee to the stomach that nearly doubles Jessie over. Crystal rakes her hair before sending her flying across the ring with a Hair Biel, followed quickly by a series of mounted punches. After about four, Jessie rolls Crystal over and returns the favor, hitting a few harsh punches of her own.
Crowd: CATFIGHT! CATFIGHT! CATFIGHT! CATFIGHT!
Simone: These fans couldn't be more right here. I've never seen either of these ladies get so down and dirty in a match right from the start.
Adams: Crystal took a lot of the things that Jessie said in her promo to heart.
Crystal rolls Jessie over once more, but they continue to tumble to the outside of the ring. This causes the fans to cheer even louder as Crystal grabs a handful of Jessie's hair, smashing her face into the ring steps! The fans cheer as Jacob begins counting. Crystal ignores it, but Jessie places her foot on the steps, before applying an elbow to Crystal' face. Crystal grits her teeth and charges forward, only for Jessie to hit a Drop Toe Hold that causes her opponent to meet the steps face first. Jacob counts to four, and then five. Jessie rolls inside of the ring, and quickly back to the outside. She mutters a few words to Crystal as she yanks her up by her hair. She smashes Crystal's face into the barricade twice. Fans pat Jessie on the back to show their support as Jessie rounds the corner with Crystal. She holds onto the back of her head, lifting it up so the fans can see a trickle of blood coming from Crystal' forehead. She uses this as a warning, but before she can continue, Crystal clubs Jessie in the side as hard as she can. She shoves her away, and then flings her into the ring apron. Jacob's count get up to seven as Crystal bashes Jessie's face into the bare ring post. She quickly slides inside of the ring, before coming back out, restarting the count.
Simone: Not that I have a problem watching these two beat the hell out of each other, but when will this match actually go inside of the ring?
Adams: Both of these ladies are Bombshell champion hopefuls, and they are no strangers to danger. Hey! I'm a poet and I didn't even know it!
Simone: Enough rhyming???
Adams: I rhynmed? I didn't even realize it!
Crystal picks Jessie up off of the ground and flings her into the barricade. She picks her up again and then flings her into the ring apron, crashing her back against it hard. Jessie stumbles forward and Crystal trips her up, causing her to smack her chin on the barricade. She crashes down with a double knee drop to Jessie's chest. She stands up and looks over to the ring, seeing Jacob make it to a 5 count. She goes to roll back inside of the ring, but before she can roll back out, Jessie stumbles to her feet and smashes into Crystal's side. She pushes her all the way inside of the ring before rolling in herself. Jessie walks over to the corner, hitting a Shooting Stars Press, before hooking the leg of Crystal.
1!
2!
Simone: And Crystal reaches for the ropes. Is she already out of energy, or is she just conserving it?
Adams: I don't know. I guess we'll just have to wait and see. But one thing is for sure, you can't put the Rose Goddess away that fast!
Crystal arches her back as she pulls herself from under Jessie. She quickly shoves her boot against Jessie's face, sending her back while delivering a bit of humiliation with it. Jessie doesn't take too kindly to it as she grabs onto the boot. She stands up, ready to trip her up when Crystal comes around with an Enziguri. Jessie ducks it, but then Crystal catches her with the back of her boot under her chin. Jessie stumbles back as Crystal shoves her into the corner. She places her boot against Jessie's throat, holding on tightly to the top rope. Jacob comes over and warns her, but she keeps going. He begins counting 1! 2! 3! 4! LET GO! Crystal drops her foot and gets in Jacob's face, stating "I have until five!" She brings her boot back up and goes for another second before tossing Jessie down to the mat.
Simone: One has to wonder if Crystal is just trying to humiliate Jessie, or is she actually wants to win this match. She's playing it just a little dirty tonight.
Adams: My guess is that she's trying to prove a point to Jessie... She clearly wants to humiliate Jessie over the harsh words she had for her a few days ago.
Crystal sits on Jessie's back, locking on a Camel Clutch hold, wrenching Jessie's back and neck as she does so. Jessie is writhing in pain as she tries her hardest to inch over toward the ropes. Jacob asks her if she gives up, but she shakes her head. Jessie tries to object, but she can't. She finally catches onto the rope and Jacob calls for a break. Crystal once again refuses to let go. She wrenches harder as Jacob starts to count again. 1! 2! 3! 4! LET GO!
Simone: Jacob needs to enforce his powers a little more here. Crystal is taking it to the limits here.
Adams: I'm more worried that Crystal is going to intentionally get disqualified here!
Jacob doesn't let her play this game any longer as he pulls Crystal off of Jessie. Crystal instinctively goes to slap the taste out of his mouth, shouting in Spanish at him as he ducks. Upon turning around, Jessie bridges underneath Crystal, leaning up on her knees to hit the most interesting version of a Powerbomb ever seen. She plants Crystal against the turnbuckle and then darts forward with a Bronco Buster, returning the humiliation while banging her head to the fans cheering. This almost instantly diffuses the situation as they laugh. The crowd laughs and cheers as Jessie gets off of Crystal. She lifts her up and then nails a hard slap across the face, followed by a Knife Edge Chop that echoes around the venue. She runs backward, before charging forward looking for a Hurricanrana. Crystal lifts her up, but Jessie quickly falls down, spinning around in two full circles with a Whirlybird Headscissors. Crystal skids across the ring. Jessie charges across the ring toward Crystal, but Crystal rolls her up into a Small Package. She grabs a handful of Jessie's tights as she locks it on.
1!
2!
Simone: And Jacob sees the handful of tights. I think that Crystal is taking things just a little too far tonight..
Adams: She had some harsh words from, not only Jessie, but a close friend of hers as well??? She's got a lot to prove to a lot of people.
Jacob orders her to let go of the pin. Crystal obliges, but with a spiteful glare in her eyes. She continues to glare at him as she lifts Jessie off of the ground. She gives Jessie an Irish Whip toward the ropes, while arguing with Jacob. Jessie spots this and leaps onto the second rope. Jessie trips just a bit and Crystal shoves her to the outside. Crystal climbs outside of the ring and decides to begin her assault once again. She peels Jessie off of the ground and whips her into the corner post. Jessie puts her hands up, softening the blow a bit. Crystal charges forward, and Jessie flings her into the post with full force, busting her open even more with this blow.
Simone: The fans are showing their barbaric side here as they cheer for blood. And the Rose Goddess is giving plenty of hers right now!
Adams: You're so insensitive, Belinda! Don't you know that something like that could leave a permanent scar?
A chuckle from Belinda answers Jason's question. Crystal touches at her forward, and she goes into a rage. She stumbles forward, hitting Jessie with a hard right before bashing her face into the corner. She grabs onto Jessie's arm and stands on the ring apron, walking it like a tight rope before she crashes down with a Headscissors Take Down. She rolls inside of the ring and back outside, restarting the count once more. She is determined to bust Jessie open once more. However, Jessie has shed enough blood in the ring lately. She fights back, sending Crystal into the ring apron with a Spear. She rolls inside of the ring, dragging Crystal inside by her hair. Crystal kicks and screams as she tries to stop it. Jessie lifts her up and as she gets in Crystal' face, the two trade very candid insults. Crystal slaps Jessie across the face with full force. As Jessie spins around, Crystal lifts her up, only for Jessie to contort her body, locking on an inverted version of the Circle Pit! The crowd is on their feet as Jessie looks to connect, but Crystal shoves her off and sends her flying into the turnbuckle. She crashes into her with a Body Avalanche that causes her to fall to the mat. Crystal jumps onto the top rope and flies off with Lights, Camera, Action and the crowd cheers as she connects!
Simone: Is this is?.
1!
2!
Adams: I don't know, I don't know, I don't know???!
3!
Justin Decent: Here is your winner and???CRYSSSSSSSSSSTALLLL HILLLLLLLLLLTONNN!!!
Crystal stands up from the mat and flips her hair, glaring down at Jessie. Jacob raises her arm into the air as she slowly turns around, soaking in the cheers. She takes in a few deep breaths as the anger and intensity in her expression disappears. She smiles as she walks around the ring, celebrating her win as "Superstar" plays. After a moment of this, we fade elsewhere in the arena.
---
Back at ringside, we're set to move on to the next match of the evening when "Monster" by Skillet hits on the sound system, it appears that Rage has other plans. The men and women of the Fort Hood Military Base erupt in loud boos as the Sin of Wrath appears from behind the curtain and is making his way to the ring.
Adams: Is it just me or does he not look as angry as usual, Belinda?
Simone: I think you're right Jason. He doesn't even seem bothered by the fans booing him right now. I wonder what's going on?
Rage walks to the ring then pulls himself up to the apron and steps over the top rope. He demands Justin Decent hand him a microphone and Justin hands him on before he exits the ring, giving the Sin of Wrath speaking time. Rage's music dies down and the big man paces around the ring before he raises the microphone to speak.
Rage: The past few weeks have been pure hell to say the least and tonight???Tonight I'm out here to fix a certain situation. I'm out here to do something I should have done a long time ago, but didn't realize until just a few days ago.
Crowd: BORING! BORING! BORING!
Rage looks around the crowd as they boo him and call him boring, but he just ignores them and shrugs them off.
Rage: But before I continue, I need someone to join me in the ring. I agreed to this meeting and I'm out here to set things right once and for all.
Rage turns and looks towards the backstage entrance.
Rage: Electra Blaze???I know you're back there so why don't you come on out to the ring and let's get this over with. You wanted to talk to me, face to face???Well, here I am.
Simone: You can't be serious? He's giving in to that woman?! What is his problem?
Adams: Who wouldn't give in to her? She's HOT!
Simone: Pun intended?
Adams: Of course???
Rage stands there for a moment, waiting for Electra to join him. The crowd continues to boo viciously and just as he goes to call her out again, "Hands of Death" by Rob Zombie hits the sound system. A few moments later Electra Blaze steps from behind the curtain, looking sexy as ever???maybe even more than usual. Dressed in a figure flattering strapless red mini-dress and red stiletto heels, she wanted to look her best for this most important meeting. She smirks at the crowd as they boo her as well, but her attention is focused solely on the man in the ring.
Adams: I think I've died and gone to heaven!
Simone: More like Hell with that woman???
Electra struts to the ring very seductively, keeping her eyes locked on Rage. Once she gets to the ring she walks up the steel steps. In a surprising move, Rage sits on the second rope, so Electra can step through. She smiles at him before she steps through the ropes and joins him in the ring. Her music dies down and another microphone is handed to her as she walks to the center of the ring, but before she can say anything, Rage breaks the silence.
Rage: Before you say anything, Electra, I know I should have done this weeks ago???maybe even months ago.
Electra holds her hand up, silencing him. She takes a step towards him and she can't wipe the smile off of her face.
Electra: It's okay, Rage. Really. I mean, that's part of who you are, right? You have a reputation to uphold and fighting your feelings is all part of the package deal with you. I won't say I'm not disappointed in you, though, but you're forgiven.
Rage: No, Electra???I really think I need to explain myself a bit here. I didn't realize it until this week. I mean, teaming with that greedy son of a bitch Gabriel was enough to open my eyes.
The crowd boos louder this time but Rage again continues to ignore them. Electra smiles and shakes her head, though she's secretly taking great pride in hearing this coming from Rage.
Electra: I know, Rage. I know. They wanted you to believe they were supportive of you, but clearly they never have been. The way they treat you is just???horrible.
Rage: And Kittie???damn, these last few weeks without Kittie have been so???quiet! I spent so much time being angry with you for taking her, but I should really be...thanking you.
Crowd: BOOO!!
Simone: I could be wrong here, but something doesn't feel right about this. Rage never acts like this???
Adams: Maybe he's changed his ways? Maybe he's realized how perfect Electra is for him!
Simone: Highly unlikely???
Electra's smile grows even wider as Rage takes a step towards her. He looks down into her eyes and she looks up into his seductively.
Rage: Thank you, Electra. Thank you for opening my eyes. And to show you just how serious I am???I've got a little gift for you.
Electra: Rage???you really didn't--
Rage: Oh???yes I did. I really did. Now why don't you turn around, because your present is just behind the curtain???
Electra can barely contain her excitement as she turns around and waits for her gift. The crowd quiets down a little, wondering what on earth this could possibly be. They all soon get their answer , but Electra is far from impressed, or happy about it. Walking through the ropes, accompanied by Synn, is none other than???KITTIE!
Simone: OH MY GOD! They found her!! They found Kittie!!
Electra's jaw drops and she's in pure shock! Behind her, Rage is glaring at her with a malicious look on his face and before Electra can turn around and look at him face to face, he grabs her by her long red hair and yanks her back away from the ropes. She drops her microphone, and for the first time ever, she actually looks truly terrified of him. He looks down at her and raises his microphone to speak to her.
Rage: Did you really think we wouldn't find her, Electra? Did you really expect me to just fall to my knees before you and walk out on my FAMILY for some psychotic whore like you?!
Electra begs Rage???pleading with him to let her go. He yanks on her hand harder and she screams.
Rage: SHUT UP, BITCH! YOU DON'T GET TO TALK ANYMORE!
Adams: Umm..are the bosses just going to let Rage lay a hand on Electra like that? She's a woman!
Simone: I don't think they're under any obligation to stop it. She's not employed by SCW in any capacity???
Rage glares down at Electra, fuming. At the top of the ramp, Kittie watches on with a satisfied smile and Synn stands next to her, watching closely. He normally wouldn't condone such behavior against a woman, but in this case???he's making an exception.
Rage: This???this is who I am, Electra. The Sins???they're my family and since you can't seem to get it through your fucking skull???well maybe this will do the trick!
Rage quickly spins Electra around, wrapping his hand around her throat. Her eyes widen and the look on her face is one final chance for her to plead with him not to do this, but he ignores the look completely. He lifts her up by the throat then sends her crashing down to the ring in a sickening chokeslam, and her body immediately goes limp! But, it seems as though he's not finished yet. He steps out of the ring and starts searching under the ring for something.
Simone: Oh what now?! I think that chokeslam was enough!
Adams: Apparently he doesn't.
At the top of the ramp, Kittie watches on laughing as Rage pulls a table from under the ring! The crowd goes crazy as he slides the table into the ring under the bottom rope then gets back into the ring. He sets the table up right next to Electra then reaches down and pulls her up by her hair, but her dead weight just makes her limp. Rage doesn't seem to care as he has only one mission, and a few seconds later he accomplishes just that when he sends Electra crashing through the table with a powerbomb, and Electra's body looks lifeless in a mess between the shattered wood! SCW officials and medical personnel rush to the ring as Rage makes his exit, staring at Electra with a sick, satisfied look in his eyes.
Simone: I???I don't believe this! Electra could be finished after this!
Adams: I think that's the point, Belinda.
Rage finally makes his way to Synn and Kittie. Just as he does, Kittie hauls off and punches him in the arm, hard. He looks down at her, annoyed, but she looks up at him grinning before she jumps into his arms giving him a hug! He stumbles back, refusing to hug her back until he finally pulls her off of him and disappears backstage. Kittie looks at Synn and laughs as they follow behind him.
---
The scene opens on the backstage area where we find Zuri and Blanca getting ready for their match. The lights flicker off and on, as the two of them look at each other. The lights go out, and as the room remains dark all that is seen is a set of deep red eyes. The lights come on, and there stands Necra behind Zuri and Blanca.
Necra: Greetings ladies. I hope I'm not disturbing you two...
Blanca smiles as she sees Necra while Zuri nods her head.
Zuri: Nope, somehow we expected to see you before our match tonight. Also I think Blanca was looking forward to seeing you again.
Blanca continues to smile.
Blanca: Hi Necra, what can we do for you beautiful?
Necra smiles softly as her eyes seem to flash red before going back to their normal color.
Necra: I wanted to see if you two are ready for this? I mean Mercedes managed to beat me, and I'm still not sure how it happened. I was in my element and yet... I lost again. Don't let her get the upper hand. If she's in a cage use it to your full advantage. Make her bleed.
She clenches a fist and a single drop of blood forms falling to the floor.
Zuri: Trust me, I don't know how she was able to pull out the victory. However this night will be different. Everyone knows what I can do in the ring but no one knows how my sister is inside the ring.
Blanca immediately jumps to her feet to check on Necra's hand.
Blanca: Are you okay Necra? That bitch won't get luck twice in a week.
Necra looks down and nods.
Necra: I'm fine. It's just a small cut and it's nothing that won't heal in a bit. I would love nothing more then to see her writhing in pain begging to die. Make it happen and you'll be that much closer to getting the title she carries. Make her pay for what she has done, and show the others why we are to be feared.
Zuri: You can bet on it. We are going to introduce Mercedes to a whole new world of pain and suffering. The only kind of pain and suffering that can be done by the Daughters of Darkness.
Blanca softly kisses Necra's hand before sitting down.
Blanca: I am nervous. I haven't been in the ring for at least a year. I don't want to cause us another loss. I want to represent you well Necra. I seem to be sexually drawn to you.
Necra smiles, knowing that she had that effect on followers. She was a Goddess, but it was the demon that Blanca had seen when she tapped into her mind the first time. She was enthralled, and that always had ensured loyalty to a fault.
Necra: Don't worry my lovely, you'll do fine. Let Zuri do most of the work, but get a few hits in there as well. Do not be afraid, for I am with you.
Blanca: Thank you Necra. Zuri, it's time we take Mercedes down a peg.
Zuri: I couldn't have said it better myself. I will make sure you are taken care of Blanca.
Necra smiles to herself and heads for the door. She looks over her shoulder and stops in her tracks.
Necra: I will let you two finish getting ready for your match. Good luck.
Necra walks out of the room, and starts down the hallway, as the lights start to flicker off and on. The lights go out once more, and when they come back on Necra is nowhere to be seen, as the scene fades back to the main part of the arena.
---
Scene opens on Mercedes Vargas talking the long walk to the entrance area as her match is next. The Bombshell Roulette Champion is waring a pink variation of her ring attire in honor of Breast Cancer Awareness month with her championship around her waist. A roving camera man follows along at a distance.
Mercedes: For all I've accomplished this year, these last four months have been difficult to say the least. Sure, my second tag team championship run with Traci was great, making history as the first-ever two time Bombshell Tag Team Champions was awesome, becoming the newest member of the Mean Girls was great and so is my third and current reign as Bombshell Roulette Champion.
Mercedes pauses, a twinkle in her eye, as she holds up an index finger.
Mercedes: Oh, and not to mention beating Necra Octavian Kane last week. I know Angelica must be proud since, you know, we were in her hometown and all.
Mercedes adjust one of her finger loop gloves covering one hand then stops and turns to face the camera.
Mercedes: But all of that aside, these last four months have really gotten to me because of Zuri Justice. And last week she attacked me for no good reason. I didn't even mention her name not once, and she put her hands on me. Zuri is nothing more but a copycat. She's copying Roxi Johnson's gimmick, she copied Misty's heroics at Violent Conduct II, and now she's trying to accomplish what Necra couldn't last week. I'm sick of this, I'm sick of Zuri, but you know what, this is all my fault. I should have ended her when I had the chance.
She pauses, shaking her head.
Mercedes: So, tonight, I'm going to go take care of business. I'm going to go fix that. I'm going to right the ship. Tonight, I get to kill two birds with one stone. I'm wrestling Zuri and Blanca at the same time, getting the match that she so richly deserved from three weeks ago at Violent Conduct II. And I'm going to kick their collective asses.
A determine look comes across her face.
Mercedes: And after this, I don't want to hear anything about luck or cheating or interference or anything like that, I don't want to hear anymore excuses - from her, Blanca, or any member of the Chastain's clan. For her, just like Necra last week, failure is not an option. But it is a part of life. And if you don't fail, well, how are you going to learn?
She smiles.
Mercedes: Sometimes you're the student, sometimes you're the teacher, and sometimes you're the lesson. Class is now in session, and tonight Zuri and Blanca are going to learn first hand why you don't mess with The Argentine Assassin and the Mean Girls. Sorry, not sorry.
---
The lights change to an orchid tint as a voice comes over the loud speakers saying "No good deed goes unpunished." After the phrase is said, "Case of the Ex" sounds as Zuri Justice comes through the curtain with her twin sister right beside her and Mr. Carlson right behind them holding a trey. Zuri and Blanca run across the stage pumping up the crowd. They rejoin at the top of the ramp and descend down it. They greet the fans in the front row.
Justin Decent: The following Handicap Match is scheduled for one fall??? Introducing first??? Making their way to the ring, being accompanied by Mr. Carlson. From Webster, South Dakota, they are the voice of the voiceless, the uncanny Anti-Hero, "Lady Justice"....please welcome??? ZURI AND BLANCA CHASTAIN!!!
Zuri and Blanca sprint down the rest of the ramp and slides into the ring. Zuri hops onto one turnbuckle as Blanca bounces on the ring ropes. Zuri poses for the crowd then hits a flawless backflip as Blanca starts a clapping chant. Zuri walks over to her butler and finishes putting on the rest of her ring gear as she waits for their opponent eagerly.
The lights in the arena drop down as a pink glow takes over the stage. The fans look on in wonderment. "Amazing" by Hi Fashion hits over the PA system as the lights begin to flash like cameras from all over the arena. The fans give a loud ovation of booing as the camera pans in. As the lyrics finally kick in, a figure emerges; the highlight of their attire is being under the illusion. Mercedes Vargas stops short of the entrance ramp, hands on waist, and overlooking the crowd as Angelica joins in, throwing her hands in the air to soak in the booing as well.
Justin Decent: Making her way to the ring (or depending on where Mercedes is when the ring announcer begins the introduction, Coming down the aisle, About to enter the ring, or Currently in the ring), representing The Mean Girls and accompanied by Angelica, from Buenos Aires, Argentina, weighing 127 pounds, she is??? MERCEEEEEDEEEES VAAAARGAAAAS!!!
Mercedes goes up the steps and walks along the ring apron as she straddles the top rope, facing the crowd as she unbuckles her title from around her waist and raises it in the air while talking trash. She walks the rest of the apron and climbs to the turnbuckle, then turns her head back at the camera as she flips her hair, though the determined expression on her face remains- perhaps a message that her opponent will be in for a tough fight. Mercedes simply looks down at her opponent(s) before looking out towards the crowd and again raises her title with both hands above her head. She slowly steps down and hands her title over to referee Drew Patton. She wastes no time in walking right up to Zuri for a confrontational stare down. They exchange a few words as Drew gets between them, backing Zuri and Blanca over toward their corner. Mercedes shakes her head and charges at the three of them, delivering a Crossbody that sends all four toppling. Zuri falls through the ropes, as Drew scrambles to his feet, scolding Mercedes who covers her mouth innocently before picking Blanca up by the hair. Drew calls for the bell.
DING! DING! DING!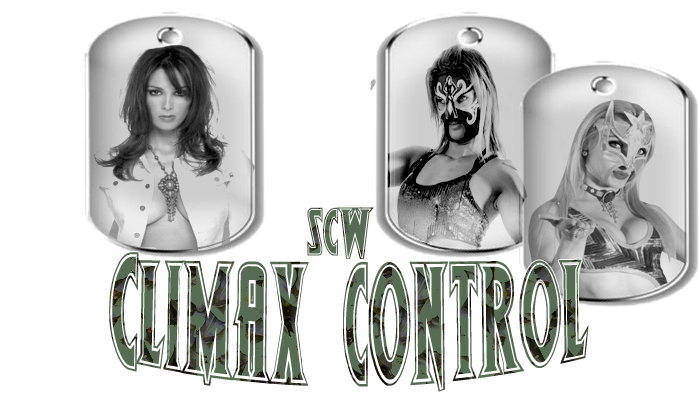 Simone: How are we supposed to believe that Mercedes did that on accident? Obviously she used Drew as a tool to gain the upper hand.
Adams: It was a smart move. Not to mention she is taking the far less experienced Blanca and??? Wait a minute!
As Mercedes drags Blanca toward the center of the ring by the hair, Blanca grabs onto Mercedes' wrist and twists it into a Hammerlock that is picture perfect. The crowd cheers wildly as she wrenches the arm, pushing Mercedes down to her knees. She quickly raises her knee, catching Mercedes in the face and sending her down to the mat! The crowd doesn't expect this from Blanca, who has been, up until now, a mere manager. She looks back to Zuri, who is climbing onto the ring apron, stepping one foot inside of the ring. Drew rushes over and shakes his head, telling her that she must be tagged in to compete. She growls but is obedient. Meanwhile. Blanca comes crashing down on top of Mercedes with an Elbow Drop. She immediately goes to hook the leg and Drew drops down for the count.

1!KICKOUT!
Simone: If only we could witness such an embarrassing moment for this Mean Girl???
Adams: That would be devastating, especially since she is our reigning Bombshell Roulette Champion!
Blanca yanks Mercedes up by her hair and flings her toward the ropes. She lifts Mercedes up for a Sidewalk Slam, but the Argentine Assassin spins just enough to wrap her legs around Blanca's neck, bringing her down in a Tilt-A-Whirl Head Scissors. Blanca skids across the ring, and gets up from the mat just in time to see Mercedes coming at her. She extends her arm, and both ladies floor one another with a Clothesline. The crowd cheers, getting behind Blanca as Zuri rallies them. Blanca stands back up, grabbing onto the back of Mercedes' collar. She wraps her arm around Mercedes' neck and brings her back with a Snap Suplex that rocks the ring. Blanca takes a deep breath as she stands up, tagging Zuri in. Both ladies pick Mercedes up, sending her into the ropes. As Mercedes rebounds, the two lift her up for a Double Back Body Drop, but Mercedes grabs onto both of their heads, crashing down with a Double Reverse Stunner.
Simone: As much as I hate to admit it, that counter was rather impressive???
Adams: "Rather impressive"? It was bloody amazing!
On the outside of the ring, Angelica claps her hands together as she jumps up and down. The booing crowd gets waved off as Angelica rolls her eyes, cupping her hands around her mouth as she shouts out her approval. Blanca slowly gets up and walks over to the ropes. Meanwhile, Mercedes gets to her feet, charging over to the ropes. She comes off with a Moonsault, but Zuri rolls out of the way. Mercedes lands on her feet, steadying herself, but Zuri sweeps her legs out from under her, and then hits the Moonsault that Mercedes was looking for. She hooks the leg as Drew drops down for the count.

1!

2!KICKOUT!

Mercedes gets her shoulder up right after the two count. She rolls out from under Zuri, holding on to her chest as she uses the ropes to pull herself up. Angelica pats her on the shoulder, giving her encouragement. As Zuri charges forward, Mercedes steps out of the way, causing Zuri to collide with Angelica, sending her falling to the ground! The crowd laughs.
Simone: All of the times that one has gotten involved in Mean Girls' matches, she deserves that, and oh sooooo much more!
Adams: Zuri was looking to tackle a Mean Girl, and she got one. It's just too bad that it was the wrong one!
Zuri finds herself with her neck draped over the middle rope. Before she can fix this, Mercedes charges forward, nailing a West Coast Pop that causes Zuri to snap back inside of the ring. She holds onto her head as Mercedes points out to Angelica on the ground, mouthing something to Zuri. She grabs two handfuls of Zuri's hair and begins smashing her head into the mat as hard and fast as she can. Drew tries to break it up, but Mercedes uses her shoulder to shove him back a few steps. Before Drew can reprimand her, Blanca comes inside of the ring, grabbing Mercedes by the hair as well. She drags her off of her sister as she sends Mercedes flying across the ring with a Hair Biel! The crowd cheers as Drew barely protests, a smile coming across his face. Angelica shouts out and points as she scolds him. Blanca flips Angelica off as she slowly walks back to her corner. Mercedes grabs onto the back of her head, and this time, Zuri returns the favor, smashing her head against the mat as fast and hard as she can. The crowd counts along with them. 1! 2! 3! 4! 5! 6! 7! 8! 9! 10! Zuri finally lets up, only to send a forearm club to the back of Mercedes' head.
Simone: It looks like the numbers game is finally getting to Mercedes. But, that's what happens when you accept a Handicap Match.
Adams: I'm surprised that Angelica hasn't tried to even up the odds here. Perhaps Mercedes warned her not to get involved?
Zuri picks Mercedes off of the mat and sends her flying into the ropes. Blanca capitalizes by kicking Mercedes in the back of the head. As Mercedes turns around to strike at Blanca, Zuri runs up the turnbuckle, coming off with a Flying Yakuza Kick to Mercedes that sends her crashing back down to the mat. Zuri tags in Blanca as she backs up to the ropes. Blanca climbs up the turnbuckle and then carefully balances herself on her sister's shoulders. Zuri carefully steps forward, getting into position as Blanca leaps off with a Diving Senton Splash atop Mercedes, hooking onto the leg as Drew drops down for the count.

1!

2!

Thr???

Angelica climbs onto the turnbuckle quickly and prepares to get inside of the ring when Drew rushes over to stop her. Zuri comes over to attack her, but as she charges forward, Angelica pulls down on the ropes, causing Zuri to trip over the ropes, tumbling to the outside. She points at the two of them, and then drives her index finger into his chest. Once she sees that she's got his full attention, she nudges something with her foot over toward Mercedes. Blanca doesn't see it as she gets up, walking over toward Angelica. Mercedes shakes out the cobwebs and picks up a pair of diamond encrusted Brass Knuckles, sliding them onto her fingers. She watches carefully to make sure that Drew doesn't see it as she approaches Blanca from behind.
Simone: Oh no, Blanca! Turn around! She's coming for you with those???
Adams: Call it an equalizer, Belinda. Blanca's got her tag partner, and now Mercedes has hers.
Mercedes swings at the back of Blanca's head as Angelica grins wickedly. However, at the last second, Blanca ducks, and Mercedes connects with Angelica's face, sending her flying off of the apron and to the barricade hard! The fans laugh and cheer as they stand up. Blanca boots Mercedes in the gut, causing her to drop the knuckles. Blanca quickly scoops them up, kissing them before she hits a Spinning Haymaker that busts Mercedes' mouth open, blood flying as she lets the knuckles fly out of the ring. As Mercedes spins around once more, Blanca lifts her up into the Bimbo Breaker! The crowd is going crazy as Blanca calls to Drew, hooking the leg. He drops down and counts.

1!

2!

3!

Crowd: *POP!*
Justin Decent: Here are your winners??? BLLLLLLLLANCA AND ZURRRRRRRRRI CHASSSSSSSSTAAAAAAAAAAAAIN!!!
Simone: I almost can't believe she did it like that! She used Mercedes' own tactics against her to pick up a major win tonight!
Adams: Wait, do you hear that? Oh, it's the Mean Girls crying foul on Twitter later tonight???
The crowd cheers, almost drowning out the sound of "Case of the Ex" as it plays over the speakers. Zuri climbs inside of the ring, looking almost as shocked as everyone else. She joins Blanca in the center of the ring as Drew raises their arms. Zuri hugs onto her sister as they celebrate their win. However, they don't have long before Angelica comes inside of the ring, brandishing Mercedes' own Bombshell Roulette Championship. She drives it into the back of Zuri's head so hard that it knocks her out. She then swings it around; lashing at Blanca's back as hard as she can. She growls as she continues the assault. Mercedes comes to, and despite the blood pouring from her mouth, she pulls Angelica back. She shakes her head as she rips the belt from Angelica's hand, giving her a quick shove back. The two stare at each other intensely for a moment before Mercedes shouts out at her.
Mercedes: THIS IS HOW IT IS DONE!
Mercedes lashes the belt violently against Blanca's back, leaving marks on the exposed skin. She and Angelica begin stomping at the two Chastain Sisters before finally growing bored of it. They join hands, and fall down with a Double Elbow Drop, posing for a second as "Amazing" by Hi Fashion plays once more. The two stand up and walk to the ropes, exiting the ring quickly.
Simone: And for a second there, I thought that Mercedes had more class than that. I guess I was wrong twice tonight, huh?
Adams: Turnabout is fair play! At least the numbers were even there!
Mercedes and Angelica walk to the curtains, turning around just long enough to blow a kiss at the sisters in the ring before disappearing backstage.
---
We find our way backstage once again as we spot Misty standing at the catering table. She has a cup of punch in one hand as she surveys the table with the other. She doesn't have much time to make a decision before cackling can be heard coming from off in the distance. The loud voices get even louder as they approach, and Misty's face twists into a look of pure annoyance. She stares at the two ladies who are so absorbed in their own conversation that they don't even notice Misty is there.
Angelica: Ugh, I know??? right?! I mean, she was like crying and stuff.
Tessa: Wouldn't she be mad if ye was telling her business out loud though? I mean, it is funny that she slept with him, but???
Angelica and Tessa slowly come to a stop as they realize Misty is standing right there. Simultaneously, both ladies gasp and then gently brush their hair out of their faces and over their shoulders. They slowly turn and look to one another, sharing a bit of a sneer in regards to their secret.
Misty: What are you two wenches going on about right now?
They both change their gaze to look at Misty for a split second as they both respond in unison with "Nothing??????" Misty rolls her eyes as they snicker and start to walk off. Misty shakes her head as she goes back to looking at the catering table, though it takes amazing self control not to attack them.
Misty: Well, if you two wouldn't mind talking about *air quotes* nothing??? a little more quietly, so that those of us who don't give a shit, don't have to listen to it, that would be just swell???
Angelica stops dead in her tracks, a facetious look coming over her face. She gives a toothy grin as she slowly turns around, glaring back at Misty. Tessa taps Angelica's shoulders, urging her to move along. Angelica waves her hand off of her shoulder and holds a finger up in Tessa's direction. She runs a hand over her face, and as she does, she seems to magically transform her expression from troublesome, to concerned. She takes a few curtsy-like steps toward Misty and places her hand over her own heart.
Angelica: I'm??? I'm so sorry for all of the mean things I've said about you. I mean, you've really earned my respect with this.
Misty: What the hell are you talking about, skank?
Misty raises an eyebrow as she stares at Angelica, seeing right through her act. Angelica leans against the catering table, looking down into Misty's eyes as she goes to stroke Misty's chin. Misty smacks her hand away, but this doesn't deter Angelica from proceeding.
Angelica: It's so nice that you're acting like you don't know. It's okay. I'm sure that you know, because your perfect relationship with Drake means that you two surely talk about everything, right?
Misty: First off, skank, my relationship with Drake is NONE of your business. Second, I don't know what you're trying to accomplish here but if annoying the shit out of me was the plan, you've accomplished just that.
Tessa walks over to Angelica and tries to drag her away, but Angelica smacks her hand away once more, shooting her a quick glare of annoyance. She looks back to Misty, looking concerned once more with a warm smile spread mildly across her face.
Angelica: You're a stronger woman than I am, because if I found out that Mark had done what Drake did??? I don't know if I could be so loyal as to pretend I didn't know. You're such??? a good girlfriend, Misty.
Misty: What the hell are you talking about? Drake hasn't done anything recently, and if he did I think I would know before you of all people.
Angelica: Oh, so you mean that???? Wait, hold the fricken phone. Maybe you don't actually know? Like "for real" don't know? Oh, that's rich, bitch cakes???
Tessa: Angie, maybe we'd better go before???
Angelica's true nature shines through as she chuckles. She leans off of the table and places a hand right in Tessa's face, quieting her down before turning her full attention back on Misty. She studies her angry, yet slightly confused expression, and her lip curls into a half smile as she goes a half circle around Misty, coming on her other side.
Angelica: Your boy, Drake? Mr. Perfect? Yeah, he got drunk and slept with Ms. Delia Darling two weeks before Violent Conduct II???
Misty: *laughs almost uncontrollably* That's funny, Angie. Hilarious, even. There are two reasons why I KNOW you're lying through your teeth. One, Drake has been sober for quite a while now and two...You honestly expect me to believe that he would sleep with Delia of all people? Get the hell out of here. You're just using some bullshit story as a way to hurt me. Well, it didn't work.
Angelica: Oh *chuckles* I'M a liar? The only one who is lying right now, is you, and the only one who is buying it is yourself, hun-TY??? Delia told me all about it, and how she wanted to rub it in your face, but even SHE felt too sorry for you to do that. I guess she just doesn't know you the way that I do, hm?
Tessa: Ohhhhhhhhhhhkay luv, I thinks it best if we were on our way. We wouldn't want to catch a case of the sad and drearies from Ms. Sourpuss, now would we?
Angelica: Believe it or not. But you might want to re-evaluate your perfect little fantasy life, and snap back to reality. Ask him and see if he tells you the truth. Use your telepathy or whatever, Ms. Cleo, and figure it out for yourself. Just don't say that I wasn't nice enough to warn you???
Misty rolls her eyes. As outrageous as the story is, she can't help but smile and continue to laugh but her smile soon fades and her laughter subsides. Then, in a shocking twist, Misty splashes her cup of punch all over Angelica! Angelica jumps back and shrieks as the punch runs down her face and all over her designer shirt.
Misty: Thanks for the *air quotes* warning, Angie, but you've been misinformed. You might want to get that cleaned up though, hunty. Sorry ???bout it.
Misty throws the empty cup in a trash can, then grabs a bottle of water and a bottle of diet coke instead. She walks past Angelica and Tessa, purposely bumping against Tessa and rolling her eyes as she heads down the hall and away from the two Mean Girls.
---
The camera cuts toward the backstage area as Pussy Willow is currently standing beside Horace Jackson. Pussy seems to be very confused by the actions from him last week.
Pussy Willow: Horace, what was the reasoning behind your brutal actions last week? We thought everyone was getting a special treat but instead they see you and your buddy brutally attack those helpless airmen. We all have just one question for you Horace. Why?
Horace looks down at Pussy Willow then removes his sunglasses. He shakes his head a little nonchalantly while looking at her.
Horace Jackson: Pussy, I don't know what you are talking about. You see last week, Mack and I were shown very little respect from those dweebs. Before you jump down my throat for attacking them, I just have to say they deserved it. No one disrespects us and gets away with it.
Pussy's jaw drops as she is shocked to hear these kind of excuses from Horace.
Pussy Willow: Where is this coming from?
Horace's fun expression changes as Pussy shows fear in her eyes.
Horace Jackson: Oh, come on, you can't be this stupid. This has been building for weeks after I destroyed Joshua Acquin. After I beat him, I expected to actually be given some respect. However they place me in a match against some guy who doesn't deserve the lime light. Geno Jr didn't deserve that win but it's obvious. Unless you are one of the favorites around you, then you can forget getting any kind of perks. The Soulless One is done giving a damn what the fans want out of me.
Pussy Willow: Horace, this is not like you. What about being Darth Vader? I mean the kids were loving it.
Horace Jackson: I don't give two shits. It's because of the suit that I haven't been given the respect. I have been seen as some kind of comic book character or a fucking joke. It's time for The Soulless One to continue his ring of terror.
Pussy goes to speak but Horace cuts her off.
Horace Jackson: This is only the beginning because The Underworld awaits. The Underworld Salutes You.
He walks off laughing as Pussy is left standing with confusion written all over her face.
---
The scene opens up backstage at Climax Control were we see tonight???s competitors in the Roulette Title Match, the champion Equinox and the challenger Kris Halc, who are standing alongside Ms. Rocky Mountains and the Roulette Wheel in a now familiar scene.
Simone: Kris Halc was inches away from winning the Roulette Title from Equinox after Ryan Kidd and Gabriel Aser took themselves out of the Triple Cage match but Equinox seemingly rose from the dead to retain the title.
Adams: Tonight Kris will get a chance to correct his mistakes and win his first title.
Miss Rocky Mountains: Are you ready gentlemen?
Equinox and Kris nod in response and Rocky spins the Roulette Wheel, both men watch intently waiting to see what the wheel will stop on and when it does stop Kris lets out an impressed whistle.
Miss Rocky Mountains: Tonight???s Roulette Title Match will be an SCW first, a 1000 Thumbtacks match!
Simone: This won???t be for the faint of heart.
Adams: Mean Girls, you might want to skip this match!
Miss Rocky Mountains: Good luck to you both.
The two wrestlers nod before walking off to get ready for their match.
---
We are now at ringside where we see that the ring is literally covered with thumbtacks in preparation for tonight???s Roulette Title Match.
Simone: This is probably the first and only match that Justin will introduce from outside the ring.
Adams: I don???t blame him.
Justin: Ladies and gentlemen the following contest is scheduled for one fall and it is a Roulette Rules match for the SCW Roulette Championship!
The crowd cheers the announcement before Justin continues.
Justin: The match was determined via the Roulette Wheel to be a 1000 Thumbtacks match! As you can see the ring has been covered in thumbtacks and the only way to win is by pinfall or submission.
Adams: Wasn???t there another match of this kind that featured a pole?
Simone: Christian didn???t want to spring for something that idiotic.
Justin: Introducing the challenger!
The lights dim and fog rolls out in a thick cloud over the entrance area of the stage as the music starts and the fans all on their feet and there is actually a "Ace of Clubs" chant that is overpowering the boos of some of the people that have known the man longer. The fans are treated with a spotlight that kicks on just under the stage as the lift activates. Kris leans his left side and puts his elbow onto his knee, then through the smoke, his outline is slowly raised until it becomes a black figure standing at the top of the ramp.
Justin: From San Diego, California, weighing in at 217ibs, ???The Ace of Clubs??? Kris Halic!
Simone: As I said before Kris was one of three men who challenged for the Roulette Title at Violent Conduct II and tonight he???ll get a second chance at winning the gold.
Adams: Equinox has been holding onto it for so long that at this rate we???ll have to pry it from his cold dead hands!
As the lift becomes level with the stage, massive blue and purple pyro shoots from the ceiling down to the stage hitting on both sides of the smoke cloud on the stage. The lights are immediately flipped on, and it is as if the cloud never existed. Kris steps forward and is clearly seen in his wrestling attire. His bright purple gloves are the first thing the fans notice. He is wearing black pants and a black shirt that reads "K-Halc?" across the front. He reaches ringside and before sliding in the ring takes off his shirt and tosses it into the crowd as he waits for his opponent.
Justin: And his opponent!
The lights went black, completely black in the stadium ready for this match between himself and his revealed opponent, the fans as quite as they heard the air move around them and they were patiently waiting for something new. The lighting began to change as the song begins to play over the PA system???The crowd screams towards the entrance way in cheers now, "Tourniquet" having just started to pound itself through the P.A. system. As the song picked up power, and rocks out hard the arena goes near pitch black. In the flashing of a strobe like white light at the entrance way we can see fans rush to the safety barricade and wait as the lights begin to flicker in a strobe like state of multi-colors with the song's thumping opening. The lights continue to go "wild" as they flash erratically as the starting lyric announces...
She's made of hair and bone and little teeth
and things that cannot speak
she comes on like a crippled plaything
her spine is just a string
as it begins to play over the PA system and the lighting changes, bathing the entire arena in an eerie purple glow. The stage, as well as the ringside area, slowly begins to fill up with green smoke as the crowd watches in anticipation. Suddenly, something began to rise out of the stage, as if rising from the depths of hell itself. The fans began to erupt as Equinox hidden underneath the umbrella rises out of the stage, as if he's here for them, to perform for them.
Fog began to appear as an umbrella can be seen twirling and twirling as it slowly rises and a man slowly emerged shrouded by a black and white umbrella twirling about over his head slowly, as he twirled it away from his body and onto his left shoulder revealing this new black slacks and shirt to go with a silver tie and his signature black coat and a mask upon his face where several dreadlocks are formed. The fans cheering as the ring announcer announces enigmatic insanity.
Justin Decent: From St. Louis!!!! Weighing in at 235ibs....he is the reigning SCW Roulette Champion???.This is Equinox!!!!!!!
Equinox slowly folded in the Umbrella holding it firmly in his hand running down the ramp frantically as he takes a sharp turn to the steel steps running over to them hopping handing the ref the umbrella.
He hopped down and landed in the arms of the fans cackling evil as they let him go as he clapped the hands of all the fans, however before he can reach the ring steps Kris Halc dives through the ropes and hits Equinox with a suicide dive prompting Jasmine to call for the bell.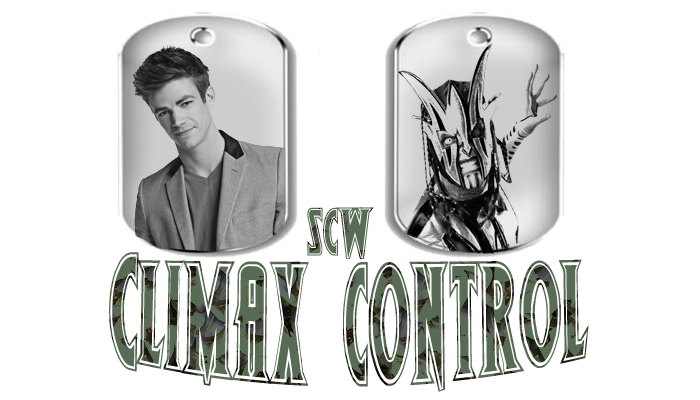 Simone: Kris isn???t wasting any time here he actually used Equinox???s entrance to move the thumbtacks around so that he could hit it safely.
Adams: Not surprised really, Kris is a master of short cuts and don???t forget that he tried to get a head start on the other competitors in the Triple Cage match at Violent Conduct II by scaling the first cage during his entrance!
Kris continues his assault by punching Equinox in the face until he is told by Jasmine to bring the fight back into the ring which he does so by tossing Equinox into the ring, Kris takes his time getting back into the ring thinking that he has the match well in hand but this gives Equinox time to recover and by the time Kris gets back in the ring Equinox boots him in the stomach before grabbing his head.
Simone: He???s going for the Wayward Desolation!
Adams: If this hits this may be one of the fastest Roulette Title Matches in SCW history!
However Kris is able to get his arms free and hits a Belly to Belly Suplex onto the champ sending him backfirst into the thumbtacks, Equinox tries not to put pressure on his back but unfortunately for him Kris rolls him onto his back to make the cover 1???.2???..and Equinox is still able to kick out.
Simone: Normally I???d ask how he kicked out but this is Equinox we???re talking about here!
Adams: If he could find a way to kick out of being sucked out of an airlock in the middle of space he would!
Kris argues with Jasmine thinking that she deliberately applied a slow count but she isn???t having any of it, Kris just shakes his head in anger before he picks up Equinox and goes for his own finisher the Club Trump.
Simone: And now Kris is going for his finisher.
Adams: No! Equinox has slipped out the back of it!
Kris spins around once he realizes what has happened but he finds himself on the receiving end of several roaring elbows that backs him up towards the ring ropes before Equinox whips him to the nearest turnbuckle, Equinox then follows it up with a corner clothesline before grabbing his head and hitting a running bulldog that sends Kris chest first into the thumbtacks.
Simone: And now Kris has gone into the thumbtacks!
Adams: The champ???s going for a cover!
1???.2???.and Kris kicks out in the nick of time, unlike Kris Equinox knows better than to argue with an SCW ref, especially one as fierce as Jasmine, so he instead heads to the nearest turnbuckle looking to his a high risk move.
Simone: Could he be looking for The Dark Kingdom or The Warped Reality?
Adams: It???s Option C: none of the above!
Indeed Equinox seems to be going for a Moonsault instead but Kris moves out of the way just in time sending Equinox chest first into the remaining thumbtacks!
Simone: That answers my question!
Adams: Here???s another one, why isn???t Kris going for a cover?
Kris seems to have other ideas than going for a cover as he carefully picks up one of the thumbtacks from the matt, he grins sadistically before holding Equinox???s legs apart with his free hand and leg.
Simone: Oh god, he???s going to stab Equinox in the groin with that thing!
Adams: GENTLEMEN, BRACE YOURSELVES! I KNOW I HAVE!
Fortunately for Equinox (and every male audience member both at home and in the fort) Kris never gets that far as Equinox surprises Kris with a roll-up 1???.2???.and Kris kicks out letting go off the thumbtack in the process.
Simone: I maybe a woman but thank god for that roll-up!
Adams: Equinox would???ve been a soprano for life if it weren???t for that roll-up!
Kris and Equinox get back to their feet and Kris tries to get the jump on Equinox but gets hit with a clothesline for his troubles, Equinox picks Kris back up and whips him to the nearest corner before charging in and hitting the Death in Mid-Sentence.
Simone: Death in Mid-Sentence!
Adams: Now he???s going to the top rope, if he can hit either of his finishers he???s retain yet again!
However he never gets a chance to hit the finisher as Jimmy ???Big Money??? Ringo runs down to the ring and knocks him off the top rope and to the floor.
Simone: What???s he doing here?
Adams: Good question.
Ringo slides into the ring and picks up Kris before powerbombing him onto a huge pile of thumbtacks, whilst Kris withers in pain Ringo leaves the ring, grabs Equinox and whips him back into the ring.
Simone: We know Ringo wants a shot at Equinox but is he really willing to ruin a great match to get to him?
Adams: Oh my god, what is Ringo doing?
Simone: Oh god, he???s going to Curb Stomp Equinox onto the Thumbtacks, this could end Equinox???s career!
Ringo then goes to stomp down on him but quinox quickly shows life by grabbing his foot, blocking the blow! The crowd starts cheering asJimmy hops on one foot, holding out his hands, warding him off...!
Simone: Not so fun now, is it?
Equinox rises all the way to his feet and looks out to the cheering fans and he suddenly whips Ringo's foot off, spinning his rival around, and as Ringo comes about face, Equinox lays him out with a clotheesline that knocks Jimmy down into the tacks!
Adams: OUCH!
Simone: No it is most DEFINITELY not fun any longer!
Equinox laughs maniacally and then reaches down and grabs hold of the howling Jimmy Ringo and peels him off of the canvas, the thumb tacks sticking in his arms, back and backside! Equinox picks Ringo to his feet and pulls him in, trying to set him up for Wayward Dreams but the lights drop out. A count down appears on the screen.
5...
4...
3...
2...
1!
As the clock gets to one, the intro to Maroon 5's "Move's like Jagger" starts to blast from the speaker.
Simone: It can't be!
The screen flashes with the letters J2H
Adams: J2H?
The crowd burst in to boos as blue lights hit the stop of the ramp but as the lyrics kick in a slow down in the song is heard and Kanye West's "Power" starts to blast from the speakers. A man appears at the top of the ramp.
Simone: It is!
The figure of James Huntington-Hawkes III appears at the top of the ramp, wearing torn blue jeans and and #SCWNeedsJames T-shirt, his body size visably bigger than his last appearence. James moves quickly down the ramp and instantly slides in the ring, standing up and getting in Equinox's face. Equinox tilts his head at James, but James puts a palm in his face and pushes him away.
Adams: Someone grew some balls!
Before Equinox can step back in, James jumps in the air from a standing position and catches Equinox with a huge kick to the back of his head!
Simone: Holy shit, someone showed James how to do a wrestling move!
Equinox lands face first and James on to his knee, he reaches to the bottom of his shirt and pulls it off over his head.
Simone: Holy hell, someone bought James a new physique!
Adams: And a barrel load of tattoos.
James holds the shirt out and lays it next to Equinox, pointing at the #SCWNeedsJames logo. He gets to his feet and pulls Ringo back to his, lifting him up and putting his arm around his shoulder.
Simone: Now we know what Ringo meant when he said he wasn't coming back alone.
Adams: Somehow, he's got a new and improved looking James with him.
---
The door of the backstage parking lot slams open as Vixen makes her way into the arena. Dressed in a dark shirt and loose jeans, she makes her way into the arena walking with a purpose. As she walks, she is caught up to by a cameraman who tries to slow her down.
Vixen: Look I would love to talk but I have to find Spike.
The cameraman finally manages to get in front of her and stop her with a question about what Vixen thinks of Delia beating her for the title. Vixen angrily glares at him before answering.
Vixen: What do I think? I think that Delia beat me fair and square. But I also think that she has me to thank for that title she is wearing. Because if it wasn't for me making her stand on her own two feet, she would never have found out whether or not she could be her own champion and not owe her title to her ???friends'.
With the answer, Vixen tries to get around him and head to the locker rooms. He once again gets in front of her asking her when she would be asking for her rematch.
Vixen: My rematch is just going to have to wait for now, I have other more important things that are going to be taking my focus. Now if you will excuse me!
Vixen pushes at the cameraman to get him out of her way and heads towards the locker rooms. The cameraman makes to follow her but is held back by Devlin who only shakes his head allowing Vixen to escape the questions.
---
Backstage, a woman can be seen walking along the hallways, a pair of gold rimmed aviator sunglasses pulled slightly down a pert nose as she takes in the rush and bustle of the show's behind the scenes. The woman is as mysterious as her gaze. She is wearing a silvery silk blouse over a pair of very tight denim low rider jeans and black heels. Her long hair flows down her back in long curls as she reaches for the glasses and pulls them from her eyes as she comes up behind an intern.
Woman: Can you tell me where I might find Mark Ward?
The intern looks confused for a moment which only makes the woman huff with contempt.
Woman: Mark Ward???owner of this little show?
Intern: Is he expecting you?
The woman smiles knowingly as she nods.
Woman: If he is smart he is.
The intern nods and directs her towards the office of Mark Ward. Outside of the door, she smirks her thanks then putting a hand on the handle she pushes open the door and walks into the office. Inside, she leans against the door and smiles at Mark Ward who looks up with a sneer.
Woman: Before you say anything, let me introduce myself. I am your next Bombshell champion, Angelia Corazon.
Mark Ward: Do I know you?
Angelia moves seductively towards Mark and then sits herself on his desk and lifts her leg to straddle his lap.
Angelia Corazon: You will want to Mr. Ward. You see, I have heard some really good things about this company. And I have heard some rather sorry things about it. Like how you hire old women to try and make your bombshell titles look good. What you need is someone like me.
Mark's eyebrow raises as Angelia leans forward, her cleavage just under Mark's nose. He opens his mouth to speak but is silenced by a perfectly manicured finger held against his lips.
Angelia Corazon: Don't worry Mark, I am here to save you from the boring old witches. So just to prove how much better I am for Sin City, I will take a standard contract which I am sure you are nutting yourself to give me. But when push comes to shove, I want you to give me what I deserve. I am doing you a favor you realize.
A deep chuckle of disbelief is heard from Mark as the door opens to reveal Angelica. Turning her head to take in the Mean Girl, Angelia smirks as she takes her time sliding off the desk onto Mark's lap then dismounting to move around the desk. As she is about to pass her, Angelia stops and turns back to Mr Ward after giving Angelica the once over.
Angelia Corazon: Just remember our conversation and that today was the first of the favors I can do for you. Oh and uh when you want to trade up, you can let me know.
With a nasty smile at Angelica, Angelia leaves the office with the last image being Angelica moving towards Mark Ward.
---
The cameras switch to the backstage areas once again, where we find Misty walking around with a bottle of water in one hand and a diet coke in the other. She has an annoyed look on her face following her confrontation a short while ago with Angelica and Tessa, but she brushes it off as she stops in front of a door with Drake Green's name on it, saved for the Heavyweight Champion. She doesn't even bother to knock as she heads inside where Drake is waiting. Misty takes one look at him and notices something is a bit off, but she shrugs it off for the moment. She walks up to him and holds the diet coke out to him.
Misty: I thought you might want something to drink so I brought your favorite.
Misty chuckles a bit as she emphasizes the last word. Drake turns and takes on look at the bottle of diet coke, shaking his head.
Drake: No thanks???
Misty takes the bottle back, looking a bit confused.
Misty: Oookay then...Do you want the water inst--
Drake: I'm not thirsty, okay?
Misty is slightly taken aback as Drake practically snaps at her, but she stays calm.
Misty: Alright. Sorry I asked.
An awkward silence falls between the two and Misty keeps her eyes locked on him. He looks a bit more disheveled than usual, but again, she doesn't question him on it. In an effort to lighten the mood a bit, Misty laughs as she remembers the run in with Angelica and Tessa. Drake looks at her with a raised eyebrow.
Drake: What's so funny?
Misty opens the bottle of water and takes a drink before twisting the cap back on and looking at Drake with an amused smile.
Misty: Well, I wasn't going to tell you because it's completely ridiculous, but you look like you could use a laugh so why not. Before I got here I had a little run in with Angelica and Tessa.
Drake: Why is that funny?
Misty: That's not so much the funny part, but what Angelica had to say was completely ridiculous I couldn't help but laugh. She claims that not only did you get drunk before Violent Conduct, but that you also slept with Delia.
Drake looks a bit surprised at this and he takes a few steps closer to Misty.
Drake: What?
Misty laughs and nods, taking another sip of her water.
Misty: I know, it's unbelievable, right? Those hags will stoop to any...
Misty stops herself before she finishes that sentence. She tilts her head and looks at Drake with a very serious, yet concerned look on her face.
Misty: Wait a minute. Drake???
Misty leans in and sniffs around his face, noticing a very distinct smell.
Misty: Have you been...drinking??
Misty stares at Drake, waiting for him to answer but he remains quiet. After a while, Misty narrows her eyes at him.
Misty: Drake, answer me! Have you been drinking?!
Though his silence from earlier was enough to answer that question, Drake finally fesses up, though it's hardly in a manner that Misty was expecting.
Drake: Why do you even ask questions that you clearly already know the answer to? Would you believe me if I said no?
His tone is harsh and Misty just shakes her head. She doesn't know what to say.
Drake: You want the answer to that question, Misty? Yeah, I've been drinking, so what? Do I give a shit about whether or not you think I should? No, not really.
Drake turns around and away from Misty. Out of concern, Misty tries to get through to him.
Misty: What is wrong with you, Drake? I thought you were getting better, but I guess I was wrong.
Drake: There is nothing wrong with me. What I need is for you to stop being so God damn nagging!
His words sting, and Misty shakes her head again. She is on the verge of tears as she approaches her next question. A question she probably already knows the answer to but doesn't want to believe.
Misty: Did you...Did you do it, Drake? Did you actually sleep with that evil hag? Did you sleep with Delia?
Drake doesn't answer right away. He stands up straight, or as straight as he can, and slowly turns around to face Misty. He looks her right in her eyes, but Misty can't see any sign of remorse in his eyes and that...that hurts the most.
Drake: Why is that so hard for you to believe? You've done some pretty shitty and heartless things over the years, too, and I slept with you, didn't I? What makes you any different from Delia?
Misty's jaw drops open and she goes completely and utterly speechless. She never imagined Drake could be capable of saying such heartless things, let alone going so far as to compare her to Delia. She's shaking almost uncontrollably from a combination of anger and pure heartbreak. She wants nothing more than to smack the taste right out of Drake's mouth, but just the sight of him makes her sick now. As the tears start rolling down her face, she just turns and rushes out of the dressing room without saying so much as another word. Drake stands there with a stone cold expression on his face. For a moment, it looks as though he feels sorry for what he just said to Misty and for the pain he no doubt caused her, but it's only for a fleeting moment before he turns around and gets back to doing whatever it is he was before Misty had walked inside.
---
Justin Decent:: The following is scheduled for one fall. Introducing first???
"New Low" by Middle Class Rut plays. Jon waits for the lyrics to start and holding a mic in his right hand, he walks from behind the curtain singing the lyrics to the song while he high fives as many fans as he can till he hit's the ring.
Justin Decent:: Making his way to SCW from FoShan, China???he is John Dough!
He then slides from under the button ropes. Gets on his feet and gets on top of one of the turnbuckles and hold the mic up in the air while the crowd sings the chorus.
Justin Decent:: And his opponent???
The lights in the arena shut down, leaving the crowd in the dark, as bright flashes start to burst through out, acting as it were streaks of lighting. A dark crimson color light illuminates the entrance area as a thick mist rolls across the entrance ramp.

A hush falls over the arena as the crimson mist pours off the entrance ramp and into the crowd. Without warning, crimson colored lights explode throughout the arena. A video explodes on the screen as you can see the letters slowly fade in, and as it does a very well known theme begins to filter out throughout the arena...
v/o: "Can you feel it coming? In the air, tonight?"
As soon as the voice over ends, you hear the voice of Phil Collins start up with...
"I can feel it coming in the air tonight, oh lord."
As the popular Phil Collins song "In The Air Tonight" begins to play, the letters on the big screen finish forming with a nickname now well known with this theme....

The Mental Rapist

Through the crimson mist, a ring of fire can now be seen as the fans can see two people rising up from the floor. The arena erupts into boos and slight cheers as the two people are quickly recognized as Sean Jackson and the evil jezebeth Vanessa. Jackson is motionless while Vanessa stands bladed, her curves showing up beautifully against the backdrop. Once both have risen like a phoenix from its ashes, they step out of the ring of fire with Sean completely focused, his face adorned with a serious look while Vanessa runs her hands down the curves of her body and to her hips.
"Can you feel it coming in the air tonight, oh lord, oh lord."
Justin Decent:: From Dallas, Texas???the "Mental Rapist"???Sean Jackson!
A slight smile forms on his face. Lord only knows what's floating around in that screwed up head of his, especially with the Vietnamese darkling at his side. After soaking up the reaction for a few moments, he motions that it's finally time to make their way to the ring.

They begin the slow walk down to the ring as the crimson spotlights glisten off of Vanessa's dark Vietnamese skin and cast a pale reflection on Jackson. Vanessa wearing a low cut blood red dress with a long slit showing off her well toned legs and cleavage while Jackson is dressed in a white shirt with the ???Mental' on the front, blood pouring from the bottom. He is also wearing black trunks with gold colored material and outlined in blood red you see "Mental" and on the opposite leg you see "Rapist".

As soon as they enter the ring, a spotlight bathes Sean Jackson as he takes to the turnbuckles and slowly climbs up. As he sets foot on the middle turnbuckle, the ring is surrounded in falling pyro on all sides of the rings as he peers out at the fans at ringside. Much to the approval of a clapping Vanessa, he then hops down off the turnbuckle and leans against the ropes. As the pyro dies out, the lights come back on, returning the light to the arena.
DING! DING! DING!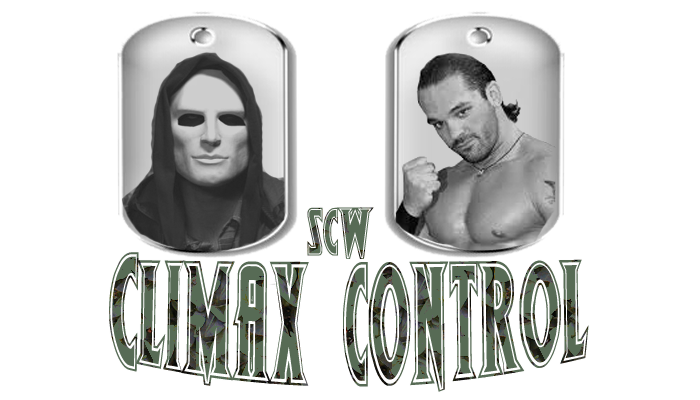 Sean smacks Dough right across the mouth as soon as Jasmine calls for the bell. Dough fires back but Sean ducks and then kicks him in the gut. He grabs his head and sends him straight down to the mat with a DDT. He goes for the cover but before St. John can get down for the count, Dough kicks out in a hurry.
Adams: The former NWA Champion looking to end things quickly.
Simone: I don't think it'll be that quick.
Sean grabs Dough around the neck into a chokehold while they are both still on the mat. He tightens the hold as St. John starts her count.
One???Two???Three???Four???Fi-
Sean lets go at the last second. He stands up in a hurry and kicks Dough hard in his back.
SMACK!
The force of the kick sends him down to the mat squirming in pain. Sean leaps up into the air and lands a hard leg right across his face. He goes for the cover and St. John goes down to the mat for the cover.

One!

Two!

Dough throws his shoulder up in the air. An angry Sean stands up and starts to kick and stop on John as he rolls toward the ropes. He grabs on to the bottom rope but that doesn't stop Sean. He stands on Dough with both feet, grabbing the top rope and pulling up for leverage. Jasmine starts he count again.
One???Two???Three???Four???Fi-
He lets go of the top rope at the last second again as St. John warns him but he laughs in her faces.
Crowd: BOO!
Adams: Sean better be careful or he could get disqualified here.
Sean continues to argue with St. John when out of nowhere, Dough pulls him down from behind and rolls him up for a pinfall attempt. St. John drops to the mat for the count.

One!

Two!

Thr-
He kicks out at just the last second. Spender tries to get up to mount some offense but Jackson kicks him right in the face before he can get up.
SMACK!
Sean mounts Dough and drops a few bombs on his face before getting up and taunting the crowd, flipping his hand from under his chin and laughing. He picks up Dough and scoops him in to a slam, dropping him hard on to the mat. He sits back in the corner, waiting for Dough slowly get to his feet. As he does, Sean starts to rakes John Dough's eyes with his fingers, following it up with a hard haymaker.
CRACK!
Dough goes down hard from a strong right hand from Sean. Instead of capitalizing, Sean walks over to the turnbuckle and stands up on the top rope facing the crowd and smiles as they boo him.
Adams: He has got to be kidding me.
Simone: He better get with it or he might blow this one.
He jumps down off of the ropes and as he turns around, Dough meets him with a boot to the stomach. He turns him around and hooks his arms behind his back.
Simone: He's got him!
Dough lifts Sean up and drops him on his head and neck with a Glam Slam.
Adams: DOUGH DROP! This one is over!
A worn out John Dough covers Sean and Jasmine St. John goes down to the mat for the cover.

One!

Two!
Adams: She stopped counting!
At the last second, Vanessa grabs Sean's leg and stuck his ankle on to the ropes. Jasmine gets up and points to Sean's leg on the ropes and Dough shows his frustration.
Adams: Come on!
Dough gets up and pulls Sean with him. He goes to whip him in to the ropes but instead, he pulls him back hard and hits him with what can only be explained as the world's most powerful belly to belly suplex. He bounces off of the ropes and leaps in to the air, landing a standing splash. He hooks the leg and St. John, again, drops to the mat for the count.

One!

Two!

Sean throws his shoulder up and Jasmine raises two fingers. John stands up and kicks Sean a few times before attempting to pick him up again but this time, Sean lands a hard fist into the gut of Dough, which backs him up a few feet. Sean stands up in a hurry and whips him into a turnbuckle. He runs in crashing with a hard spear. He taunts for a moment as Dough, not really sure where he is, takes a few steps forward in a daze and Sean runs in with a with a spear to the back of Dough's legs, flipping him over on to this back.
Adams: Ouchie!
Dough starts to get up off of the mat and is now kneeling. Jackson launches at him and hits him with shining wizard to the back of the head.
Simone: GAME CALLED DUE TO DARKNESS!
Adams: Come on!
He pushes him over and covers him as Jasmine St. John goes for the count.

One!

Two!

Three!
Crowd: BOO!
Justin Decent: Decent: Here is your winner???Sean Jackson!
The crowd boos as Sean raises his arms in victory.
---
The lights turn to a blue filter and we can hear the opening drums from "Burning Down The House" by the Used. The crowd jumps to their feet and they begin to cheer as "Mr. Showtime" Drake Green steps out on to the stage. He stands there for a moment smiling; his SCW Heavyweight title belt draped over his left shoulder, and raises his right arm motioning for the crowd to make some noise.
Crowd: POP!
Green, with a large smile, stands tall in a tan suit, light brown shoes, and a neatly pressed white shirt with the color open showing his neckline. He raises right arm straight up in the air points toward the sky as the crowd starts to get behind him. Just as the lyrics for the song kick in, Drake makes his way down toward the ring, slapping hands of fans on either side of the railings.

#Watch out
#You might get what you're after
#Cool babies?
#Strange but not a stranger
#I'm-An-Or-Din-A-Ry-Guy?
#Burning down the house
Justin: Please welcome to the ring, he is the Sin City Wrestling Heavyweight Champion???he is The Man of the People..."Mr. Showtime"??? Drake Green!
Drake trades handshakes and hugs with several of the fans in the crowd as he makes his way toward the ring. He walks around the entire rings, making sure he says hello to all the fans at ringside. Finally, he hops onto to the apron and steps up on the second rope and raises his championship belt for the crowd. He steps down and walks over to the opposite corner and climbs up again.
Crowd: Showtime! Showtime! Showtime!
He steps down off of the rope and walks over toward the side of the ring, motioning for the microphone. He accepts the mic from Justin and drapes his belt over his left shoulder again.
Drake: Helloooo Ft. Hood, Texas!!!!
Crowd: POP!
Drake: Ladies and gentlemen, boys and girls, children of all ages....welcome to the show!
Crowd: Even louder POP!
Drake: Are you ready for the most magical, the most fantastical showstopper of all time?! I am your soldier, I am your savior, I am your SCW Heavyweight Champion and I got just one question for ya. What time is it?!
Crowd: Showtime!
Drake: No, no, no. I said what time is it?
Crowd: Showtime!
Drake: People of TEXAS, MY PEOPLE! I know you can do better than that. I asked you WHAT MOTHER FUCKING TIME IS IT?!
Crowd: SHOWTIME!
Drake holds his left arm up and points out to the crowd. He nods his head as he moves his arm, panning through the crowd. He smiles as the crowd chants his name before bringing up his left arm out and using his index finger to point out the kids at ringside.
Drake: Last week, I found myself trying to figure out the best way to honor the soldiers. I thought about it long and hard and then it hit me....
Drake begins to motion with his hand for the kids to join him in the ring.
Drake: What better way to do it, than with the kids, standing in the ring with Mr. Showtime himself, and we all lead a tribute to the troops.
The kids, following Drake's lead, are led around the ringside barricade by security. They then make their way up the ring steps and into the ring. Some are so happy that they begin to jump up and down, totally happy to be in the ring with the SCW heavyweight champion. Once all the kids are in place, Drake begins to address them all at once.
Drake: Okay kids, are you re....
Voice: Um, pardon the interruption BUTTTTTT.....
Boos erupt as Drake looks up to see that Marshall Owens is now standing on the entrance ramp, looking down towards the ring with a serious look on his face.
Marshall: You have more important things to worry about Drake.
Drake rolls his eyes, having difficulty believing that even Marshall Owens could come out and disrupt a tribute to the troops involving little kids.
Drake: Are you kidding me Marshall? Can't you see I'm in the middle of something important?
Slowly, Marshall begins to make his way down towards the ring.
Marshall: Something important? No Drake, what you're doing inside that ring right now is far from important. If you wanted to do something important, you would ditch the snot nosed brats and put that title belt up against my client.
As the kids turn to face Marshall Owens, they have angry looks on their faces for having their time with the champion interrupted. As Drake sees the looks on their faces, he begins to get upset as well. But in true champion form, he keeps his cool and simply raises the belt high over his head.
Drake: Sean had his chance and he blew it. He lost to the better man and now he's old news. As far as I'm concerned there are more deserving peop...
Drake never gets to finish as Sean slides under the ropes from the opposite side and blasts him in the back of the head. Stumbling forward, Drake tries to avoid hitting the kids but can't. As he hits the canvas, Drake tries to keep his full body weight from crashing on one of the slower kids, but again can't.
Marshall: I tried to warn you Drake, but as usual, you let those FANS get you into trouble again.
Crowd: BOOO!!!
Still trying to protect the kid, Drake absorbs a huge amount of punishment from the Mental Rapist because he was using his arms to keep the weight off of the pinned kid. The boos get louder as Sean continues to rain down the fists and stomps, completely uncaring of the kid who is still trapped under Drake Green. Then in a move that totally shocks everyone, Sean slips his hand into his pocket and pulls out a pair of handcuffs.
Marshall: And now, NOW it's time to deliver the message.
Sean manages to get the cuffs on and pulls Drake towards the corner. Once his back is against the turnbuckles, Sean slides out to the arena floor and retrieves a pair of leg shackles from under the ring. He then runs the shackles around the ring post and clasps them to the handcuffs.
Marshall: And the message is this Drake. My client is tired of being ignored. My client is tired of being pushed by the wayside. My client has finally decided that he's going to be the next SCW heavyweight champion.
With Drake no longer able to move freely, Sean walks over to Owens and takes the mic. He then slides back into the ring and stands in front of Mr. Showtime.
Jackson: It's over Drake, it's done. I'm no longer playing second fiddle to a man who isn't deserving to be a champion over me.
Sean goes to laying the boots to Drake Green as the shrieks from the kids and women start to fill the building. However, the shrieks turn to cheers as security comes running down the ramp. Seeing this, Sean bails from the ring as the ring is filled with security personnel.
Jackson: Get ready Drake because this is only a small taste of what's to come.
He lets the mic drop to the floor as he turns to make his way back up the ramp with Marshall Owens in tow.
---
Not long after finding out the devastating truth about Drake and Delia's steamy night together, Misty is rushing down the hall backstage. Tears are still streaming down her face and her duffel bag is thrown over her shoulder as she heads straight towards the parking lot. As she rounds a corner, she nearly bumps into Vixen, but luckily she was able to stop herself. Vixen takes one look at Misty and the tears rolling down her cheek, and tries to question her.
Vixen: Oh no???What's wrong? Misty, what happened?
Misty shakes her head and wipes a few tears away from her face.
Misty: I???I can't???Not right now, Vixen. I have to get out of here.
Recognizing the broken hearted look on Misty's face, Vixen holds up a keychain holding a single key. She hands it to Misty.
Vixen: If you need to clear your head for a while, feel free to head up north and take as much time as you need. I know that look on your face, but I'm not going to pressure you to talk about it right now.
Misty: Thanks, Vix???
Misty takes the key from Vixen and offers Vixen a half-hearted smile before she rushes off down the hall and out of the building. Vixen takes in a deep breath and stands there, shaking her head, before she heads off down the hall in the other direction.
---
Backstage, the crowd watches on the SCW Tron and cheers as they see the SCW Tag Team Champions, the Bosom Buddies aka Big B and Despayre, walking down the hall toward the Sins dressing room. They had taken an obvious snack detour as both men are holding cones stuffed with colorful cotton candy and munching on it, as Angel, held in Despayre's arms, has a small cone of his very own. They near the corner where the dressing rooms are located when a voice calls out...
Miss Rocky Mountains: Excuse me?
The two men turn and spot the busty and roving SCW reporter, the comely Miss Rocky Mountains, approach with a smile.
Despayre: Hm? What'd you say?
Miss Rocky Mountains: me? Oh, I said 'excuse me.'
Despayre: Oh. ... Did you toot?
Miss Rocky Mountains: What? No!
Big B: Well you didn't belch, because ladies aren't supposed to do that.
Miss Rocky Mountains: No I didn't...
Despayre: Then why did you say... Angel! Her eyes are up there!
Despayre pulls his teddy bear to a higher spot against his chest and the two men continue snacking as the now flustered Miss Rocky composes herself.
Miss Rocky Mountains: I said 'excuse me' because I was hoping to have a quick word with you.
Despayre: Oh boy! Word games! I like games!
Big B: Nunh! I don't think I'll like this game.
Miss Rocky Mountains: No. I mean, I wanted to ask you a question.
Despayre: Ohhh! That can be fun too! Angel is great with riddles! Go ahead.
Miss Rocky looks baffled between the two men, then sighs and figures she might as well get it over with.
Miss Rocky Mountains: Well last week the team of R.O.A.R. asked you two for another chance at the tag team titles. I was wondering what your answer was.
Despayre and Big B stare at her for several seconds, then look down at Angel. Despayre leans over to whisper to Big B...
Despayre: What do you think?
Big B: I think that's the silliest riddle I ever heard.
Despayre: I concur.
The two then look at Rocky and shrug.
Despayre: We give up. What's the answer?
Miss Rocky blinks.
Miss Rocky Mountains: Well ... that's kind of why I asked you. You're the champions. Are you willing to defend the titles against Jeremiah and Sebastian Hardin again?
Despayre: Sure!
Big B: Why not?
Saying nothing more, the champions turn their backs to the reporter and leave her baffled, whispering...
Despayre: You were right. that was a silly riddle!
Big B just nods.
---
Senior referee, Jasmine St. John, is shown standing in the far corner of the ring, hands on hips and her face stoic as she waits for Justin Decent to begin the introductions for the next big match up.
Justin: The following tag team contest is scheduled for one fall! Introducing first...
A spotlight is shone on the ramp as Dark Tiger and Jeremiah stand on the ramp, and they head down the ring. The Fans go wild for them, and Jeremiah fist bumps with the fans.
Justin: Ladies and Gentlemen. Making their way to the ring, Being accompanied to the ring by Diamond, at a total combined weight of 535 lbs. "Big Tiger" Jeremiah Hardin, "the Beast of Darkness" Dark Tiger. They are Rebels on a Rampage, R.O.A.R.!!!!!
Dark Tiger steps over the ring ropes and Jeremiah lowers the ropes for Diamond as she enters and he enters the ring and they get in the ring, and Diamond rips off Jeremiah's camo pants to reveal his wrestling gear and she kisses Jeremiah and she leaves the ring. Dark Tiger pats Jeremiah on the back as they wait on their opponents.
Simone: You are looking at the current Number One Challengers for the SCW Tag Team Championship, currently held by Despayre and Big B.
Adams: Yeah! We heard from the Buddies earlier and you just knew they'd accept R.O.A.R.'s challenge for a rematch! They took the champs to the limit at Violent Conduct II, so now we get to see Part Two!
Simone: The Bosom Buddies have defended against anyone that Mark, Christian and Erik have placed in front of them, and have done so successfully. Tonight, however, Jeremiah and Sebastian Hardin are going to have their work cut out for them as they are going against two of Despayre's teammates in the Seven Deadly Sins!
"Zombie" by Breed 77 blasts through the speakers, the slow intro playing as the word move on the screen. The eyes of Gabriel appear on the screen, turning red as the heavier guitars kick in. Purple lights cut through the thick smoke starting to fill the entrance ramp.
Justin: Introducing from London, England, weighing 230 pounds ... GABRIEL!!!
The crowd wait in anticipation as the figure of Gabriel walks out from behind the dark curtain, to a huge chorus of boos. Gabriel is wearing a leather jacket, down to his heels with a hood attached which he pulls the hood back from over his eyes, showing his face. Gabriel's eyes are focused completely on the ring, his eyes narrowed as he glares at the ring. Gabriel turns his head and starts to walk to the ring. Gabriel gets outside the ring and puts his hands together, a light burning from his palms. A flash of light engulfs the ring and Gabriel stands inside, waiting for his partner's introduction.
Justin: His tag team partner is accompanied by Synn! From Parts Unknown, weighing 300 pounds... RAGE!!!
Monster by Skillet starts to play over the sound system, as thick smoke and red strobe lights flash near the backstage entrance. The music plays for several seconds before the Sin of Wrath, Rage, appears from behind the curtain. His manager, Synn, stands on one side of him. They stand at the entrance for a few moments before Rage raises his clenched fist above him, eliciting a mixed reaction from the crowd. He makes his way to the ring with a dark almost demonic look on his face. Once he gets to the ring, he pulls himself up to the apron, using the second rope, then steps over the top rope to enter the ring. Synn and takes his place on the outside of the ring as Rage looks at his partner. His music dies down.
Adams: Did you notice at all that Gabriel and Rage didn't come out to the ring together?
Simone: Well it's common knowledge that those two have something of a friendly rivalry in the Sins, always looking to push each others buttons.
Adams: They also have egos to match.
Simone: That's probably another reason they didn't come out together. Neither wanted to walk out to the other's music.
The R.O.A.R. members easily decide who is to start as Sebastian steps out onto the apron and Rage simply shoves Gabriel aside and steps out himself. Gabriel glares at Rage and flips him off before he turns around, staring a hole through the man opposite him. Jasmine makes certain both men are ready and she calls for the bell.
Ding!
Ding!
Ding!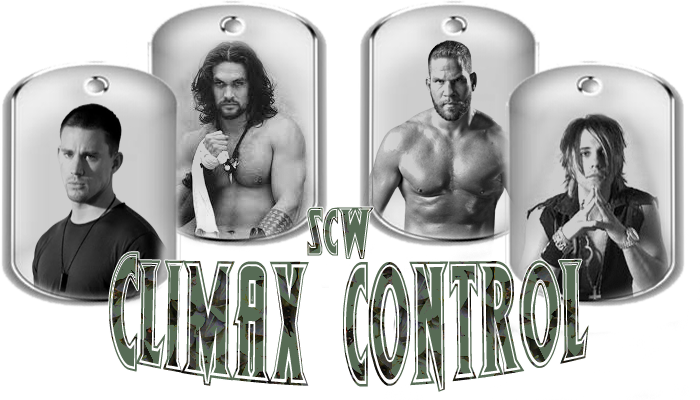 The capacity crowd of fans and soldiers clap from ringside and call out as the two men inside the ring square off, circling each other and locking up, collar and elbow. Gabriel quickly takes first advantage by breaking the lockup and grabbing Big Tiger into a side headlock. He cranks it on, but as Jeremiah looks as if he were looking to break or counter, Gabriel thinks fast and ducks behind him, trapping him into a hammerlock, before reaching right down and pulling Big Tiger's foot out from under him and causing him to fall face-first into the mat where Gabriel stands over him and slaps him upside the head.
Simone: Sometimes I find it so sad at how much that man has changed over the past year.
Jeremiah gets back up, ready to deck Gabriel but Gabriel backs up and ducks behind Jasmine for 'protection." The referee orders Big Tiger to back off and then gets Gabriel from behind her and orders the match to continue. Jeremiah circles Gabriel as though he were prey and the two again lock up, and this time Gabriel digs deep and armdrags the bigger man right over. Gabriel jumps up to his feet and holds his arms out in self-presentation, then takes a courtly bow.
Simone: One of these days, Gabriel's attitude is really going to cost him.
Gabriel, a smug smile on his face, turns around-and is almost beheaded by a running clothesline from Big Tiger Jeremiah Hardin!
Adams: The hell you say?
Jeremiah Irish whips Gabriel into the ropes and swings but Gabriel ducks under and scissors his arm for a crucifix takedown but the brawny Big Tiger hoists Gabriel onto his shoulders in a fireman's carry, then dumps him over his head and across his knee in a gut buster! Gabriel rolls around on the mat, clutching his mid-section, and Jeremiah tags Dark Tiger into the contest. The two Irish whip Gabriel and on the rebound, catch him in a double flapjack maneuver, slamming him down face and chest first!
Adams: And the tag team experience of R.O.A.R. is showing itself already!
Jeremiah quickly ducks out to his corner as Dark Tiger body slams Gabriel. Dark Tiger Irish whips him and scoops him up on the rebound, dropping him into a sidewalk slam, hooking both legs.
1.....
2.....
Gabriel gets a shoulder up!
Dark Tiger grabs Gabriel and shoves him into a corner, striking him under the chin with two European uppercuts. Dark Tiger drives a knee hard into his stomach, taking the wind right out of him, and then goes to send him off into the ropes but Gabriel counters with a reversal and dropkicks him in the knee, taking the giant down to one knee. Gabriel then runs into the ropes and comes off with a spinning wheel kick to the back of the head!
Simone: If I were Gabriel, I'd tag Rage in. There is just too much of a size difference I feel at this point.
Gabriel reaches over and tags Rage in and the two teammates start stomping down onto Dark Tiger's prone body as Synn watches on from the corner. Gabriel steps outside and Rage Irish whips Dark Tiger and the two big men collide in a shoulder tackle, but neither man moves! Rage points at the ropes and Dark Tiger runs into them and comes off, and they collide again but again, neither man budges!
Simone: It's the Irresistible force meeting the Unmovable object!
Rage nods, a dark smile on his face, and Dark Tiger rushes off of the ropes a third time, but this time the 7'1" grappler comes off and lays Rage OUT with a clothesline!
Adams: WHOA! I don't think ANYONE has ever taken Rage down like that!
Simone: I think this might very well be the first time that Rage is in there with someone with that much of a size advantage over him!
Rage shakes the cobwebs but Dark Tiger drops a big leg down across his head and then covers the Sin of Wrath!
1.....
2.....
Rage gets a shoulder up!
Dark Tiger grabs him and drags Rage to his feet and Rage drives a knee into his stomach, trying to loosen him up and take over, but Dark Tiger blocks it. Dark Tiger then catches Rage off guard and drives a knee up into his stomach, and displays his raw power by scooping Rage up driving him down with a hard body slam that shakes the ring!
Adams: NOBODY has ever man handled Rage like this before!
Dark Tiger rebounds off of the ropes and jumps, driving a diving elbow down hard into Rage's chest cavity! DT covers him again and hooks the leg!
1.....
2.....
Rage kicks out!
Dark Tiger pulls him up into position for a vertical suplex but instead, collapses his body for a face-first suplex! Dark Tiger tags Jeremiah Hardin back in who grabs Rage around the neck and cradles a leg and brings him over with a fisherman's suplex.
1.....
2.....
Rage gets a shoulder up!
Adams: Jeremiah isn't no slouch in the size department either.
Jeremiah tags Dark Tiger back in. Dark Tiger grabs Rage into a front facelock and scoops him upside down into a delayed vertical suplex position, holding him there for several seconds...
1..
2...
3...
4...
5...
6...
7...
8...
The fans applaud the display of power!
Simone: What strength by Dark Tiger!
Dark Tiger then falls back, bringing Rage crashing down! Dark Tiger into the cover!
1.....
2.....
Rage kicks out!
Simone: I don't think rage knows what the hell to do at this point! He's never had an opponent that he couldn't over power!
Dark Tiger sets Rage up for an atomic drop but turns it around into a sit down powerbomb into another cover!
1.....
2.....
Again Rage gets a shoulder up.
Dark Tiger Irish whips Rage into the ropes and swings for a clothesline but Rage ducks under the blow, rebound and dives off of his feet, spearing Sebastian down hard!
Adams: I don't care how damn big a man is! They're going to go down faster than Christian in Synn's dressing room!
Dark Tiger is stunned, clutching his midsection, and rage rolls over and makes the tag! Gabriel quickly goes up top and as Dark Tiger stands, Gabriel leaps off and connects with a corkscrew plancha, bringing the giant down!
Adams: TIMBERRRR!!!
Gabriel wraps Dark Tiger's arm around his own neck and brings him down on the back of his head with a ring-around neckbreaker. Gabriel covers him for the pin.
1.....
2.....
Dark Tiger HEAVES him off with a kick out!
Simone: What power!
Gabriel grabs Dark Tiger and drapes his neck across the center rope, choking him with a knee across the back of the head. Jasmine warns him to break the illegal hold and grabs him by the arm, pulling him away! Gabriel brushes the official aside and tags Rage back inside the ring. Rage sets Dark Tiger back over his knee and Gabriel comes off the middle rope with an elbow smash into the sternum! Gabriel dives out as Rage covers Dark Tiger and cradles the leg.
1.....
2.....
Dark Tiger kicks out!
Simone: Dark Tiger's showing a lot of fight in him tonight!
Adams: Yeah but even someone his size can't last forever!
Rage sits Dark Tiger up and wraps an arm around his chin in a rear chinlock with a knee set right into the small of his back, pulling back with his teeth clenched.
Adams: Wow. I don't think I've ever seen Rage use an actual wrestling hold before.
Simone: I imagine he's finding he has to change up his strategy now with someone Sebastian's size.
Dark Tiger grabs Rage's hands and tries to power his way free, but Rage quickly rakes him across the eyes and throws him over onto his stomach and locks him into a front facelock on the mat. Dark Tiger slowly forces his position to his hands and knees, and then to his feet and suddenly bulls his weight forward, driving Rage back into a neutral corner! Dark Tiger quickly drives a shoulder into Rage's stomach and throws him hard into the far corner! Dark Tiger then charges forward but Rage moves and Sebastian crashes! Dark Tiger turns around and Rage lands a big boot, knocking the larger man down to the mat! Rage covers him, hooking the near leg!
1.....
2.....
3-No! Jeremiah Hardin breaks it up!
Adams: Oh it was almost over!
Jasmine is quick to reprimand Jeremiah for his interference, and Rage grabs Dark Tiger and throws him out to the floor. Rage ducks out and as DT slowly stands up, Rage runs right into him with a clothesline!Rage then sends Dark Tiger crashing into the metal ring steps!
Adams: Like I said, Dark Tiger can't keep this up forever!
Simone: He needs to get Jeremiah in!
Rage then rolls Dark Tiger back inside of the ring and follows where he Irish whips the big man into the ropes but they both have the same idea and clothesline each other!
Simone: Of course!
The two men lay prone on the mat as Jasmine checks on their condition and their tag partners yell at them, shouting encouragement to make the tag! Sebastian rolls over and starts to crawl toward his corner and Rage tries to prevent him from doing so by grabbing hold of his ankle. Dark Tiger plants a boot into Rage's sternum and shoves, knocking the Sin of Wrath back! Dark Tiger dives and tags Jeremiah! The fans explode in cheers as the powerfully built Big Tiger charges in and clotheslines Rage down to the mat! Gabriel jumps in to break it up and Jeremiah clotheslines him as well!
Simone: Now we're going to see what the Sins can take as opposed to dishing out!
Jeremiah grabs Rage and Irish whips him, catching him in a spine buster, jackknifing him!
1.....
2.....
3-NO! Rage gets free!
Jeremiah Irish whips him into the ropes and dives forward, catching Rage with a High Knee that carries such force that it knocks him right back into his own corner where Gabriel gets tagged in, but Jeremiah grabs the top rope and jerks back, bringing Gabriel over into the ring the hard way! Jeremiah sends Gabriel flying into the corner and crushes him with a Stinger splash! Gabriel staggers forward and Jeremiah boots him in the stomach and sets him up into position for a powerbomb!
Simone: If he hits this it'll be all over!
But it's not to be as Rage clobbers him from behind and this brings Dark Tiger back into the match who tackles Rage! Jasmine runs over to break Dark Tiger and Rage up but the two behemoths brawl and tumble through the ropes and hit the arena floor! The fight continues as they get to their feet and Dark Tiger blocks a shot and short-arm clotheslines Rage to the floor! Dark Tiger stumbles back against the railing, when suddenly a 'fan' in the front row swings a loop of barbed wire around Sebastian's head and neck and uses the leverage to choke him as a perplexed Rage watches on!
Simone: What the hell!?
Adams: A fan is attacking Dark Tiger! WITH BARBED WIRE!!
Security is in a frenzy as they rush out to end this but the man pulls with all of his strength, choking the life out of Dark Tiger, refusing to allow the officials to end the attack! Inside of the ring, Gabriel backs up as Jeremiah slowly gets to his feet, and the moment Big Tiger does, Gabriel lands a double knee jawbreaker!
Adams: Believe This!
Gabriel covers Jeremiah and hooks the leg!
1.....
2.....
3!
The bell rings and Gabriel gets off of his fallen opponent, just now seeing what is happening outside of the ring! Synn gets between the officials and the attacker, separating them and yelling he's with them!
Simone: He's with...?
Adams: What the HELL is going on!?
The officials back away a step, watching warily as Synn pulls the guard rail open and the 'fan' steps through onto the floor, his face hidden by his hood while he looks down at Dark Tiger! Rage has by now climbed inside of the ring, standing by Gabriel and watching on in confusion as the attacker rolls into the ring as Synn himself steps inside through the ropes. The hooded man stands in front of the Sins.
Simone: Who is he!?
The attacker reaches up and throws his hood off... and while Rage shakes his had, not knowing him, Gabriel's face widens in a sadistic grin.
Simone: Oh my god...
Adams: It's Chris Shipman! Chris Shipman is in Sin City Wrestling!
Gabriel immediately walks up and claps a hand on Shipman's broad shoulder, while rage's brow darkens back into his usual frown.
Simone: What the HELL is Synn thinking!? Bringing this sick son of a bitch into SCW!?
Adams: Chris Shipman was a member of the Sins in another promotion, but it looks like once a Sin, always a Sin!
---
*GET READY FOR THE SMACK DOWN!*
The crowd comes to their feet as "Smack Down" by Thousand Foot Krutch begins to blast over the speakers. The cheers rain down as the lights begin to flash over the stage in red and white. The NXT video plays on the screen, but within a few seconds of the video beginning, the curtains are shoved to the side. Spike Staggs comes walking through them, wearing his usual NXT tank top and tattered black jeans. He steps to the center of the stage and looks to one side, throwing his arms up in the air. The fans cheer loudly before he does the same for the other side. He slowly nods his head before he looks toward and ring and jogs down the ramp. Once he is at the head of the ring, he increases his speed and slides in under the bottom rope. He walks to each turnbuckle, throwing his arms in the air to get the fans to cheer louder and louder. Finally, he walks over to Justin Decent and retrieves a microphone. He wastes no time raising it to his lips as he begins to speak, pacing back and forth.
Spike: Nothing ever remains as we remember??? but the one thing that I can always count on is the fans of Sin City Wrestling being loyal. You see, I can remember a time when the New X-Tremes would come out here and take it to eleven, and you would scream our name. Your cheers so deafening that???
Crowd: NXT! NXT! NXT! NXT!
Spike lowers the microphone as he smiles warmly at the cheers. He allows the chant to continue for a moment, laughing and nodding his head along with the chant, before finally continuing.
Spike: Yeah, exactly like that??? But, as Bob Dylan said "Oh the times, they are a changin'" and have they ever. It seems that the more you piss off the fans, the more air time you get. The more you kiss the bosses ass, the more title opportunities you get. Well, I for one, refuse to play by those rules. With the very fundamentals of NXT, we don't play by those rules. We don't play by any rules!
Crowd: *POP!*
Spike: And that is exactly why we haven't been seen so easily as of late. I refuse to give a bunch of women, who refuse to grow the fuck up, living in some sort of high school fantasy world, the satisfaction of a mention. However, I felt that I owed an explanation to the loyal fans as to why we haven't been so visible lately. The truth is that we've been sitting back and watching all of this mess happen before our very eyes. And an even greater truth is that I'm sick to fucking death of it, and I will NOT stand by any longer as I watch it run over what I??? what WE created.
Spike runs his finger across the audience, letting them know that they are just as much a part of the stable as the official members are. The crowd cheers loudly once more as Spike nods his head. However, a serious look comes over his face, replacing the smile he once had.
Spike: I could come out here and feed you a line of bullshit that the Mean Girls are going to have another war on their hands. I could say that Vixen and Jessie are going to tackle them, and drag them back down to where they belong??? But I'm not a liar. That part of me died a long time ago, and I couldn't be happier about that. The truth of the matter is that I'm tired??? I'm tired of listening to them come out here and insult the fans. I'm tired of sitting by and watching them pick people apart on Twitter. I'm tired of seeing them tear innocent people apart, and getting away with it. But, most of all, I'm sick and fucking tired of them targeting my family.
Fans: BOOOOOOOOOOOOO!!!!!
Spike: Well, I'm not going to sit by and watch this happen any longer. I refuse to let the hard work that my NXT family puts in get trampled on by a bunch of power hungry egomaniacs. I'm done with that bullshit. I'm done worrying if a grown woman is going to kidnap my daughter, or get my under-aged son drunk, or give my uncle a concussion, or bring up my past and twist it to meet whatever sick and twisted point she feels like making. I will not put up with it any longer!
Fans: *POP!*
Spike practically roars his last sentence, and the fans rally behind him in support. He takes a deep breath, seething in anger as he looks around. The fans slowly calm him down with their support. This is when he raises the microphone back to his lips.
Spike: That is why I have to call it quits???
Fans: WHAT?!?
Spike: One month ago, I did something that I never would have imagined I'd ever do. I put my hands on a woman, and I don't regret it. I'd do it again if I could. In all fairness, I should have been fired for doing so, but I wasn't. I just worry that I might do something worse, because it is clear that Delia and the Mean Girls' rampage through SCW is only growing as more and more people are paying attention to them. I refuse to sink to that level ever again. So, I think it is best that I take my leave, and do the only proper thing, which is to disband NXT. I still consider you all my family, and you are welcomed to contact me at any time, but my professional association with you will only bring you down, and???
Spike is cut off as Emphatic's "Bounce" blares over the speakers. Wasting no time at all, Vixen marches down the ramp and quickly makes her way to the ring. She looks to be on a mission as she comes to the ring steps, quickly jogging up them. She climbs inside of the ring and walks right up to Spike who looks confused. Vixen stares into his eyes and then she leans in, whispering to him. Spike's jaw drops as he doesn't believe his ears. He cups his hand around his ears as the music fades, and Vixen repeats herself. Spike looks even more stunned as the words truly sink in. He looks down at the mat and then slowly raises the microphone back up to his lips.
Spike: And??? as if I needed another reason??? it appears that I'm going to??? well??? be a father again???
The crowd cheers as Spike smiles from ear to ear. They rain down their support on the newlywed couple as Spike wraps his arms around Vixen. He gently picks her up as she wraps her arms around him, and the two spin around in a circle. Spike sets Vixen down with her feet on the mat once more as he points to his lovely lady as "Smack Down" plays over the speakers once more. Spike and Vixen chat amongst themselves as they slowly go to exit the ring. However, they don't end it there as they celebrate with the fans on the outside. Spike gently lifts Vixen over the railing before joining her. They work their way slowly through the crowd as they chant "NXT! NXT! NXT! The come to the center of the audience and we fade elsewhere in the arena.
---
Backstage, Pussy Willow stands beside Christian Underwood who has his arms folded over his chest and an annoyed expression on his face.
PW: Fans, we are here with one of the owners of Sin City Wrestling, Christian Underwood. Now just recently, we discovered that Liz Smalls, one-half of the SCW Bombshell Tag Team Champions, has severed her ties with SCW and she has taken her leave. Christian, what does this mean for the tag team titles?
Pussy Willow holds the mic over to Christian who responds.
Christian: Well first of all, I want everyone out there to wish our buddy Hot Stuff a Happy Birthday. Now Mark, Erik and I went around and around on this issue and how to settle what to do with the tag team titles, but the one thing we all agreed on is that it would not be fair to Veronica to declare the belts vacant. Much as we might dislike her, Veronica worked hard to get to where she is and we are not taking that accomplishment away from her. But... we are also not allowing her to pick and choose who her partner with the titles is going to be. So here is what we decided to do. Sin City Wrestling is going to hold a battle royal next week, featuring women who have held the tag titles, or have come close to accomplishing that very feat. The winner of that event will join Miss Taylor as the Bombshell Tag Team Champions.
PW: Thank you Christian.
Christian smiles and nods and makes his exit, leaving Pussy Willow to stare into the camera.
PW: Wow. Someone is going to HAVE to team with Veronica Taylor? be interesting to see how the ladies take to that bit of news!
---
The camera returns to ringside just as Jacob Summers climbs through the ropes and the time keeper's bell reverberates with a resounding clang three times to signal it is time for the final match of the evening!
Ding!
Ding!
Ding!
Justin: Ladies and gentlemen! The following Triple Threat match is scheduled for one fall to a finish! It is the Main Event of Climax Control, and it is for the Sin City Wrestling Bombshell Championship!
The crowd cheers!
Justin: Introducing first, to be accompanied by Katie Patterson! From Dallas, Texas, weighing 143 pounds ... TRACI PATTERSON!
Here Come The Boom - POD starts to play over the PA System and the fans get up to their feet. With that Traci and Katie walk out from behind the curtain. Traci then poses on the top of the stage with Katie points at Traci. The pair then walk down to the ring and slap fans hands as they do ther. Katie then gets up on the apron and holds the ropes open for Traci. Traci then slips in and walks over to the corner. She then poses on the turnbuckles while Katie claps her. Traci then gets down and opens the ropes for Katie to leave before focusing on her opponent.
Simone: I don't care what those rumors are saying. I firmly believe that Traci Patterson has earned the right to be here tonight, fighting for the Bombshell title.
Adams: Help me keep up to speed. We're talking about the rumors on Hotwire that Traci's trading favors for her push?
Simone: No, Jason. We're talking about the rumors about you swinging naked from the hotel chandelier and falling into that wedding cake at the hotel reception.
Adams: Am I ever going to live that down!?
Justin: Her opponent and challenger! From Tampa, Florida! Weighing 132 pounds ... ROXI JOHNSON!
The opening keyboard notes of "The Touch" begin on the PA system. Stan Bush's voice rings out and soon the power chords kick in to begin the song. The cameras pan around the arena, and soon, spotted in amongst the fans, is Roxi Johnson slowly making her way through them, slapping the fans five and getting patted on the shoulders as he moves through the swarm of fans. The fans continuing singing with the song as Roxi continues her journey through them, stopping and singing along with them. She treks onward, seemingly greeting every fan, before she is lifted on top of the fans and they crowd surf her towards the ring, imitating a superhero "flying" motion. She makes it and lands on her feet on the arena floor to which she high fives the closest fan before climbing up on the apron and climbing the turnbuckle and raising her arms in the air to massive cheers. She jumps down from the top turnbuckle and lands in the ring, and begins jumping up and down in an exercising manner as the music cuts out.
Simone: Ther is going to be the champion's greatest challenge since she first claimed the Bombshell championship. Roxi Johnson is one of the top wrestlers in the entire SCW, male or female!
Adams: Hey she's held the title twice already and you know she wants to threepeat!
Simone: Especially at the expense of Delia Darling and the Mean Girls. Roxi wants to be the one to topple the Mean Girls's dynasty.
Adams: It's what superheroes do.
Justin: Their opponent is the current reigning and defending SCW Bombshell Champion! Originally from Paris, France, but now residing in Las Vegas, Nevada, weighing 135 pounds ... Delia DARLING!
Adams: If you must!
The ring crew quickly secures the Mean Girls signature runway to the ring apron before dispersing. The crowd boos just as soon as "Champion" by RuPaul begins playing once more. The curtains are quickly brushed aside as Angelica walks out onto the stage. She is wearing a dress that is literally made of replica Bombshell Championship belts. Her feet shine in form fitting golden shoes as she holds the Bombshell Championship high above her head. The crowd boos as she rubs it in their faces, though she maintains a sense of demur as she walks to the center of the runway. She refuses to acknowledge the booing fans, though she slowly turns on her heels to face the curtains. After a moment, the curtains are brushed aside as Delia is pushed out onto the stage on a marble pedestal, much like last week.
Justin Decent: And their opponent??? hailing from Paris, France by way of Las Vegas, Nevada??? standing at 5 feet 9 inches, and weighing in at 135 pounds, she is being accompanied to the ring by Angelica, she is your SCW Bombshell Champion??? DEEEEEEEEELLLLLIAAAA DARRRRRRRRRLING!!!
Delia is draped in a white toga, with a golden olive branch crown tangled in her hair. However, this time, she isn't painted to look like a statue. She is kneeling down, with one fist firmly planted on the pedestal, looking ready to charge with a determined look on her face. In her free hand is a discus. After a second, she pushes herself off of the pedestal and plants her feet, adorned in traditional leather skins as she steps firmly on the runway, holding the discus under her arm as she walks. Angelica continues to hold the belt up as they come to the ring. She leans down on the middle rope with one knee so that Delia can enter. She quickly follows. She holds the belt up in the air as Delia marches around the ring, boasting herself. She comes to the center of the ring where she begins twirling. As she does, Angelica pulls at a strap on her toga, causing it to fall to the ground, revealing Delia in leather straps that cling to her body, barely covering up her body, but just enough to be appropriate for most ages. The straps cross and tangle, coming up from the leather skins on her feet, all the way to a choker around her neck. Once she is finished spinning, she chucks the discus out past the crowd in what is supposed to appear as an amazing feat of strength. Delia winks and then turns around to face her two challengers, quickly getting mouthy as she backs into her own corner. Angelica hands the belt over to Jasmine before slowly exiting the ring.
Delia reluctantly hands the Bombshell title belt over to Jacob without touching the 'plebian' official, and the referee shows the gold off to both Roxi and Traci, then holds the belt high for the fans to see.
Simone: That's what ther is all about!
Jacob then hands the belt out to Justin and calls for the bell.
Ding!
Ding!
Ding!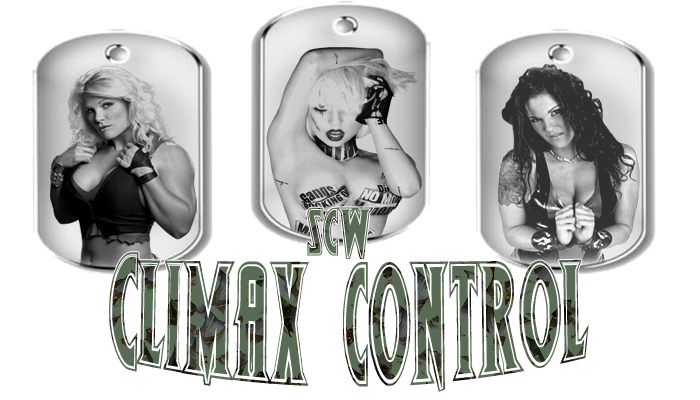 No sooner does the bell ring than Roxi and Traci look to one another and smiles cross their faces as they then turn to look in the champion's direction. Delia looks warily from one woman to the next as she slowly backs toward the ropes, raising a hand up.
Adams: Oh ther doesn't look good for Delia, does it?
Simone: Its what she gets for going so far out of her way to make enemies out of every woman in SCW.
Roxi and Traci close in and Delia quickly turns to duck out of the ring, through the ropes, but her challengers are quicker as Roxi reaches her first and drags her forcibly back inside and she and Traci throw Delia harshly back to the canvas! Delia holds her head and grimaces as she rolls over to her hands and knees and Traci and Roxi just start waylaying on Delia's head and back with lefts and rights in the form of clubbing forearm smashes as the crowd screams its support!
Adams: Listen to these people! They love a good beat down!
Simone: Especially when it's happening to a Mean Girl!
Traci and Roxi drag Delia to her feet and they Irish whip the Bombshell Champion into the ropes at high speed! Traci powers her up off of her feet in a bear hug and turns around to allow Roxi to rebound off of the ropes and lay Delia out with a leaping lariat! Traci then grabs hold of Delia, peels her off of the mat and military presses her high over her head before dumping her to the mat!
Simone: The challengers are starting off hot and heavy here against Delia!
Adams: And why not? Delia's done enough to make both of these women want to beat her senseless, whether the gold is on the line or not.
Traci drags Delia up for a short-arm clothesline and drops down into the cover, hooking the leg!
1.....
2.....
Delia gets the shoulder up!
Simone: I really don't think Traci expected to get the win right then and there. she's looking to hurt that bitch and prove herself all in one fell swoop.
And Traci is now getting some assistance as she and Roxi pull Delia up to her feet and Irish whip her into the ropes and as she comes rebounding back, Traci doubles her over with a heavy boot to the mid-section and Roxi follows ther up with a scissors kick down across the back of the head. The crowd cheers when Roxi is led into a false sense of security and turns to face Traci but the amazon-like grappler grabs the superhero in a bearhug and spins her around and crashing down with a belly to belly suplex!
Adams: Team work never lasts in a Triple Threat!
Simone: Well that probably has something to do with the fact that only one woman out of the three can walk away as the winner and champion.
Adams: Care to bet they team up again on Delia before this is over?
Simone: .... Fool's bet.
Adams: Is that a yes?
Traci sends Roxi into the ropes and plows right into her with a running elbow! Traci then pulls Roxi up by the hair and sends her into the near corner with a short-arm whip and then follows in, jumping and crushing Johnson with an Avalanche splash! Traci then starts laying in the forearms toward the pinned in Roxi Johnson as Jacob starts to issue his mandatory count.
1...
2...
3...
4...
Traci then backs off, not wanting to risk a disqualification in a championship encounter. She then turns to move back in and go back to work on one of her two opponents but a recovered Delia Darling is back on her feet and clobbers Traci from behind with a double axe handle, knocking her to her knees!
Simone: Nobody in their right mind should their back on a woman like Delia Darling.
Delia pulls Traci up to her feet and throws her through the ropes and to the outside and follows her out. Delia picks her up and sends her into the steps with a heavy crash as Traci's toned back and shoulders greet the steel with an unforgiving crash!
Adams: Is anybody else surprised by the ferocity of Delia?
Simone: I am certainly not. Love her or hate her, she's always been a caged animal when in the ring, and defending against two top challengers tonight? She's only going to be even more dangerous!
Delia grabs the stunned Traci and sends her into the steel barricade, sending a few front row fans scooting backward hastily. She then grabs her by her blonde tresses and smashes her head-first into the steel guardrail. Traci falls back to the floor, clutching her forehead and Delia rolls her back inside where she covers her for the pinfall attempt!
1.....
2.....
Traci gets a shoulder up!
Adams: Oh hell no! Traci's not going to let herself be beaten that easy in a title match!
Simone: In any match.
Wasting no time, Delia Irish whips Traci into the corner and follows up with a dropkick, leaving Patterson with nowhere to go between her opponent and the steel post in the corner. Delia then grabs her by her arm and sends her into the neutral corner across the ring but before she can follow up, Roxi comes charging from out of nowhere and levels her with a spear!
Simone: Delia was paying too much attention to Traci and forgot there was a third woman in their match!
Roxi pounces like a wild animal on wounded prey, charging Traci in the corner and jumping, landing a heavy forearm shot to the side of Patterson's head! Roxi then grabs her and goes to Irish whip her into another corner but Traci reverses it and sends her in. Roxi runs right up the corner and backflips off, landing behind Patterson and Roxi locks in a Beast choker, dragging her down to the canvas!
Simone: What an unbelievable counter by the two-time champion!
Adams: She might have the title won right here!
Traci searches for the ropes with her arms as she slowly fades. Out of desperation, Traci tries swinging fists backward towards Roxi as she kicks her legs in an attempt to escape but Roxi sinks the hold in even tighter! Traci then reacts by pressing her feet to the canvas and pushing back, forcing Roxi's shoulders against the canvas!
1???..
2???..
Roxi is forced to let go to keep from being pinned!
Simone: Very smart move there by Traci!
Roxi goes to strike with a forearm but Traci blocks it and staggers her 'face' opposition with a headbutt right between the eyes. Traci then Irish whips her and goes for a clothesline but Roxi counters by ducking behind her and attempting a crucifix roll up! Traci won't be brought down and Roxi then slides down her back for a sunset flip but Traci thinks fast and drops her knees onto Johnson's shoulders and hooks her legs under her arms!
1.....
2.....
The count is broken by Delia who has returned to her feet!
Adams: Oh we could have had a new champion crowned right then and there!
Simone: That is the danger of Triple Threats! The champion doesn't have to be involved in the decision in order to lose the title.
Delia brings Roxi to a vertical base and sends her into the ropes. Delia goes to scoop her up but Roxi counters by dropping to her feet behind the champion and kicks her feet up under Delia's arms and rolls her back into a cradle, bridging over her for a pin attempt!
1.....
2.....
Delia manages to escape! Close but no cigar! Roxi jumps to her feet and turns around and gets a stiff boot right in the face courtesy of Traci! Traci then seeks to capitalize as she grabs Delia by the hair and trunks and sends her shoulder-first into the turnbuckles! Delia staggers backwards and gets her arms hooked in Traci's own and powered up off of her feet in the Jazz Stretch! Traci holds her there for seconds on end before driving her down to the canvas courtesy of the Glam Slam! Traci rolls her over onto her back and covers her!
1??????
2.....
Delia drapes her foot on the ropes, breaking the count.
Adams: Close call!
Traci pulls her away from the ropes and into the center of the ring, covering her again!
1.....
2.....
Delia kicks out!
Traci grabs Delia and body slams her, and then begins to ascend to the middle turnbuckle.
Adams: How smart can this be? Traci is not known for her aerial tactics!
Simone: I guess maybe even she can surprise us!
Traci attempts a guillotine leg drop onto Delia but misses as Delia rolls out of the way and Traci crash lands on her tailbone! Delia picks up Traci and Irish whips her into the ropes, hitting Patterson with a spinning bulldog by the hair! The champion rolls her onto her back and hooks the near leg!
1.....
2.....
Traci kicks out!
Delia sends Traci into the far corner and charges right in but Traci moves out of the way and Delia strikes the turnbuckles hard! Traci then bounds off the ropes at Delia with an attempted clothesline on the champion but Delia counters with a well timed float-over DDT!
Simone: I hate to admit it but beautiful move!
Delia covers her!
1.....
2.....
Roxi breaks the count!
Roxi boots Delia in the stomach, doubling her over before placing her head between her legs and locking her arms in a double chickenwing. Roxi looks out to the cheering crowd who rally behind her and she hauls Delia up and drives her down with a dragon bomb! Roxi rolls over into the cover!
1.....
2.....
3-NO! Traci breaks it up!
Simone: Oh how close was that!?
Adams: This match has been GREAT!
Traci grabs Roxi but the second challenger fends her off with three straight shots to the head and then goes for an Irish whip into the ropes but Traci powers out and reverses it! Roxi comes off the ropes and leaps up onto Traci and brings her over with a standing Hurricanruna, hooking the leg!
1.....
2.....
Traci kicks out!
Roxi mounts the center turnbuckle as Patterson slowly returns to her feet. Traci turns around and Roxi dives forward with an arm extended, clotheslining her! Roxi with another pin attempt!
1.....
2.....
3-NO! Delia breaks the count up!
Simone: My god that was too close!
Adams: Delia almost lost the title without being pinned!
Delia immediately hammers away at the head of Roxi, driving fists after fist after fist into her head without easing up, despite Jacob's warnings to do so! Delia grabs her rival to the title and throws Roxi through the ropes and to the floor, but Traci comes up from behind and grabs her around the waist from behind and...
Adams: Release German suplex!
Delia is dumped right on the back of her head and Traci makes the cover!
1.....
2.....
3-NO! Delia gets a shoulder up!
Adams: How the fu, er, FUDGE did she gets out of that!?
Simone: I think Delia's ego is what's driving her on now!
Adams: Oh if that's the case then we're all boned.
Traci grabs Delia and sets her up for a scoop slam but accidentally clobbers Jacob in the side of the head with Delia's designer boots! Jacob falls to the mat, holding his head with eyes clenched tight!
Simone: The referee is down!
Adams: At least he's not out cold like they always are in WWE!
Traci then turns around and Roxi Johnson leaps off the top with a flying body press, but the powerful Traci catches her and swings her around and down in an inverted sidewalk slam!
Adams: Traci is in complete control!
Simone: And all she needs to... oh bloody hell! What is this!?
The crowd boos as Traci's former tag team partner, Mercedes Vargas, arrives at ringside. Traci sees her and approaches the ropes, arms held out, questioning her arrival. Mercedes just points at her and the trash talking between the two former partners begins!
Adams: Wow! I didn't think two ladies were supposed to use words like that!
Traci's sister and manager, Katie comes stomping over to confront Vargas but the Roulette Champion answers her by shoving her harshly to the floor!
Simone: That was uncalled for!
Adams: Traci didn't like it either!
Indeed as Traci reached out through the ropes and grabbed a handful of Mercedes's hair! Vargas shrieked in surprise and then swung her title belt up and the emblem cracked Traci right square in the head! Patterson staggered back, seemingly out on her feet! Suddenly Roxi, back on her feet, nailed the Ray of Light on Traci! Traci goes down but before Roxi can make the cover, Delia grabs her and dumps her out to the floor! Delia dives on top of Traci and hooks the leg!
1.....
2.....
3!
Ding!
Ding!
Ding!
Justin: Here is your winner, and STILL SCW Bombshell Champion ... Delia DARLING!
The crowd is in an uproar of boos as Mercedes disappears behind the curtains and Roxi is clearly fuming on the outside! Delia snatches the belt away from Jacob and rolls outside, as Katie climbs in to check on her 'big' sister.
Simone: By the proverbial skin of her teeth, Delia is still the Bombshell Champion!
Adams: But what is up with Mercedes? Why did she come out here? I thought she and Traci were still on 'okay' terms!
Simone: Apparently not! And after tonight? I suspect things will be even more sour between the former Tag Team Champions!
Roxi climbs into the ring to also check on Traci who is just now coming to after the shot with the belt. Delia, smiling, raises the gold up high as she slowly backs away up the ramp and the screen slowly fades.
---
Thank you! To Chris, Mark, Erik, Sam, The Lord MK, Horace, Marge, Mercedes, Mike, Vixen... Also to Vixen for all the kick arse match banner and to anyone I have forget, yell at me and your name will be added. Cheers SCW people for ya hard work!