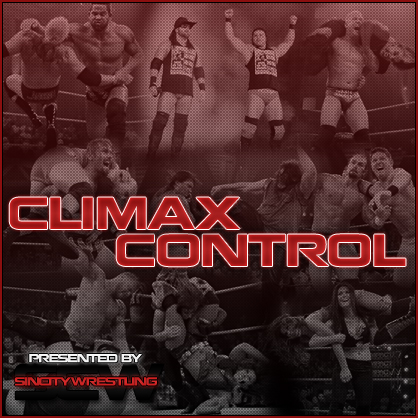 The crowd is alive with energy inside of the Glacier Gardens in San Diego, California. The camera scans around the capacity crowd, cheering and waving while holding up signs for their favorites.
A spotlight then begins to shine and the crowd cheers as ring announcer Justin Decent steps out onto the stage. The handsome exhibitionist jogs out to the ring, slapping hands to the fans who reach out to him.
He is handed the microphone by Jason Adams as he runs up the ring steps and climbs inside of the six-sided SCW ring and walks around, pumping his fist in the air to the tune of the crowd's chants;
"SCW!"
"SCW!"
"SCW!"
Justin then hops up onto the corner turnbuckle and smiles, looking out around the fairgrounds at all of the fans filling the grandstand and the rows of seats around the grounds itself. He drops back down and takes his place in the center of the ring and brings the microphone up to his lips.
Justin: Hello everyone and welcome to the Glacier Gardens right here in San Diego, California and welcome to Sin City Wrestling "Climax Control"!
The crowd cheers!
Justin: Now please help me welcome the Hostess With the Mostess for "Climax Control" -- Miss Amanda Hugginkiss!
The crowd cheers as Amanda walks out, accompanied by a who's who of Sin City Wrestling personalities, each dressed in a choir robe and carrying with them the pages of a song's lyrics. The SCW stars line up, facing the crowd onhand, and Amanda stands before them as a conductorconductor. The music begins to play and the performance kicks off!
Everyone: The first thing at Christmas that's such a pain to me
Is finding a Christmas tree
The second thing at Christmas that's such a pain to me:
Simpson:
Rigging up the lights
Everyone:
And finding a Christmas tree
The third thing at Christmas that's such a pain to me
Aleksei:
Hangovers
Simpson:
Rigging up the lights
Everyone:
And finding a Christmas tree
The fourth thing at Christmas that's such a pain to me
Stoner Scott Oliver:
Sending Christmas cards
Aleksei:
Hangovers
Simpson:
Rigging up the lights
Everyone:
And finding a Christmas tree
The fifth thing at Christmas that's such a pain to me
Five months of bills!
Stoner:
Sending Christmas cards
Aleksei:
Hangovers
Simpson:
Rigging up the lights
Everyone:
And finding a Christmas tree
The sixth thing at Christmas that's such a pain to me:
Melody Grace:
Facing my in-laws
Everyone:
Five months of bills!
Stoner:
Oh, I hate those Christmas cards!
Aleksei:
Hangovers
Simpson:
Rigging up these lights!
Everyone:
And finding a Christmas tree
The seventh thing at Christmas that's such a pain to me:
Christian Underwood:
The Salvation Army
Melody:
Facing my in-laws
Everyone:
Five months of bills!
Stoner:
Sending Christmas cards
Aleksei:
Oh, geez!
Simpson:
I'm tryin' to rig up these lights!
Everyone:
And finding a Christmas tree
The eighth thing at Christmas that such a pain to me:
Big B:
I WANNA TRANSFORMER FOR CHRISTMAS!!!!
Christian:
Charities, and whataya mean "YOUR in-laws"?!?
Everyone:
Five months of bills!
Stoner:
Oh, making out these cards
Aleksei:
Honey, get me a beer, huh?
Simpson:
What, we have no extension cords?!?
Everyone:
And finding a Christmas tree
The ninth thing at Christmas that's such a pain to me
Jamie Staggs: Finding parking spaces
Big B:
DADDY, I WANT SOME CANDY!!!!
Christian:
Donations!
Melody:
Facing my in-laws
Everyone:
Five months of bills!
Stoner:
Writing out those Christmas cards
Aleksei:
Hangovers!
Simpson:
Now why the hell are they blinking?!?!?
Everyone:
And finding a Christmas tree
The tenth thing at Christmas that's such a pain to me:
Pussy Willow:
Batteries Not Included
Jamie:
No parking spaces
Big B:
BUY ME SOMETHIN'!!!
Christian:
Get a job, ya bum!
Melody:
Oh, facing my in-laws!
Together:
Five months of bills!
Stoner:
Yo-ho, sending Christmas cards
Aleksei:
Oh, geez, look at this!
Simpson:
One light goes out, they ALL go out!!!
Everyone:
And finding a Christmas tree
The eleventh thing of Christmas that's such a pain to me:
Sxxxy Shane Boswell:
Stale TV specials
PW:
Batteries Not Included
Jamie:
No parking spaces
Big B:
DAD, I GOTTA GO TA BATHROOM!!
Christian:
Charities!
Melody:
She's a witch...I hate her!
Everyone:
Five months of bills!
Stoner:
Oh, I don't even KNOW half these people!
Aleksei:
Oh, who's got the toilet paper, huh?
Simpson:
Get a flashlight...I blew a fuse!!
Together:
And finding a Christmas tree
The twelfth thing of Christmas that's such a pain to me:
Surf Boys:
Singing Christmas carols
Shane:
Stale TV specials
PW:
Batteries Not Included
Jamie:
No parking?!?
Big B:
WAAAAAAAAAAH! WAAAAAAAAAAH!
Christian:
Charities!
Melody:
Gotta make 'em dinner!
Everyone:
Five months of bills!
Stoner:
I'm not sendin' them this year, that's it!
Aleksei:
Shut up, you!
Simpson:
FINE! YOU'RE SO SMART, YOU RIG UP THE LIGHTS!!!
Together:
And finding a Christmas tree
The performance ends and the crowd stands and cheers with heartfelt enthusiasm for the SCW superstars taking part in this fun Yuletide song for their entertainment! Amanda turns around and bows, as do the superstars and they then make their way backstage so the show can begin!
---
The scene opens up to Hot Stuff's office and we see Hot Stuff and Jordan standing next to each other talking…
HS: Bro, I hear ya about the strike, but I want you on this team. I want them to have a full strength team, so they won't have any excuses.
Jordan shakes his head and says: I still don't appreciate being assaulted by Casey and Kain on a weekly basis.
HS: Don't worry about them, we'll get them. We're smarter than those guys, we'll get some payback.
Jordan: Alright bro, what do we have planned for tonight?
The scene fades as Jordan and Hot Stuff continue talking.
---
Simone: Hello and welcome to the Christmas edition of Climax Control, I'm Belinda Simone
Adams: And I'm Santa Claus this week!
Simone: Good for you.
Adams: Just wish I could remember where I parked the sleigh
Simone: O....K.... We got five Christmas themed matches lined up
Adams: Yay!
Simone: We kick off tonights show with one half of the brand new tag champions Lucian Frost, taking on one of the two men he will defend the titles against, when he take on Young Lion, Max Burke
Adams: Then the bombshells take the stage. I so hope they draw a "Dress like a naughty Santa chick" match
Simone: You would. We have a battle royal with four of the top Bombshells, the winner will get a chance to be noticed and rewarded as one half of the SCW BOmbshell tag team champions, Amy Marshall takes on Vixen, Karina Koji and Jessie Salco
Adams: So many Bombshells, so little time
Simone: One of the men announced in New Year Rising's main event, Casey Williams, has the chance to build some momentum heading in to the show, as he takes on the unknown quantity of Daniel Tyler
Adams: The giant of SCW may face a challenge
Simone: The second half of the tag team champions, Kain takes on a man who is not known for his calmness. In a brawl that could mean SCW could be paying for a lot of damages, Kain takes on Rage
Adams: I'm hiding during that one, never know what could happen.
Simone: Our main event, is just genius.
Adams: I've worked with Christian for many years, he was my old tag team partner, but he has out done himself this time.
Simone: He has, because Hot Stuff booked NXT members against each members, Christian Underwood booked two members of Team Hot Stuff against each other, Jordan Williams, will go one on one with Goth!
Adams: I'm like a kid at Christmas, I can't wait, let's do this!
---
The opening beat of drums is heard through the speaker, The fans instantly boo as a huge guitar rift starts to play as this pryo's explode either side of the stage. Skid Row's "Midnight Tornado" Starts to boom through the speakers. The smoke starts to clear and Hot Stuff Mark Ward is seen standing on the top of the stage. He points to the fans on the left side of him, then to the fans on the right, and then clinches his fists. He starts to grind his hips as the rock music continues to blast out. He takes a few steps forward to the beginning of the ramp and does a double muscle pose, causing more pyro's to explode behind him and the fans react louder. Hot Stuff is wearing a silver suit with sunglasses. He slowly walks down the ramp, stopping every few feet to pose for the ladies in attendance. Hot Stuff walks up to the ropes and jumps over them, before running and jumping on to the ropes, his arms held high in the air, fans still booing. Hot Stuff takes the microphone from Justin Decent as the music fades out
HS: You lot need to do yourself a favor and shut up. You're about to see a real old school promo here, so shut up.
Hot Stuff looks around at the booing crowd
HS: You know the last few weeks have been a bit of a nightmare for me. I've had two jobbers try and makes a name for themselves, off the back of me. I've been kicked in the bollocks by bombshells, I've had Odette Ryder try and fail to stand up to me and I've had to deal with these NXT idiots trying to step up. I've been sent to Bermuda, and Christian went power hungry last week, and to top this crap off, I have had a ghost from the past just randomly appear.
Hot Stuff shakes his head.
HS: Let's deal with you morons one at a time. Let's start with you Aleksei Koji. First off, you will be billed for ruining that suit and adding it to your little coat, I know it's trebled the value of that monstrosity, but still, that was mine, not yours. You see, I don't like people who think they can take what they want, but as you've started this little game Aleksei, after the supercard, I'm gonna take what I want, that will be your career Aleksei.
Hot Stuff turns around to the other side of the ring.
HS: And you Matthew Kennedy. I get it, you think you can piss me off to the point where I will end up getting back in to the ring, giving you the biggest match you will ever have in your career. I'm sorry to disappoint you Kennedy, but I don't fight losers like you. Look back at my matches in SCW so far. I took on Spike Staggs and Jordan Williams, both highly decorated champions, I took on Kain, a former AWA top champion, I took on the TSSA, legends in this business, I do not face nobodies Kennedy, I will not face a moron like you, you're not worth my time. I only fight people who have made it. You have not made it.
Hot Stuff smirks
HS: Now let's talk about you Christian. While I was watching the stream of you try and ruin my plans. I was about to announce the main event for New Year Rising, I was going to make a four corners match, with Spike Staggs defending against Nick Jones, Jordan Williams and Tom Dudely. Everyone would have paid to see that but no Christian, you had other ideas. I watched that and almost dropped that drink made in a coconut shell. I was angry Christian, I threw that coconut shell across the damn pool, hitting some innocent on the head, I was livid, and then it dawned on me.
Hot Stuff pauses for a second.
HS: It dawned on me that you actually did me a favor and condemned NXT's destruction. You've put NXT and Matthew Kennedy in harms way, so if anyone should be pissed at you Christian, it should be NXT and Matthew Kennedy, so thank you Christian, thank you for giving us exactly what we wanted, the chance to destroy NXT and Matthew Kennedy!
The fans boo at Hot Stuff but Hot Stuff ignores them
HS: So now, I'm gonna introduce you to the team that's gonna destroy NXT. First, I will give you the man from the darkside, Goth!
Darkside blasts across the sound system as Goth walks out to the ring, he is dressed in a long black Goth like robes. Goth stops halfway the entrance way and stares at the crowd who are booing the owner of the AWA who grins and walks further on. In the ring he stares at Hot Stuff. Hot Stuff shakes Goth's hand and turns back to the ring entrance.
HS: And introducing SCW's top group, and yes, we have a name.... ladies and gent, The Supremacy!
A steady drumbeat starts to blast through, before guitars join in. The lyrics shortly follow
Who's coming with me, to kick a hole in the sky?
I love the whiskey, let's drink that shit til it's dry.
So grab a Jim Beam, JD, whatever you need.
Have a shot from the bottle, doesn't matter to me.
'Nother round, fill 'er up , hammer down, grab a cup, bottoms up!
The heavy rock beats of Nickelback's "Bottoms Up" blasts through the speakers as siluettes of scantily clad women appear on the video screen. The fans boos images of Hot Stuff Mark Ward, Nick Jones, Jordan Williams and Tom Dudely appear on the screen. Huge boos come from the live crowd.
This is what it's all about, no one can slow us down.
We ain't gonna stop until the clock runs out.
(Bottoms up)
Hell can't handle all of us, so get your bottles up.
Drinkin' every drop until it all runs out.
'Nother round, fill 'er up, hammer down, grab a cup, bottoms up!
Nick, Tom and Jordan walk from the back, causing more boos to come from the crowd. The trio look around, unphased by the boos. All three men have smirks on their faces as they start to move towards the ring. The three get to the ring and climb up on the apron before stepping through the ropes. Each man goes to three of the six turnbuckles, climbing on to the middle ropes, throwing their arms in the air. Hot Stuff leans over the ropes and talks in to the microphone as the music starts to fade out. Jordan glances across the ring at Goth, but Goth stares back
HS: In the ring right now, you see the four men, that will now end NXT in SCW. These people will destroy every fibre of NXT's being, these four men will do what others have failed at and will destroy NXT.
Before Hot Stuff can continue....
LOVE IS LIKE A BOMB!
Hot Stuff looks towards the entrance ramp as Def Leppards "Pour Some Sugar On Me"starts to blast through the speakers. Hot Stuff lowers his sunglasses as Beautiful Billy James walks out from the back with a smirk on his face. Billy holds a microphone in his hand as the fans cheer the former multiple time GCW and ASFW world champion. Billy smirks towards the ring as the music dies down and Billy smiles, raising the microphone to his lips.
Billy: Well isn't this a bit of a classic, Hot Stuff Mark Ward standing in the ring talking utter crap.
The fans cheer.
Billy: I was sitting back there, listening to you talk, had my music in my pocket just in case you actually said something that didn't put me to sleep, and well, to my surprise, you did.
HS: What the hell are you even doing here? You don't work here!
Billy: Ok, I'm gonna need you to just shut up now.
The fans cheer as Billy smirks towards the ring.
Billy: I heard you say that you don't fight nobodies like Matthew Kennedy. Well last time I checked, I wasn't a nobody, I was and still am, the greatest to lace up the boots.
HS: You think you're the greatest? Look at yourself Billy, looks like you've spent years on the mince pies, getting a little porky there.
Billy: Seasonal joke?
HS: Well it is the season. I see what this is all about. You're here for another bite of the Christmas cookie.
Billy: Oh, two in a row, after a hat trick there champ?
HS: Get stuffed!
Billy: And there it is.
HS: We know what this is all about Billy, you just wanna jump in the limelight once more, you wanna just wanna take one more shot of having a career.
Billy raises his hand
Billy: Again, gonna have to ask you to shut up.
The fans cheer
Billy: I don't think you can really stand in the ring, with Jordan, Nick and Tom and talk about wanting one more shot at things. I mean the ring is full of everyone trying to get their name in lights once more. I don't know the guy who clearly has a thing for ladies make up, but the chances are, if you're standing in the ring with him.
Billy points directly at Hot Stuff
Billy: Chances are you're having one last run to try and be someone. Look at it like this, that man right there surrounds himself with people on their way out, people who are past their prime.
HS: What's wrong Billy? Disappointed I never called you?
Billy: No, because I always knew this day would come. A few weeks ago, you said there will never be a Hot Stuff Mark Ward Vs Billy James III. Sorry to remind you of this, you must have forgot the times I kicked your ass all over the place, because it would be Billy James Vs Mark Ward five, not three, five.
HS: I forgot the two times you got lucky.
Billy: I wouldn't call beating you in London lucky, I'd call it an ass kicking from a better man.
HS: You know what Billy, I'm gonna make this one nice and easy for you. There is not a chance in hell I will ever get in the ring with you, there's not a chance in hell you will ever work for SCW. This is not the early two thousands Billy, your time as a star finished a long time ago, and you will never get that back. This is the last time we'll see you on SCW TV, now security, get this loser out of here.
Five security guards walk out from behind the curtain to boos from the crowd. The move in front of Billy, and Billy innocently raises his hands.
HS: Get this clown backstage, I'll deal with him in a minute.
The security lead Billy backstage and Hot Stuff smirks
HS: Now, as I was saying...
*GET READY FOR THE SMACKDOWN*
"Smack Down" by Thousand Foot Krutch blasts over the PA system. Red and black lights flash across the stage. The fans erupt into cheers as Spike Staggs shoves the curtains away. He walks out onto the stage with the Heavyweight Championship draped over his left shoulder. He adjusts his black leather NXT jacket to open it up to show off the black NXT a-shirt. He walks out to the center of the stage, looking down at Mark through his sunglasses. He smirks as he raises his arms up in the air. As he does so, Casey Williams, Aleksei Koji, and "Primetime" Matthew Kennedy come marching out behind him. They each sport a piece of NXT merch as they join Spike's side. Like a united front, all four men walk down to the ring. The four men climb onto the apron, then they climb inside of the ring. Spike walks up to Mark, getting just inches from his face. They stand there for a moment as the music dies down. He instantly rips the microphone out of Mark's hand. When Mark lifts an angry fist, Spike's men take one step closer. Mark clinches his fist and his jaw as Spike lifts his sunglasses off. He gives Mark a wink and then raises the microphone to his lips.
Spike: Mark, Mark, Mark… Haven't you learned anything yet? You can't keep shoving us down. We are the underdogs, but we refuse to stay down. I proved that when I won the NWA Heavyweight Championship, and now the SCW Heavyweight Championship. Casey has proved it by winning tag gold and the Roulette Championship. Aleksei has proved it by winning the Roulette Championship twice. Kennedy has proved it by winning the same belt. Every time you try to push NXT down, we come back and spit in your fucking face!
Spike narrows his eyes at Mark who can't help but growl out in anger. Spike's smartass expression quickly fades as he shakes his head from side to side.
Spike: You can run around calling us a joke, but not one member of NXT has gone without SCW gold. Not one of us has stopped fighting just because everyone finds it so amusing to make fun of us, despite all of the success we've accomplished. Say what you will, but we have scratched and clawed our way up to this match. Not one man on my side doesn't deserve to be in this match. Just because the young bloods haven't been around long enough to be in the position I am, that does not mean they aren't one vicious team. The worst thing you could do is underestimate us. All four of your jackasses should heed my warning.
Spike looks at Nick, Jordan, Tom, and Goth as they tilt their heads back for a laugh. Spike raises his eyebrows, then looks back to his men with a smirk. He looks back to Mark with a shrug of the shoulders.
Spike: That's your prerogative I guess. Just know that if you think you will eradicate NXT from SCW that easily, you've got another thing coming, Mark. We will always be there as a thorn in your side… as the piss in your cheerios… as that roadblock that stops you from parading your buddies around as the only top dogs in this company. You are showing your true colors here, Mark… You are nothing but a spoiled, rotten, little bitch…
With that, Mark rears back and gives Spike a swift punch to the side of his face. Spike drops the microphone, his eyes widen as he looks directly into Mark's eyes. Mark grits his teeth, beckoning Spike to return fire. Spike shrugs his shoulders and then fires away at Mark with a swift uppercut. This causes Tom to hit a low blow on Spike. As Spike falls to his knees, Casey spins Tom around with a quick and precise chokeslam. Nick rips the belt off of Spike's shoulders and clocks Casey with it, prompting Kennedy to jump on his back with a choke. Jordan clubs at his back as Koji fires away punches. Goth begins firing away as the Entourage comes out to the ring. They surround it, crawling inside like vultures. They push the numbers game in The Supremacy's favor in a big way as they pound away at NXT. Giani and Jamie come out of the crowd to help, but Mark orders security to stop them. They push past anyway, but security gets a hold of them, stopping them from entering the ring. The greater numbers begin cornering Spike in specific as he crawls to the corner. He looks around frantically and rips the microphone up from ground. As he rests his back against the corner, he lifts the microphone up, and a smile appears on his face.
Spike: I forgot to tell you something earlier, Mark… See, I have been getting tired of these gang attacks on my guys, so I lined up a little insurance policy. Well, wait a minute now… Let me explain. There is a pretty big punchline to this… Tom, you of all people should appreciate this one, see…
*YEEEEEHAWWWWWW!*
Before they have time to react, Wyatt Peterson comes dashing down the ramp, wearing an NXT shirt. His Stetson hat goes flying off as he stands next to Spike. He reaches down to help Spike up and the two stand up, the men of NXT come from behind. Casey tosses Goth outside of the ring, as Koji grabs Tom, Kennedy grabs Nick, Wyatt grabs Jordan, and Spike grabs Mark. They simultaneously toss the men outside of the ring next to Goth. They finish stomping the Entourage outside of the ring and stand victoriously on the inside of the ring. They stand as a united front, arms raised as "Smack Down" by Thousand Foot Krutch begins playing.
---
The camera goes backstage to the former SCW Tag Team Champions, Gabriel and Despayre aka Sinful Obsession, sitting on a sofa. Despayre is of course clutching Angel in his arms. Befitting the holiday, Angel is dressed in the pint-sized Santa Clause outfit that Rage had purchased for him as a gift for his birthday (Angel's, not Despayre's -- you figure it out). Opposite them, Pussy Willow sits in a chair, looking down the camera.
PW: We are backstage here with former SCW Tag Team Champions, Gabriel and Despayre.
Despayre: And Angel.
PW: And Angel.
Despayre nods and smiles.
PW: Last week, the longest title reign in SCW history ended. It was a shock to the wrestling world.
Gabriel: It was but these things happen I guess.
A serious look crosses Gabriel's face.
PW: How did it make you feel?
Gabriel: It's one of those things, I didn't know how to really react to it. It's not something I expected.
PW: Despayre, how did you feel about losing the tag team championship?
Despayre is holding a list in front of Angel for the teddy bear to inspect, not paying any attention to the question offered to him.
Gabriel: Despy?
Despayre glances up.
Despayre: Hm?
PW: How do you feel about losing the tag team titles after such a long reign?
Despayre answers simply by sticking his tongue out and...
Despayre: PPPTTTHHHHHH!!!
Gabriel motions to Despayre with a smile while the little guy continues with Santa Angel checking his list.
Gabriel: I think that about says it all.
PW: Do you think you underestimated Lucian Frost and Kain?
Gabriel: No, I think some things, you can't control. Frost and Kain will make great champions, but they need to know that we can come and take those titles back at any time. I'm pretty confident that we can bounce back and get those belts back if we wanted to, but until then, they need to know that we will always have one eye on them.
PW: It's been confirmed that the team now known as Blood Omen, will defend the titles at New Year Rising, against the Young Lions. Are you disappointed that you will not be getting an immediate rematch?
Gabriel: No, we know that when our times comes, we will get those belts back, but until than, we've set our sights on something else.
PW: The preview for tonight's show mentioned that you will be taking on a team from the alliance federation, PRA, a team called EWA, what brought that around?
Gabriel: EWA and Sinful Obsession are tied as number one contenders to the NWA tag team titles. The winners will become the number one contenders to those titles.
PW: Is that where your focus is going to lie for the time being?
Gabriel: Yes, as of now, Sinful Obsession are now entering the ranks of the NWA.
Despayre: I have a very intriguing and thought provoking question.
Gabriel looks to PW.
Gabriel: This oughta be good.
Gabriel turns to Despayre.
Gabriel: What's the question?
Despayre: Who punishes Santa when he's naughty?
Gabriel: Mrs. Clause, of course.
Despayre: Oh.
Despayre looks at Angel.
Despayre: I guess that movie on cable last night was right.
PW and Gabriel blink back their reactions and smile at that bit of wisdom.
PW: Any predictions for 2013 for Sinful Obsession?
Gabriel: Yep, by the end of 2013, Sinful Obsession WILL be NWA and SCW tag team champions.
PW: Despayre, do you have anything to add?
She and Gabriel look to the little guy who is staring the teddy bear in his lap down.
Despayre: No you can't put tinsel on her ta-tas!
Despayre looks up to Gabriel.
Despayre: What's a ta ta?
Gabriel casts a sidelong glance at PW and just smiles as Despayre looks back and forth between them, not understanding.
---
Justin Decent: Coming in just three weeks...!
NUMBER ONE CONTENDERS MATCH FOR THE BOMBSHELL ROULETTE CHAMPIONSHIP - ROULETTE RULES
JESSIE SALCO VS TIAMI TYLER
---
The camera heads to the backstage area where Giani Di Luca is standing with a huge wrapped up box, resting on the floor and a smaller box on top of it. Giani looks at his very expensive looking watch as James Huntington-Hawkes III walks up to Giani, with Simpson in tow.
Giani: Bro! I've been waiting for you, I got you a little Christmas present!
James smiles and pulls out a a flat wrapped present from behind his back and hands it to Giani.
JHHIII: I got you this.
Giani: Thanks bro! The big gift down there is yours, open it.
Giani moves the smaller gift off the top of the big box and puts it to one side as James starts tearing in to the bigger box, Giani starts to open the gift James gave him. Giani pulls out his gift, a picture of James, with some writing scribbled on it. Giani reads it out loud.
Giani: To my number one fan, keep reaching for the stars and one day, you might be a champion just like me. James Huntington-Hawkes III.
Giani looks at James
Giani: Umm, thanks bro, just what I always wanted.
As the sarcasm drips from Giani's voice, James stares at his gift.
JHHIII: What is it?
Giani: Is a cabinet for your title, when it gets too heavy for your small shoulders, you can put your belt in it.
James stares at Giani, but a look of doubt crosses Giani's face.
Giani: On second thought, maybe I should keep this, being as you think I am going to be a future champion. This second gift to you bro, it's perfect.
Giani throws the smaller box towards James.
Giani: I gotta bounce bro, but I'll catch up with you later.
Giani hits James on the back, forcing him to step forward. Giani picks up the belt cabinet and disappears off camera as James rips in to the box. He drops the wrapping to the floor and looks curiously at the box.
JHHIII: Kleenex?
James looks up at Simpson
JHHIII: Why would he get me Kleenex?
Simpson stiffles a laugh
Simpson: It is flu season sir.
JHHIII: It is but I don't have a cold.
Simpson turns away from a confused looking James as the scene fades.
---
Backstage in the Glacier Gardens, the camera catches Despayre with Angel in his lap, seated on the floor in the lounge area. In front of him were small packages and rolls of wrapping paper. The paper was in tatters as Despayre was taking painstaking measures to wrap these boxes just right, according to Angel's expert directions.
While Angel is still in his Santa outfit, Despayre himself was now sporting an over-sized Santa hat that drooped over his eyes and -- a sprig of mistletoe on the puffy white ball at the end.
Being so busy, Despayre barely was aware that a female figure approached him from the side. It was roving backstage reporter, Miss Rocky Mountains who had a smile on her face as she watched him working ever so carefully on wrapping his friends's presents.
Miss Rocky: Hello, Despayre.
Despayre: Hi.
He keeps his focus on his projects, paying no real mind to the comely beauty who is watching him work.
Miss Rocky: Merry Christmas, to you and Angel.
Despayre then glances up and smiles, his eyes almost entirely hidden by the brim of his hat.
Despayre: Thanks!
He then looks back down and continues with his work. Miss Rocky smiles and shakes her head. She leans down as is tradition, gives him a quick smooch on the cheek beneath the mistletoe. Despayre looked up quickly and blinked in surprise as Miss Rocky went on her way down the hall of the building.
Despayre: What was THAT for!?
---
Justin: Our first match of the evening is scheduled for one fall and is under "Holiday Roulette rules". The wheel has spun and the match has been decided to be a "Naughty or Nice" match. What this means is that both in and out of the ring are presents. Inside these presents some will be useful and some will not.
We see now that the ring is already prepared. In four of the six corners there are large presents and outside the ring are two tables with three gifts on them. On each table there appears to be a baseball bat shaped item wrapped up.
Adams: Oh man I love presents...
Simone: What about presents used as weapons?
Adams: Oh nah...not so much I will leave that to the professionals.
Justin: Our first challenger is SCW's man of mystery. He hails from the far reaches of Sanity. He is one half of the new tag team champions. LUCIAN FROST!!!!!!
The lights begin to flicker around the room, spot lights scan around the crowd, "Salt in the Wound" begins to play as the crowd looks around to see where he is coming from. Frost appears from one side of the arena with his new tag team championship belt. He heads through the crowd before climbing over the barricade and slides under the bottom rope.
Justin: His challenger comes from a long line of talented wrestlers and is one half of his own tag team...the YOUNG LIONS. He calls Dorchester, Canada is home, he is MAX BURKE!!!!!
The ear-piercing opening rift of "Sleeping All December" signals the arrival of fan favorite and one half of the Young Lions, Max Burke. Max steps into the spotlight on the entrance as the crowd erupts in applause and cheers. Trevor Irons is by his side hyping up the crowd as they make their way to the ring. Max makes sure to high five several fans before he slides under the bottom rope. Max runs to a corner and scales it with catlike precision to pose for the crowd in attendance.
Adams: The ring looks so festive.
Trevor stays on the outside of the ring as both men stare each other down. Then they reach into the center of the ring and shake hands. The fans let out a huge pop for this gesture.
DING DING DING
Simone: We have two well liked fighters in the ring right now. Frost has always been liked by The Young Lions are getting quite the following.
The two fighters lock up. Max seems to quickly be getting the advantage until Lucian reverses out of it. He tries for a belly to back suplex but Max is not having it, he reverses as well and slams Frost with straightjacket suplex. He reaches for Lucian to lift him up into something but Frost quickly gets his foot up and connects with Burkes head. The fighter is stunned briefly and Lucian leaps up with ease.
Simone: Quick back and forth here.
Adams: Yeah....yeah get to the presents!
Both men circle each other. Lucian moves in to try to grab Burke but Max is on to him. He twist out of the way and whips Frost into the ropes. Lucian leaps over him on the rebound and spins around with a jumping russian leg sweep. Max is off his feet and Lucian is heading for the presents.
Adams: That is what I am talking about!
Lucian reaches one of the big boxes in the corner and rips off the top. He pulls out a very festive and ugly sweater. The crowd laughs as Lucian looks at the "gift". If you could see his face you imagine he would be confused. He turns to see that Max is getting up. Frost runs over and tosses the sweater in his face then hits him with a front drop kick. The fans cheer him on.
Simone: That has to be the best use for an ugly sweater I have ever seen.
Adams: Don't say that. There is never a good use for those things.
Frost is heading for one of the turnbuckles that does not have a present and he is climbing up to the top rope. He is trying for Ice Falls but Burke has got his knee up.
Simone: Ouch that stops Lucian in his tracks.
Max gets up tossing the sweater out of the ring. He picks Lucian up and briefly smiles for the crowd before hitting a head and arm suplex. Max is now the one getting a huge pop from the crowd who has started chanting presents. He runs over and opens it up. He pulls out a trash can lid with a christmas tree painted on it.
Adams: Wait a minute that is not a real present.
Simone: This is a wrestling match....I think it is okay.
Max grins holding the lid in his hand and marches over to Lucian who is still recovering. Burke looks like he is about to slam it against Lucian but he waits for his opponent to get to his feet.
Adams: What is he waiting for?
Simone: I guess some men around her still fight with honor.
Adams: Are you drooling over that Canadian beefcake?
Frost sees the weapon and tries for a spinning kick. Burke ducks under and slams Frost with the lid. He tosses the weapon aside and is going for the pin.
1....
2...
Lucian kicks out just in time.
Simone: That was close.
Adams: Wait something is going on in the outside of the ring!
Kain has climbed out from the crowd and is charging at Trevor Irons. He crashes into the man and is hitting him with a volley of punches. Max is on his feet yelling at Kain to leave just as Trevor is able to push Kain off him.
Adams: I guess Kain wants to put a little bit more hurt on these boys before the New Year.
Simone: He should have left the match alone.
Adams: Well Trevor came down here it only seems fair to have Kain join in too.
While Max is distracted Lucian scrambles up and sneaks behind Burke. He has got him in an old school rollup and the referree is going for the pin.
1...
2..
...nearly 3
Max is able to power out of it and now both men are slowly getting to their feet. Outside the ring Kain has gotten up and is going to one of the gift tables. He grabs the bat shaped present and runs over to Trevor. He hits him over the back with the present only to find that the "bat" is made of nothing by wrapping paper. Trevor laughs and hits Kain with a stiff elbow shot.
Simone: This fight is getting pretty crazy, quickly. Trevor is lucky that bat was not for real.
Back in the ring Max and Lucian are sizing eachother up. Lucian tries to run for a present. Max grabs him and pushes him into the turnbuckle. He crashes into him with a knee strike and then grabs the present. Inside he finds a rubber chicken with a bow on it.
Adams: Okay now that is just getting absurd.
Simone: I agree. But both fighters are making the best of their weapons.
Max shrugs as the audience laughs. He smacks Lucian in the face with the chicken and surprisingly it looks like it hurt. Lucian grabs the ropes and kicks Max away from him, then quickly climbs the rope and hits a tornado DDT on his stunned opponent.
Adams: Lucian is going for the final present!
Simone: He is not the only one going for presents.
Outside the ring Kain and Trevor are going back to the gift table. Both are opening up the medium sized presents franticly. Trevor pulls out mistletoe and curses his luck. Kain pulls out a toaster and grins. He turns to Trevor who is already rushing towards him. He tackles him into the ring post and Kain slams the toaster into his back.
Simone: Things are looking ugly outside the ring.
Lucian reaches the final in ring present. He pulls out what looks like a candy cane only very large and made of very sturdy material. The crowd is behind him as he turns to Max who is has gotten to his knees. Lucian runs at Max who sees him coming, leaps up kicking the high flyer with a boot to the midsection. Frost drops the cane.
Adams: We were this close to the yule tided finish.
Simone: And outside the ring Kain and Mr. Irons have run out of weapons and are just beating on each other.
Back in the ring Max has Lucian in his grasp and is trying to get him into a sleeper hold. Lucian reverses out of it, grabs the "candy cane" and clocks Max in the head. The crowd has a hushed silence as Max falls down to the canvas hard.
Adams: That looked like it hurt.
Lucian is heading for the nearest rope. He is up top and going for Ice Falls again! This time her connects with it. The ref is setting up for the pin.
1....
2....
3!!!
Simone: And this one is over
Frost holds up his hands in victory. He sees that Kain and Trevor are still brawling outside the ring. Frost goes and breaks it up. Kain looks over at Trevor who has a busted lip. Kain and Frost back up as Trevor goes to check on his partner.
---
The scene cuts backstage where a large group of security is seen in the process of escorting Billy James through the backstage area towards the exit of the arena. Just as they are about to get there, the group of guards are brought to a stop as they are called after by a very familiar voice.
HS: Whoa, whoa. Hold up right there.
As they all come to a stop, Billy turns to look back at Mark.
Billy: What, did you actually manage to grow some balls and face me like a man?
HS: You're a funny guy, but you see, I wouldn't want to have to deal with the lawsuit that would come with beating the life out of someone who's not even under contract to SCW.
Billy: You know, there's one very easy way to fix that.
HS: This is true, and that's exactly the reason I am here. There's a very simple solution to avoid that ever being a problem again, and we're going to take care of it right here and now.
Billy seems intrigued by this as, in the background, the crowd can be heard bursting into cheers at the thought of what is being alluded to. A smirk then comes across the face of Mark as he turns towards the security guards.
HS: Gentlemen, let it be known... this man is permanently banned from all SCW events. If you ever see him again at any future shows, I want him taken into custody on sight and turned over to the police for trespassing, got it?
The fans can be heard booing loudly as the security force nods in agreement. Mark then turns his attention back to Billy.
HS: See? Problem solved. That takes care of that, doesn't it? Bye bye Billy, I look forward to never seeing you again!
Billy: You spineless son of a...
Billy doesn't even finish what he was saying as he goes to leap at Mark in attempt to attack him. However, the group of security around him is too much as they managed to grab him just in time, causing Billy's first swing to come just short of Hot Stuff, as Mark takes a quick step back for safety measure. Mark simply shakes his head as he watches this, waiting as the security restrains Billy long enough for him to finally calm down. Billy then takes a step back as the security force all make a wall between Billy and Mark. The two men stare each other down silently for a moment, until the silence was suddenly broken by a voice from behind them.
Nick: Man, you were right about this guy, Mark. He can't even land a sucker-punch properly.
Billy turns around to see Nick Jones come up behind him just as he turns the corner from an intersecting hallway, as Nick now laughs as Billy's situation. Billy glares at Nick for a few moments and suddenly, with the security guards all standing on the other side of him to protect Mark, he sees his opportunity as he charges forward and suddenly tackles Nick right to the ground. Before Nick even has a chance to react, Billy then starts pummeling away on Nick with a series of right hands to the face, as Nick tries to put his arms over his head and curl up in order to block the strikes as best as he can. As he sees this, Mark quickly barks out at the security.
HS: What are you morons doing? Stop this. NOW!
The security quickly charges forward and the guards grab Billy by the arms and pull him off of Nick. As this is happening, Billy manages to get in a few more shots, as he lands a couple kicks to the ribs of the downed Nick before finally getting pulled out of reach.
HS: Get him the hell out of here! And I never want to see him anywhere near this company again!
Quickly obliging to their bosses command, the security force drags Billy off out of sight to toss him out of the arena as Mark goes over to help Nick up to his feet. As Nick is pulled back up, he shoves Mark away and storms off in an angry huff, leaving Mark standing there alone and quite frustrated as the scene cuts away.
---
***Video feed from earlier***
A large white van pulls up towards the entrance out in the parking lot, followed by the dark blue Ford Edge belonging to two-time former Bombshell Champion, Misty. Misty parks her car near the entrance and she and Ruby get out of the car. Misty walks around to the back of her car, popping the hatchback. Ruby joins her and Misty hands her only female disciple two packages wrapped in festive Christmas wrapping paper as well as bows. Ruby takes them without argument and Misty grabs two shopping bags from out of the back as well as a rectangular box, and closes the hatchback..
As the two walk around to the front of the car, one of the other disciples, Sebastian, is waiting for them patiently. Misty and Ruby approach him, though Ruby remains silent.
Misty: Let's stick to the plan, alright Sebastian? As long as we make no mistakes, Miss Ryder won't be able to stop us. Tell Damien to park the van in the corner somewhere. You all know the signal. Once you've received the signal, we have to work quickly. Do you understand?
Sebastian: Yes, my Queen. How long do you expect you will be?
Misty: We shouldn't be long. I just have to set things up in the locker room before anyone gets here. I need to work quickly, as everyone should be arriving soon. Now hurry and get back to the van.
Sebastian nods and turns and walks away heading back to the van. As soon as he jumps into the back of the van, it drives off into a secluded area of the parking lot, and the engine turns off. Misty and Ruby look over to the van one last time before heading to the entrance.
Misty: I don't know about you, dear Ruby, but I am very excited to see Miss Ryder's reaction to my surprise. I do hope she likes it.
Ruby: I do believe she will be quite surprised, my Queen. This is a wonderful idea.
Misty and Ruby both smile wickedly, and Misty lets out an evil laugh as she opens the door, allowing Ruby to walk in first. The two disappear inside the building and the cameras fade away.
---
The Young Lions are walking around backstage after Max's match. They seem to be in good spirits talking about their match in January.
Max: At least they know that we can hit back!
Trevor: That's right man, and they still don't seem like much of a team. I still think we can do this. All we need to do...
Trevor stops walking, looking up and having a strange expression on his face. Max does not notice at first and keeps walking. He then turns back around.
Max: What is it?
Trevor points up and the camera pans up. Karina Koji is standing on crates and appears to be talking to someone who is not there.
Trevor (whispering): Is that....
Max: Aleksei's crazy sister....yep I think so.
Trevor: She is kind a cute...
Max: Yeah, don't even go there.
Max then starts to pull Trevor along until out of nowhere Karina jumps off the crates and lands in front of them. She stares at both men but does not say a word. She then laughs with an odd rythem and sniffs at Max, which causes him to take a step back. She then grins, grasp at some invisible something with her right hand and strolls off.
Trevor: Man, I tell you what this place is crazy.
Max: ya think.
---
Backstage, Despayre is still busily wrapping presents with Angel's advice directing him. Pussy Willow strolls by and she stops, seeing the amusing scene. She walks up to Despayre and leans down and gives him a peck on the cheek, thanks to his mistletoe cap.
PW: Merry Christmas sweety!
She stands up and walks off and Despayre is staring down at Angel, holding his cheek.
Despayre: What do you mean I got it going on?
---
Justin Decent is standing inside of the ring with microphone in hand. He looks around at the audience, then surveys the outside of the ring. It is shimmering with various holiday colors "sprinkled" about on the ground. He smiles as he looks back up to the crowd.
Justin Decent: The following contest is scheduled as a Bombshell Battle Royale and has been designated as a Glass Bulb match! Introducing first, from Carpathian Mountains, standing at 5 feet 6 inches, weighing in at 116 pounds. She is…KARINA KOJI!!!
The arena goes black, then purple lights fill the arena. "The Ruler and the Killer" by Kid Cudi starts to blare from the loudspeaker and soon after it starts Karina Koji enters. She stares at the ring, seemingly unaware of the audience at first. Her oversized hoody hides most of her face and she is dragging a large metal bat behind her. When she reaches the ring she lifts up her hoody and smiles to the audience. She tosses the bat aside and enters the ring.
Justin Decent: And the second competitor… weighing in at 128 pounds, standing at 5 feet 7 inches, from Juneau, Alaska, she is… "THE PUNK PRINCESS" AMY MARSHALL!!!
The opening lyrics of Scream by the Mistfits hits over the pa.
Whoaa ohh ohhh x 3
Scream!
No sooner had those lyrics finished, the guitar cuts back in and strobe lighting begins to flicker.
A chill runs up your spine
it crawls into your brain.
The freezing touch of fear.
Amy appears at the top of the ramp, where she surveys her surroundings before raising her arms to make an X sign.
It's driving me insane
Although you try to fight
Dragged from the silence where you hide
'til you... Scream
Amy then begins to head down the ramp, as she ignore the fans around her before climbing inside the ring, where she climbs the turnbuckle and raises her arms high before blowing a single kiss towards the crowd. Amy then jumps off the turnbuckle and waits for the match to begin.
Justin Decent: Next up… she comes at us from Ottawa, Ontario, standing at 5 feet 6 inches, weighing in at 128 pounds, she is… VIXEN!!!
The throbbing beat of Light it up by Rev Theory is heard as Vixen walks out on the ramp, stepping up to the edge of the aisle and stands at attention before raising a hand to wave to the fans who cheer as she salutes and smiles before moving down to the ring. Standing on the apron, she steps on the bottom rope and backflips into the ring, moving to the corner where she climbs to the second turnbuckle and salutes the fans once more before jumping down to stretch slightly as the fans' chants begin to fade.
Justin Decent: And last, but not least, coming at us from Miami, Florida, standing at 5 feet 2 inches, weighing in at 120 pounds, she is… JESSIE SALCO!!!
The lights dim as the fast, charging riff of "Through My Eyes" by Threat Signal tears the PA System a new one and Jessie comes out with her brother Jake, the two do some headbanging at the top of the ramp before Jessie gets a running start before sliding into the ring, once she's on her feet she poses for the crowd before showing off her NXT armband and staring down her opponents.
DING! DING! DING!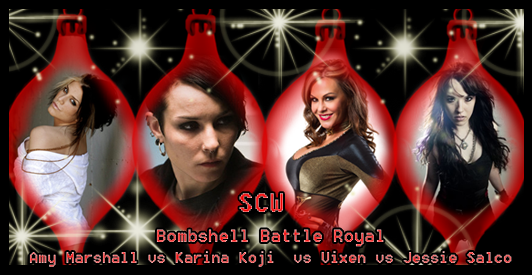 Adams: Santa has come early this year! The question is, have these bombshells been naughty or nice given the match stipulation?
Simone: The winner is bound to capture the attention of the higher ups as we've got some big names, all of them being former champions, and the current Bombshell Tag Team Champion in Amy Marshall.
All four women stand in opposite corners, sizing up their opponents. Jessie and Vixen look to each other with a sort of understanding as the ladies of NXT rush toward Amy Marshall. Amy ducks a clothesline from Jessie, but Vixen catches her with a German Suplex, but Amy is able to roll out of it before landing. She grabs onto Vixen's head and brings her down with a Reverse DDT. Karina stands in the corner, watching the others fight with an intensity in her eyes. Jessie surprises Amy with a Dropkick as she tries getting up from the mat. Jessie looks at the others, reaching down to help Vixen off of the mat. She and Vixen pick Amy off of the mat and they each hook an arm. They hoist her up into the air for a Vertical Suplex, holding Amy there for just a second until she reverses this maneuver into a Double Swinging DDT that crashes the ladies of NXT down to the mat. Before she can even get up, Karina dashes out of the corner and grabs onto Amy's ankle, locking on tightly to the tag champion.
Adams: Something seems… off… about Karina Koji tonight.
Simone: Something always seems off about Karina Koji… every night! But I agree, she seems extremely focused as if these ladies were her prey.
Karina wrenches Amy's ankle with an intense amount of pressure. She watches on with a sort of joy as Amy groans in pain. She allows the sadistic ecstasy of the groans distract her just long enough for Amy to get up off of the mat. She leaps on one foot as Karina tries her best to force her back to the ground. She grabs onto the ropes and leaps up, planting her free foot into Karina's chest, knocking her off. After that, she dashes forward with a springboard that she turns into a Hurricanrana on Karina. She lands the maneuver and sends Karina flying across the ring. She gets up just in time to get grabbed by the NXT girls. They toss her into the ropes and ready themselves for a double clothesline. Amy ducks under it, bouncing off of the opposing side, only to have Jessie and Vixen get the move they desired, knocking Amy right out of the ring!
Justin Decent: Amy Marshall has been eliminated!
Adams: And we have our first victim. Poor Amy Marshall will be picking pieces of ornaments out of her backside all the way into 2013!
Simone: The strange part is that she doesn't seem very concerned about that. She is more upset at Vixen and Jessie Salco eliminating her.
Amy tries to get back in the ring, a larger piece of the broken bulb in her hand, ready to cut someone. The referee stops her from sliding into the ring as he escorts her to the ramp. She crushes the bulb in her hand and drops the pieces, talking trash before turning to walk up the ramp. From the distraction of Amy Marshall, Karina leaps onto Jessie's back, pulling her down with her knees planted firmly against her back. They fall into a vicious backbreaker and Karina kicks Jessie off of her. She gets up just in time to get a Shining Wizard to the head. Vixen lifts Karina off of the mat and goes for a short-armed clothesline, but Karina ducks out of it, shoving her into Jessie Salco instead. The two ladies collide with each other and Karina gives them a double clothesline, knocking them out of the ring!
Simone: I can't believe it! Karina has eliminated… Wait a minute…
Adams: Vixen and Jessie are hanging onto that top rope for dear life. Karina thinks she has this thing won!
Karina turns around, a wicked smile on her face as she snarls at the audience members who are cheering. Jessie pulls herself up onto the apron first. Instead of helping Vixen, she runs over to the nearest corner and leaps up onto the top rope. She stalks Karina for a moment. Vixen finally steadies herself on the apron. She raises an arm up in celebration as the fans cheer just a little louder. Karina notices her music isn't playing so she turns back around just in time to get a flying DDT off of the top rope! Vixen launches herself onto the top rope and turns around, steadying herself. She leaps backward with a Moonsault, landing atop Karina, catching Jessie partially as well! Vixen is a bit affected by the maneuver, but she lifts herself up first, noticing she had gotten Jessie as well. She seems a bit upset by the fact as she goes to help Jessie up. Instead, Jessie locks arms with her and pulls her over in an arm drag that sends her skidding under the bottom rope and onto the broken bulbs!
Simone: The fans are booing, but technically Vixen is still in the match since she did not go over the top rope here.
Adams: She might still be in the match, but that has got to hurt!
Jessie looks down at Karina and lifts her up, practically carrying the Romanian Bombshell over to the ropes. She lifts the nearly dead weight up onto the top rope, but Karina locks on for dear life. She dangles on the rope as Jessie kicks and punches as quickly as she possibly can. She is frustrated and wants this win more than anything. After one last hard knee to Karina's side, she darts over to the opposing side, coming off with a shoulderbutt that sends Karina flying out of the ring. She lands on her back as the fans cheer. Jessie throws her arms up in victory, however, she doesn't realize neither opponent has been eliminated. Karina landed on her back. She scoots across the broken bulbs, cutting up her back as she moves to the ring steps. She places her feet on the bottom step and lifts herself onto them. She crouches down, watching Jessie very carefully as she pants.
Adams: I cannot believe what these ladies are willing to do in order to capture the bosses attention!
Simone: Karina is bleeding pretty bad. The back of her top is hanging on only be a few threats, clinging only from the blood.
Adams: Oh… you thought I didn't notice that top too, Belinda?
Vixen is bleeding from a few cuts on her leg and her right side. Her top is a bit torn as well as she slides in under the bottom rope. She quickly spins Jessie around and the two begin shouting at each other. Jessie shoves Vixen off, but then locks up with her. She tosses Vixen into the corner where she hits a Springboard Elbow to her fellow stable mate. She turns around and climbs on top of Vixen. She hits a few humiliating punches, getting the audience to count along with her.
1!
2!
3!
4!
5!
6!
7!
8!
As Jessie progresses, Karina charges up the steps and quickly works her way over to Jessie. She surprises the young rocker by climbing to the second rope and flinging her up and over with an armdrag, sending Jessie flying to the outside. She grips onto her back in pain.
Justin Decent: Jessie Salco has been eliminated!
Simone: The young Jessie Salco is very unpredictable, but all four participants in this match share the same quality. I think Jessie's rookie status had something to do with… Wait a minute, Jason…!
As Karina climbs down to the apron once more, preparing herself to climb inside of the ring, Vixen shoulderbutts Karina and steps outside of the ring in a very risky maneuver. She headbutts Karina and then Karina returns the favor out of nowhere. Both ladies teeter on the edge, but Vixen is quick to grab onto Karina's head and she flings her with a snapmare that sends her to the outside!
Justin Decent: Karina Koji has been eliminated! Your winner… VIXEN!!!
"Light It Up" by Rev Theory begins playing as Vixen relaxes her posture just a bit. She raises her arms up in victory as she steps back inside of the ring. Her face lights up as she rises onto the nearest corner. She pumps her arm a bit as the audience cheers her on. She turns around to leap off, only to get a quick shot to the face with the Bombshell Championship belt. Amanda Cortez is standing in front of Vixen as she stumbles back. Vixen lunges forward, but the smaller bombshell sneaks around her. As Vixen turns back to face Amanda, Amanda tosses the Bombshell belt to Vixen. As she catches it, Amanda kicks it hard into her face!
Simone: These two are scheduled to lock up for the championship in a few weeks at New Year Rising for the Bombshell Championship, but it looks like Amanda wanted to give a shot… or two, now.
Amanda picks up her belt and looks down at Vixen with disgust. She turns to walk out of the ring, but Vixen trips her up! She gets on top of Amanda and the two ladies roll around. Eventually, they roll right out of the ring and onto the broken glass bulbs. Both ladies get in their shots as their flesh is being ripped up. Amanda reaches down and picks up a piece, sliding at Vixen's left cheek! The bloodletting causes Vixen to pound the champion's head against the glass, grinding the side of her face into it. Before this can continue any longer, security comes down and breaks it up. Laura Jackson comes down to help her friend while Jessie shows good sportsmanship helping Vixen up. They raise their hands up in victory as the security leads them all to the back.
---
Backstage, the floor of the lounge is covered in the remnants of the colorful wrapping paper. Despayre looks around at the stacks of wrapped packages and is scratching his scalp. he looks down at Angel.
Despayre: Do you think I should have marked them first? I can't remember which one is for who?
He looks back down at the packages and sighs.
Despayre: I guess I have to sneak peaks. I can do that, right? Sneak looks at someone else's presents?
He looks to Angel for an answer.
Despayre: Well I don't see why not!? They're from us, after all!
He huffs and stares down at the packages, not seeing he has a certain someone coming up from behind. His not-so-secret admirer, miss Melody Grace, is peaking around the corner of the lounge, watching the pair. She then tip toes to the back of the sofa where he is in front of and she ducks down. S-l-o-w-l-y she rises up to watch and then maneuver around so that she can get closer, her eyes right on that mistletoe!
She creeps up beside him, his eyes down on the packages and he picks one up as she leans in...
Despayre: Don't even think about it!
Melody blinks and jumps back, startled! To say she was vastly disappointed would be a gross understatement. Her eyes closed and her bottom lip trembled. That was when the Santa hat was pushed onto her own scalp.
Despayre: My turn!
Her eyes open wide as Despayre leans in real fast and gives her a lightning quick smooch on the cheek. Melody does not react. Her eyes are wide and she just -- stares ahead. her hand slowly reaches up to her cheek as Despayre hops up, bringing Angel along with him. He takes his cap back and the pair walks off and Melody slowly -- tips over and crashes into the rubble of the wrapping paper!
---
The cameras open up just outside the NXT locker room. The door is open just a crack, and whispers can be heard coming from inside. The cameras approach quietly, sneaking a peek inside and everyone can see the Queen of the Damned, Misty, and her disciple Ruby, are seen decorating the locker room with Christmas decorations of all sorts. A small Christmas tree is set up, lined with some ornaments and tinsel, and two presents are placed under the tree.
As we get a closer look, the entire locker room is decorated with Christmas decorations. Misty is putting the finishing touches on her "gift" to Odette Ryder and the rest of NXT, that wicked smile of hers never leaving her face. She and Ruby and suddenly startled when the familiar voice of SCW reporter, Pussy Willow, comes from behind them.
PW: Misty? What are you doing in NXT's locker room?
Misty and Ruby both spin around to look at Pussy Willow. Pussy Willow looks at Misty suspiciously, but Misty has an innocent look on her face as she walks toward Pussy Willow, with Ruby staying where she is.
Misty: Oh, damn. I was hoping to leave this a surprise, but leave it up to one of our wonderful reporters to ruin it. Tell me, Miss Willow, do you like what I've done?
Pussy Willow looks around at the decorations lining the room. She nods her head slowly, but she remains suspicious of Misty and Ruby.
PW: It's very festive in here, I will admit. But, why have you done all this? You're not exactly close friends with anyone in NXT, especially not Spike or Odette. What are you up to?
Misty grins and folds her arms across her chest. She shrugs her shoulders and looks around at all of her hard work and smiles, satisfied with everything she did.
Misty: What am I up to? Why, Miss Willow, what makes you think I am up to anything at all? It's the last show of 2012, and Christmas is just two days away. It's the season for giving, and I wanted to do something special for everyone in NXT, especially Spike and Odette. Call it a sign of no hard feelings, and putting an end to all the drama from this past year.
PW: That's great and all, but do you really think they will believe any of it? You've been a thorn in NXT's side most of the year, and what you did to Spike…to your own family…is unforgivable. I think most would agree you wasted your time doing all this.
Misty frowns, and Ruby walks over to the two, glaring at Pussy Willow. She steps in front of Misty, getting nose to nose with Pussy Willow, almost hissing.
Ruby: How dare you! Your Queen has worked very hard on this special gift to the parasites known as The New Xtremes and you should all applaud her efforts! You dare question her motives around this time of year?!
Misty grabs Ruby's arm, gently pulling her back and away from Pussy Willow. Pussy Willow just looks at Ruby, not effected by her outburst.
PW: Applaud her? Really? All year Misty has thought of no one but herself, and she honestly expects everyone to believe that she did all this just out of the kindness of her heart? I'll say it again…No one will believe any of it.
Misty: Some reporter you are, Miss Willow. I don't care whether any of you believe it or not. Look, I even was kind enough to get gifts for Spike and Odette, and they are waiting for them just under the tree. It is their decision if they wish to open them or not, but I do hope they will. I put a lot of thought into those gifts and I think they are going to love them. Anyway, I believe my work is done here. If you'll excuse us, Miss Willow, we have one last surprise to take care of. It was a pleasure seeing you as always.
Misty snaps her fingers at Ruby as she walks past Pussy Willow. Ruby follows behind her, and when she walks past Pussy Willow, she snaps at her acting as though she was going to bite her. Pussy Willow jumps back, and Ruby laughs. The two then disappear out of the locker room and disappear down the hall.
---
The camera cuts backstage to a silver sports car. Hot Stuff Mark Ward stands next to it, along with a staff member.
HS: I'm telling you to stand here and watch this car.
The staff member nods blankly
HS: Are you listening to me idiot? This is a 1998 McLaren F1 car! Only one hundred and six ever made! This car just cost me an arm and a leg to have here, it cost more than you will ever make. Now I've dealt with Billy James, I need you to just stand here and keep an eye on this car until I get back. I got some paperwork to deal with and then I will be back.
Again the staff member nods blankly, Hot Stuff rolls his eyes.
HS: One more time, just in case you're not getting it. DO NOT take your eyes off this thing, do not move from this spot, do not disappear, just stand and watch it, got it?
The man nods again as Hot Stuff slowly shakes his head. Behind the duo, a man with a hood over his head stands watching closely at what is unfolding and the camera returns to ringside.
---
Justin: The following contest is a Garland strap match!
The fans cheer
Justin: Introducing first, from Canton, Ohio, weighing in at two hundred and fifty one pounds, he is The Withered Rose, he is Daniel Tyler!
"Hit Me With Your Best Shot" hits the PA as red and silver pyro goes off on stage. Daniel walks out and the crowd boos loudly as he poses on the stage. He walks down the ramp and in the ring, preparing for the opponent.
Justin: And his opponent, from Nashua, New Hampshire, weighing in at three hundred and seventy five pounds, he is the freight train of pain, he is Casey Williams!
As the screeching call of insanity of "All Aboard" hits the speakers, Casey Williams comes out, with the intense look in his face. As the guitar riff plays, Casey walks down the ramp, pauses, pyros go off behind him.
"Crazy,but that's how it goes
Millions of people living as foes
Maybe it's not too late
To learn how to love
And forget how to hate
Mental wounds not healing
Life's a bitter shame
I'm going off the rails on a crazy train
I'm going off the rails on a crazy train"
Then Casey climbs up the apron and over the top rope into the ring, and gives and angry yell. As Drew Patton attaches the garland to both Casey and Daniel's wrists, Daniel smirks at Casey. Drew calls for the bell.
DING DING DING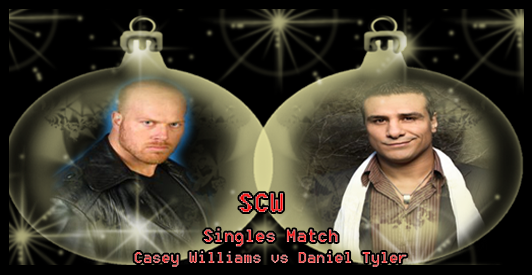 Casey instantly pulls Daniel in and nails him with a clothesline, almost taking the smaller man's head off his shoulders. Casey reels in the garland, pulling on Daniel's arm and tugging him to his feet. As Daniel returns to his feet, Casey pulls him in again, taking him down with a shoulder block. Casey looks down on Daniel and just steps on to him, stepping over the smaller man and crushing him under his weight. Casey turns around and steps over him again. Casey pulls Daniel back to his feet and lifts him up in a sidewalk slam, dropping Daniel down on his back. Casey reaches down, grabbing Daniel by the hair and pulling him back on to his feet, forcing him back in to the corner. Casey lifts his hand and slams a huge club like fist to Daniel's chest, creating an echoing thud around the arena. Casey lifts his arm again and clubs down another thumping fist. Daniel stumbles out of the corner and Casey puts the garland around Daniel's chest and pulls him backwards, putting his knee up and nailing him with a unique backbreaker. Casey rolls on top of Daniel
1...
2...
Daniel kicks out
Adams: Casey clearly not getting paid by the hour here.
Casey pulls Daniel back to his feet, but Daniel quickly nails Casey with a low dropkick to his knee, rocking Casey slightly. Casey lifts his damaged leg and Daniel nails him with another quick dropkick to Casey's other knee, knocking him down and off his vertical base. Casey rolls away
Simone: Smart from Tyler to take the much bigger man off his feet.
Casey rests on his knees but Daniel nails him with a kick to the chest, followed by a quick second kick to the chest. Casey rocks backwards but Daniel kicks him hard in the face. Casey falls to the flat of his back and Daniel jumps up in the air, dropping down with a standing elbow drop. Daniel moves to Casey's feet, trying to pick up his legs, possibly looking for a sharpshooter but Casey kicks him away. Casey sits up but Tyler moves in close again and blasts Casey in the side of the head, sending the big man backwards on to the flat of his back. Tyler leans over Williams and starts to punch Casey hard in the head, doing all he can to keep the big man down. Tyler gets back to his feet, pulling Casey with him, by gripping both hands around the side of his head and lifting him up. Tyler pulls Casey towards one of the six turnbuckles, catching him with a quick shot to the jaw. Daniel takes hold of Casey's head as he climbs on to the second turnbuckle. Daniel takes Casey by the head, wrapping him in a front face lock and jumps off the second turnbuckle, gripping Casey's head and dropping him with a ring shaking tornado DDT! Daniel goes for the cover and Drew drops down to count.
1...
2...
Casey kicks out
Simone: More instinct than being fully aware.
Adams: Yeah, Daniel just scrambled Casey's egg.
Daniel picks Casey up again and drops him down with another DDT, Casey's head seemingly the target for the arrogant Tyler's attacks. Tyler picks up Casey by the head but Casey quickly nails him with a headbutt, sending Tyler to the canvas. Tyler looks shocked but Casey reels in the garland, tugging Daniel to his feet with his arm leading the way. As Tyler gets to his feet, Casey lifts him high above his head in a military press slam. Casey steps towards the rope and drops Tyler across the top rope. Casey grabs Daniel's legs and pulls him off the ropes, sending him crashing face first to the canvas. Daniel rolls over, holding his face and Casey picks him up off the floor. Casey tries to nail Tyler with a shot to the head but Tyler ducks underneath Casey and wraps the garland around Casey's throat and moving being the freight train of pain. Tyler drops down with a hanging neck breaker!
Simone: Tyler turns it around again.
Tyler leans back against the ropes, waiting for Casey to get back to his feet. As Casey does, Tyler jumps over the top rope and pulls Casey in the same direction, pulling his arm and shoulder over the rope, ripping it down on the top rope.
Adams: Tyler now working on Casey's arm.
Simone: He could be softening up that arm for the cross armbreaker.
Tyler quickly gets back on the ring apron and wraps the garland over the back of Casey's neck, and holds Casey's throat over the top rope. Tyler jumps up while holding Casey's head down and nails him with a kick to the head. Casey stumbles back and Tyler stands up on the ring apron and holds on to the top rope. Tyler springs over the top rope and dives towards Casey, dropping him down with a heartbreaker clothesline.
Adams: Tyler showing his all round skills
Casey rolls away but Tyler stomps on his shoulder. Tyler takes the garland in both hands and drops to his knees behind Casey, wrapping the garland under Casey's arm. Tyler grips the garland and puts his knee on Casey's back, gripping the garland tighter and pulling it backwards, wrenching back on Casey's arm, trying to pull it out of place. Tyler punches Casey in the back of the head while he lies prone on the floor. Casey gets to his knees, but Tyler wraps the strap around Casey's throat. Casey fights to his feet and drops backwards, crashing Tyler to the floor. Casey rolls off from Tyler, shaking his head and trying to get his barings. Casey gets to his feet first and Daniel charges him, but Casey puts up a foot and catches Daniel under the chin with a big boot! Daniel crumbles to the floor, rolling over and holding his face, but Casey pulls him back to his feet. Casey lifts him up with a torture rack and drops Daniel down with a back breaker.
Simone: Casey getting dominant here
Daniel rolls and Casey steps over him, but Daniel moves under Casey's legs, pulling the garland with him and lifting it up high, catching it underneath Casey.
Adams: Ohhhhh right in the Christmas crackers!
Casey doubles over as Daniel claims his innocence to the referee. Casey moves to towards the ropes, pulling himself up, still feeling the pain but Daniel continues to argue with the referee. Casey turns around, pulling the garland in towards his and cracking Tyler in the side of the head with a huge, almighty punch to the head!
Simone: Kiss Of Death!
Daniel slumps down to his knees and on to his back. Casey leans over Daniel and drops down to his knees, covering him. Drew Patton drops down to count.
1...
2....
3!
DING DING DING
Justin: The winner of the match.... CASEY WILLIAMS!
Simone: Casey has knocked out another victim!
Adams: He's going in to two thousand and thirteen on a roll!
---
Odette Ryder and Melody Grace are seen walking backstage, heading towards NXT's locker room. They are chatting and laughing amongst themselves, and when they finally reach the locker room, Odette opens the door without looking first. She has her head turned towards Melody, and is saying something when Melody notices the fully decorated locker room. Her eyes go wide and her jaw drops and she taps Odette on the shoulder. Odette goes silent and looks around the room, a little shocked.
Melody: Oh my! Who did this?! This is amazing! Look! There's presents too!
Melody runs over to the little Christmas tree set up in the room and looks at the gifts. She grabs one of the two gifts, and shakes it a little trying to figure out what it is. Whatever is inside doesn't make much noise. Melody looks at the name tag and turns to face Odette. Odette is still looking around the room at all the decorations.
Melody: Hey! O, this one is for you! I wonder what it is.
Odette: For me? Who is it from?
Melody shrugs and hands the gift to Odette. Odette eyes it suspiciously. She, too, shakes the box trying to figure out what is inside. Just as she is about to unwrap the gift, Melody grabs the other gift and looks at the name tag.
Melody: The other one is for Spike. You don't think these are from---
Melody stops in mid-sentence as she and Odette both notice a card placed under the tree. Odette reaches for it, and as the camera zooms in we see in very neat cursive handwriting, Miss Odette Ryder is written on the front of the envelope. Odette sighs, getting a good idea of just who went to such lengths to decorate this room.
Odette: Oh, I think I know just who did this, Mel. Let's see what her majesty has to say!
Odette sets the gift down for just a moment as she opens the envelope and pulls out Christmas card. She reads the note silently at first, then Melody looks at her curiously, so she reads it aloud.
Odette: To Miss Odette Ryder. Wishing you the Merriest Christmas season and an even better Happy New Year. As a token of good faith and to prove there are no hard feelings, please join me in the ring as I have one very special Christmas surprise for you. Feel free to bring the gift I left under the tree. See you very soon, Miss Ryder! Your Queen…Misty.
Odette lets out a laugh, and she places the card back in the envelope. She rolls her eyes and looks at Melody.
Melody: You're not actually going to go out to the ring, are you?!
Odette: Oh I'm going out there alright, and I'm returning this gift! She's not fooling me one bit! Do me a favor. Go find Gabriel and tell him I'll be there once I'm done with this business.
Melody looks reluctant, but Odette reassures her everything will be fine. Odette grabs the gift Misty left for her, and heads out of the locker room. Melody follows behind her shortly after, but she walks off down the opposite direction of the hallway from Odette. When Melody disappears down another hallway, Misty's disciple, Ruby, is seen following slowly behind her, almost stalking her, with an evil grin on her face.
---
Tom Dudely stands backstage with a staff member, Stoner Scott Oliver.
Tom: What the hell is Wyatt doing back? I ended him! He shouldn't even be around, I got rid of that useless hick months ago.
Christian Underwood stands behind Tom and Stoner
Christian: I told him he could come back
Tom looks enraged.
Tom: Why? Why would you do that?
Christian: I don't have to really answer that but well, it's fun to just mess with you.
Tom tries to speak, but Christian quickly puts up a hand.
Christian: I am glad you mentioned about people who are not meant to be here, because last time I checked, you're still suspended and shouldn't be here at all.
Tom: But...
Christian: But nothing.
Christian points behind Tom to show security guards. Tom shakes his head slowly in disappointment, but looks straight at Christian.
Tom: I will be back tonight.
Christian puts his hand up and waves Tom off. Christian shakes his head and smiles.
Christian: Lot of people getting kicked out tonight.
---
Light it up by Rev Theory begins to play as the fans rush to their feet again.
Simone: Vixen can't be coming back out here. She was left a bloody mess earlier when she and Amanda Cortez brawled in the glass bulbs. What could she have to say?
Adams: I don't know what she has to say but I do know one thing about that woman.
Simone: What is that?
Adams: Santa is putting her under my tree this Christmas. I have been suuuch a good boy.
Vixen slides into the ring, still dressed in her ring gear that is still bloody. Her cheek is covered with a bandage but a trail of dried blood rests under the covering. Being handed a microphone, she smiles only to bring a hand up to check at her cheek. Lifting the microphone, she addresses the empty rampway.
Vixen: I bet you thought you were so smart Amanda. Thinking just because you got the drop on me in the ring tonight and made me bleed I am going to be intimidated by the big bad Bombshell champion. All you did was light a fire Amanda, a fire that is going to burn you when I challenge you for your title.
Vixen begins to pace in the ring, still glaring at the ramp entrance.
Vixen: Tonight we started something that management wants to see finished at New Year Rising when I beat you for your title. But you know what…I don't think I can wait that long so why don't you bring yourself out here now and we'll finish it here in the ring.
Simone: Vixen is calling out the Bombshell champion.
Adams: That might not be a very smart idea for her. She must have lost quite a bit of blood earlier. Maybe it affected her brain.
Simone: Vixen won't let a little thing like losing blood get in the way of getting her revenge for what Amanda did earlier.
Vixen paces, mouthing a countdown as she does. Finally, she stops and looks back up the ramp.
Vixen: Just like I suspected. Well you can't say that I am going to let an opportunity escape me that easily. If you won't come out, then I am going to come right back there and find you.
Vixen drops the microphone and slides out of the ring. Heading up the ramp, she is followed by a cameraman who keeps her in view. Vixen can be heard calling for the Bombshell champion as she heads towards the locker room area. Out of an open door, Amanda charges Vixen sending both bombshells to the floor.
Simone: My god, someone get back there now, those women are going to kill each other.
Vixen and Amanda are rolling around on the floor again when Vixen mounts the champion and begins to rain down hard rights and lefts before being physically pulled off by Spike Staggs. Laura Jackson pulls Amanda to her feet and drags her kicking and screaming away from Vixen who is fighting to get away from Spike. Laura gets Amanda out of the corridor as Spike turns Vixen towards him. The cut on her face has opened up again as the bandage is hanging by only one side. Concerned, Spike holds Vixen's uninjured cheek.
Spike Staggs: She's gone Vixen. Her friend took her out of here. Let's go get you stitched up.
Vixen angrily huffs then seems to deflate slightly, her anger fading somewhat into a look of frustration.
Vixen: Damn it…she is going to pay for tonight Spike. No one and I mean NO ONE does what she did and gets away with it.
Vixen nods slowly, slipping into French as she does.
Vixen: Je me souviens (translation: I remember)
The pair walk off as the camera view heads back to ringside.
---
Suddenly, without warning, the lights in the building go off.
Simone: Hey! What the heck's happening!?
Adams: Oooo! Who wants to tell ghost stories!?
The crowd murmurs in agitation and confusion over the sudden darkness and what is happening, when the SCW-Tron over the stage flickers to life. A message begins to scroll over the screen...
The screen then flickers off once again and the lights come back on.
Adams: What was that? What don't I know?
Simone: I'm in a jolly mood. I'm going to let that golden opportunity pass me right by.
---
Justin Decent: Coming in just three weeks...!
NUMBER ONE CONTENDERS MATCH FOR THE ROULETTE CHAMPIONSHIP - ROULETTE RULES
DANIEL TYLER VS ARGENTO VS THATCHER REX
---
The camera focuses on the ringside area where a sleigh has been stationed at the ringside area, fixed with wheels and four medical attendants, two on each side.
Justin: Ladies and gentlemen! The following contest is the Santa's Sleigh Match! The only way to win is by hurting your opponent to the point where they can be removed from the ringside area in Santa's Sleigh, through the curtains!
The crowd cheers for the announcement of this unusual match.
Justin: Introducing first! From Parts Unknown, weighing 300 pounds, he is the 'Sin of Wrath' ... Rage!
Waking The Demon by Bullet for My Valentine starts to play over the sound system, as thick smoke and red strobe lights flash near the backstage entrance. The music plays for several seconds before the Sin of Wrath, Rage, appears from behind the curtain. He stands at the entrance for a few moments before he raises his clenched fist above him, eliciting cheers from the crowd. He makes his way to the ring with a dark look on his face. He enters the ring, stepping over the top rope and he heads to the center of the ring. Rage looks to the backstage entrance as his music dies down and he waits for his opponent to enter.
Justin: His opponent hails from Detroit, Illinois, weighing 240 pounds, he is one-half of the SCW Tag Team Champions ... Kain!
The song, On We March, fills the air with its thumping bass drum and the noise creeps its way in. As the ominous bass-line begins to play, the couple walk out, hand-in-hand. As the crowd spews their venom towards Kain, he replies back with an angry snarl, his eyes never wavering from the ring. As soon as the couple finishes their walk on the ramp, Ariel steps behind her man, unties the robe and takes it off him, removing his cowl as well. Kain's muscular body is shown from head to toe, along with the title that's around his waist. While the crowd still continues to boo him, the women cannot help but scream for him while the men cannot help but look at him and be jealous of his look and stature, cameras flashing everywhere in the arena. Kain turns to his girl and the two embrace each other in a deep, passionate kiss. Then Kain breaks it off and climbs up the steel steps. He places both hands on the top rope from the apron and jumps on it. A second later, Kain executes a forward-flip. As he lands into the ring, flaming pyro explodes from all four sides. He takes his belt off his waist and goes to each of the four corners, climbing on top of each and raising his title in the air. He laughs and smiles widely, his white teeth showing as the cameras flash rapidly from the crowd. He jumps down on the last turnbuckle and looks at his title hard before shoving it to the referee, who quickly backs away from him and hands it to the outside. Kain walks to his corner, turns around, and Rage suddenly plows right into him with a big boot to the face that knocks the tag champion through the ropes and to the ringside floor!
Simone: Christ! Rage is not waiting to get this one started!
Adams: He wants to get home fast and open his presents!
Rage climbs through the ropes and drops down to go after Kain, and Drew calls for the bell!
Ding!
Ding!
Ding!
Rage quickly drops to the floor and presses his immediate advantage by grabbing Kain by the head and slugging him with a right cross which sends "the King" back against the barricade that separates the action from the crowd. Rage then buries a fist deep into Kain's stomach, doubling him over, and quickly scores with an elbow to the back of the head!
Adams: Kain is on fire tonight!
Simone: Well both of these men are going to want to end this one as fast as possible to keep from suffering any damage going into January and 'New Year Rising' on the horizon!
Rage grabs Kain by the head and drags him over to the ring and slams his head down into the apron. Kain turns around, holding his head in pain. Rage then clotheslines him back against the apron where he has nowhere to go and so his neck and back take the brunt of the impact in one fell swoop. Rage then takes a step back to size him up when Kain surprises him and dives into the larger man, slamming him back against the barricade! Kain brings a knee up into Rage's ribs, then grabs him by his smooth scalp and brings a knee up hard into his head.
Simone: I don't think anybody was expecting this one to be technically sound, no matter what stipulation they may have drawn.
Adams: I wouldn't think so. We got probably the two toughest S.O.B.'s in the entire SCW fighting it out here right in front of us.
Kain unloads with a short series of lefts and rights into Rage's head. He then grabs the Sin of Wrath by his arm and goes to Irish whip him into the ring steps but Rage counters with a reversal and sends him in instead! Kain strikes the steps with such force that he himself is sent flying over them and he tumbles to the floor! Rage walks over and grabs a power cord that is by the ring barricade and he wraps it around Kain's throat and he chokes him viciously!
Adams: Boy I hope that Sabrina chick Rage has been hanging around with isn't watching this or else it's back to square one!
Rage then lifts Kain to his feet, and then short-arm clotheslines him back down. Then he finally rolls the one-half of the tag team champions back into the ring and follows in himself.
Adams: I kinda wonder what the point is in taking the fight inside of the ring. I mean, the sleigh is on the outside so why not keep fighting there?
Simone: I never thought I'd say this, but you have a point.
Rage pulls Kain up and he delivers a scoop slam to his opponent, then rebounds off of the ropes and drops a leg down across Kain's throat. Rage pulls him up once again, but this time he Irish whips him into the far corner and charges in right after him, but Kain moves out of the way and Rage crashes into the turnbuckles! Kain then mounts the corner, pinning Rage in, and he starts to unload a series of fists to the Sin of Wrath's head with the fans counting along!
1...
2...
3...
4...
5...
6...
7...
8...
9...
10!
But Rage grabs him around the legs and turns around, depositing Kain back into the corner. Before Rage can follow up, Kain nails him right in the head with a martial arts kick that sends the big man staggering back! Kain then stands tall on the very top turnbuckle and launches himself, catching Rage with a missile dropkick that fells him like a towering oak!
Adams: I never even knew Kain was capable of taking to the air like that!
Simone: I'm not entirely sure that there isn't anything Kain can't do if he sets his mind to it!
Rage staggers to his feet and falls back against the ropes, and is in prime positioning for Kain to barrel right into him with a running lariat that sends both men toppling over the top rope and they crash to the floor!
Adams: Now *this* is more like it!
Kain grabs Rage and drags him over toward the sleigh and pushes him down into the seat and shouts at the paramedics to "hurry the Hell up!" The four medics (three men and one woman) start to wheel the sleigh up the aisle but they do not get far as rage manages to get up and tumble out from the rear. Kain is right there, waiting, and he grabs Rage and brings him up and over to the hard ringside floor with a gargoyle suplex!
Simone: Give Kain props for being able to perform such a maneuver to a man Rage's size!
Adams: Well Kain is no slouch either. He might not be as big as Rage but he is as strong as an ox.
Kain then wanders over to the ring and he throws the apron up and starts to search under the six-sided ring.
Adams: What's he looking for, do you think?
Kain then pulls out a steel folding chair and a kendo stick!
Simone: I hope that answers your question!
Kain holds the weapons up in the air and lets out a fierce battle cry and the crowd cheers!
Adams: Nothing spells the holiday season like swift and blinding violence!
Kain turns around but Rage is back on his feet and he delivers a running boot right to Kain's chest, knocking him back against the sleigh! Kain drops the steel chair but holds onto the kendo stick. Rage grabs the chair and goes to hit Kain with it, but Kain ducks the wild swing and then he himself swings the kendo stick right into the face of Rage!
Adams: What a shot!
Rage immediately drops the chair to the ground and staggers back, holding his head, and Kain swings the kendo stick into rage's wide, exposed back repeatedly until the bamboo weapon splinters! Kain then wraps the shattered kendo stick around Rage's throat and takes him down with a side Russian legsweep to the floor!
Adams: And in case anyone out there is wondering; given the stipulations of this match... these two can use anything they can get their hands on.
Simone: Speaking to our viewers?
Adams: Our readers, actually.
Simone: Excuse me?
Kain throws the remnants of the kendo stick to the floor and then climbs up onto the ring apron. He waits for Rage to return to his feet and Kain jumps off at him for a double axehandle, but Rage clotheslines him right in mid-air!
Simone: Holy...!
Adams: Spirit!
Simone: Nice save!
The crowd cheers the move and the chant begins;
"SCW!"
"SCW!"
"SCW!"
Rage grabs Kain and sets him into position for a powerbomb, but instead of driving him down into the floor, he throws him back against the guard rail!
Simone: God that could have seriously injured Kain's back!
Kain sinks to the floor, his face the tell-tale sign of the maneuver's damage! Rage then grabs him and hauls him into a fireman's carry and dumps him into the sleigh. With a finger pointing to the back, Rage demands the medics do their duty and they start to wheel Kain toward the back but, despite his injury, Kain climbs out of the sleigh and escapes the match ending.
Simone: Kain has perhaps the most fighting spirit out of anyone I know of in this company. I thought that would have been it!
Rage then looks for a weapon under the ring and pulls out a sledgehammer and a fire extinguisher. Rage goes after Kain with the sledgehammer, but Kain moves and the sledgehammer hits the ring post instead!
Adams: Oh that was lucky!
Rage angrily throws the sledgehammer to the floor and goes after Kain, but Kain manages to grab the fire extinguisher and he sprays it right into Rage's face, blinding him! Rage staggers back, his eyes clenched shut and swinging blindly. Kain swings the extinguisher into Rage's side, knocking him around. With his back now turned, Rage is a sitting duck as Kain leaps and bulldogs the Sin of Wrath face-first into the floor!
Adams: What a shot!
Simone: Look! Rage is busted open!
Indeed he is, as the shot from the kendo stick earlier had started it but the bulldog to the floor has opened the wound wide and a streak of crimson is now running down Rage's forehead and into his eyes! Kain backs up and waits as Rage slowly returns to his feet. As the bloodied Rage turns around, Kain dives off of the ring apron and takes Rage down with a flying clothesline! Rage is left wide open and Kain starts battering him in the face and head with lefts and rights, pummeling him!
Adams: Kain is serving notice to Rage and everyone else watching! He is not ready to drop any match to any one so son after winning the tag team titles!
Kain grabs Rage and drags him to him feet and they start throwing punches.
Simone: It looks like Rage has had enough!
Adams: I admire Kain's guts but he shouldn't be trading punches with a man like Rage!
Lefts and rights are flying between both men but Rage gains the upper hand and he knocks Kain back with a solid right to the temple! Rage then lunges with an arm extended for a clothesline but Kain ducks, and when Rage turns around!
Adams: Whirlwind Fist!
The spinning back fist from Kain catches the big man right in the head, but not with the full force that Kain had intended! None the less, Rage stumbles around and Kain goes for Malice, but Rage, still with his senses, blocks the maneuver and he starts fighting Kain off with elbows, driving him back! Rage then turns around and grabs Kain by the throat with both hands and hauls him into the air in a standing choke hold! Kain fights dirty as well and he stops Rage's onslaught with a simple finger poke to the eye.
Adams: Could you possibly imagine these two on a team?
Simone: A scary thought to be sure.
Kain then grabs Rage from behind and brings him over with an Angle Slam to the floor!
Simone: Both of these bruisers are taking some severe punishment for this one!
Adams: And why not? Neither wants to lose when both have major matches coming up in our January supercard! Rage has a possible shot at the heavyweight title on the line and Kain has to defend the tag gold!
Kain, just as hurt as his opponent, is slow to get to his feet. He grabs Rage and slowly drags him toward the sleigh where it is once again stationed at ringside. Rage tries to fight him off, kicking at him, but Kain blocks it and grabs both of Rage's feet and pulls him over toward the entrance area with the sleigh. Rage then finally gives one powerful push with both legs and kicks Kain off of him completely and Kain hits his back against the edge of the sleigh!
Adams: Kain's back has got to be in knots by now!
Kain stumbles off of the sleigh and turns and spots a metallic trash can against the ring. He grabs it and turns it over, dumping the refuse to the floor. Kain then brings the trash can up and goes to swing it at his opponent, but Rage answers back by simply punching the trash can, sending it back into Kain's face!
Adams: Now *that* was cool!
Rage holds his fist in obvious pain as Kain rolls on the ground, holding his face!
Simone: Looks like Rage got some payback for Kain busting him open!
Indeed as now there is a flow of blood coursing down from Kain's nose! Rage slowly stalks his wounded opponent and he grabs him by the head and goes to drag him forcibly to his feet when Kain head butts Rage right in the face! Kain then attempts a second Whirlwind Fist but this time Rage blocks it and he grabs Kain by the throat and choke slams him right on the floor!
"SCW!"
"SCW!"
"SCW!"
Rage is looking down at Kain and is seething! He grabs the tag champion and throws him over his shoulder and dumps him into the seat of the sleigh! Rage then walks over to a camera and pulls the plug...
Simone: What the hell is he doing? He just unplugged that camera from the extension cord!
Adams: Well if you know that, then you know what the hell he's doing.
Simone: God you're an annoying little toad!
Adams: You fancy me, don't you?
Simone: What!?
Rage walks over to the sleigh and his intent becomes clear as he starts to wrap the cord around the back of the sleigh seat and Kain, tying him in! Kain starts to become alert and he begins to struggle but Rage ties the cord tight and he shouts at the medics to go! Kain struggles and curses but the medics pull the sleigh up the aisle and they vanish behind the curtains before Kain can escape his bonds!
Adams: Rage wins!
Justin: The winner of the Santa's Sleigh match ... Rage!
The crowd cheers as Rage has his arm raised while holding his bleeding scalp with his free hand.
Simone: Rage is indeed the winner but Kain gave him absolute Hell in this one!
---
The lights in the arena go out. Thick gray smoke fills the backstage entrance where a spotlight now shines. The opening beats to "The World Belongs To Me" by My Darkest Days begins to play through the building. Several seconds into the music, the enigmatic figure of Misty, fully cloaked in her long black robe, emerges from backstage. She is alone, however, as her disciples are nowhere to be seen.
Simone: I can't be seeing this right. Is Misty really coming out to the ring without her disciples?
Adams: I think it's time for you to get glasses!
Indeed, Misty is alone. She slowly makes her way to the ring, ignoring the booing from the crowd as she looks around, smiling maliciously at each one of the fans that heckles her. She laughs it off, and continues her way to the ring.
Simone: I think everyone is curious to see what this surprise is that Misty has planned for Odette Ryder. You know she is up to something!
Adams: I don't know. I think she's being sincere! I think she's being honest tonight.
Simone: Right. And pigs can now fly.
Adams: They can?!
You can almost hear Belinda's eyes rolling with that comment. Misty has made it to the ring at this point, and she walks up the steps and steps through the ropes. She walks over to the other side of the ring, kindly asking Justin Decent for a microphone. He hands her one, and she walks to the center of the ring as her music dies down, but the fans are relentless in their booing. She rolls her eyes with a smile on her face as she raises the microphone to speak.
Misty: Merry Christmas to you, too! Show a little joy this season, would you?!
The boos get louder, so Misty only raises her voice more so they can hear her.
Misty: I'm not going to sit here and waste my time speaking to you fools any longer than I should, so I'll just get down to business. Because it's Christmas and I'm in the Christmas spirit, I planned a couple of different surprises for tonight's show. After all, it is the last show of the year, so we need to go out with a bang before New Year Rising, don't we?! Now, earlier I left a heartfelt card in NXT's locker room for Odette Ryder and I'm hoping she has received the message by now. I asked her to join me in the ring toni--
Misty is suddenly cut off as Odette Ryder's music starts to play. She lowers the microphone and looks towards the backstage with a devious and satisfied smile on her face.
Adams: Where's my popcorn?! We're about to witness a catfight!
Simone: I don't think catfight would be the appropriate word to describe it, Jason. I'm not so sure it was a great idea for Odette to come out here tonight.
"Oooh whatcha gonna now? Whatcha gonna do when the rhythm comes kickin you?" as the spine tingling sounds of Dimestone Hood blares across the personal address system the SCW arena fills with darkness. The sound of cheers can be heard as the majority of the male fans start hooting and hollering as they await the arrival of one of their favourite bombshells to emerge from behind the thick black stage curtain. "Breath life a disease gonna get you, off of me" as the lights start to flicker bright shades of blue, the curtain starts to open and slowly Odette's dainty figure is shown standing at the top of the ramp, holding the gift Misty left her in her hand. Biting her bottom lip Odette surveys the crowded arena, whilst simply placing her hands down by her side. Starting her short journey down the cold steel ramp Odette's skin is covered in goose bumps as the crowd is cheering in appreciation. Her black ripped jeans hug so tightly to her glittery skin as the lighting in the arena slowly starts to return back to normal. Sliding into the ring under the bottom rope the camera man can't help but try to get a sneaky look down the front of Odette's super tight top, noticing this Odette gives the camera a cheeky smirk. Jumping up to her feet she walks over towards the ropes, turning sharply just before reaching them, Odette hooks her arms around the top rope using the curves from her elbows. Justin Decent hands her a microphone, and she turns around giving Misty her full attention as her music dies down. Misty smiles at her, and just as she is about to speak, Odette cuts her off.
Odette: Allow me to spare everyone from having to hear you speak any further, Misty. I only came out here to give this gift back to you because personally, I don't want it. The only gift you're going to give me I'll get on January 14th, when I beat you right here in this ring and prove that you're not everything you think you are!
The crowd cheers Odette and Misty just laughs. She nods slowly as Odette holds the package out to her, expecting her to take it back. Misty looks down at it, refusing to take it.
Misty: Aww, Miss Ryder, aren't you the least bit curious as to what I got you? Go ahead and open it.
The crowd urges Odette not to do it. She shakes her head, refusing to give in and Misty seems disappointed.
Misty: Okay, okay. I can understand why you'd be a little...hesitant...to accept anything from me, but I promise you what is in that box is harmless, Miss Ryder. Open it.
Misty urges her to open it, but the crowd continues to shout no. Odette looks at the package, fighting her curiosity. She looks back and forth to the gift and them around to the crowd, growing more confused. Misty smiles, knowing Odette is on the verge of giving in. Odette sees the smile and that seals it for her. She throws the gift down much to Misty's disappointment.
Odette: I'll see you at New Year Rising, your majesty.
Odette tosses the microphone down and is about to exit the ring, when a young woman shouting is heard throughout the arena. Odette stops dead in her tracks, looking around, as Misty stands where she is with that never fading sadistic smile of hers. Odette seems worried as she looks around, and suddenly, the screen lights up with a live feed from the parking lot. Ruby and the other disciples are dragging someone to the van!
Simone: Oh my God! They have Melody Grace! Misty's disciples have Odette's best friend and number one fan!
Odette's eyes are glued to the screen in horror. She watches as Ruby and the brother's drag Melody to their van, and put her in the back. After the intial shock wears off, she attempts to make a run for it and dash backstage to try and save her best friend, but Misty is quick to run towards her and hold her back. Odette fights to break free but Misty won't let go. Not yet.
Misty: What's the matter, Odette?! You don't want to open my gift to you?! Well, look at your first gift to me, Odette. Take a long look. Did you stop and think for a moment why I came out to the ring without my loyal disciples? Without Ruby? THIS is my special surprise for you, Miss Ryder! You left me no choice, and you're helpless to save her. Try if you wish, but you'll never make it out there in time.
Misty releases her hold on Odette and Odette dashes out of the ring and backstage. Misty watches her disciples do their work in the parking lot and she starts laughing sadistically. The crowd boos her and she raises the microphone one last time.
Misty: Merry Christmas, Miss Ryder! I'll be sure to take wonderful care of Miss Grace, and I'll see you next year.
Misty drops the microphone and walks over to pick up the gift Odette threw to the ground. She takes it in her hand with a grin, then exits the ring as the crowd boos her viciously. She walks backstage arrogantly and without a care, knowing that Odette's world has just been turned upside down.
Simone: I don't believe what we've just witnessed. Misty has stooped to an all new low, and we can only imagine what this will do to Odette Ryder. I guess we'll find out at New Year Rising.
Adams: I hope Odette whoops Misty's arse!
---
Hot Stuff Mark Ward sits in his office, flicking through some paperwork. On the wall, a widescreen television set is seen. Hot Stuff glances up at the action, but the lights in the room go out and the television set cuts to black.
HS: What the hell? Someone should be paying the damn electric bill in this place!
The television flickers back in to life, showing the McLaren F1 car in flames and the staff member guarding it on the floor, looking unconcious. Hot Stuff's eyes go wide as he looks at the screen.
HS: Son of a...
The flames leap higher and the hooded man is seen....the audience roars with delight!
Adams: OH MY GOD! It's Kain!
Simone: Kain not only knocked out the guard that was instructed to watch Mark Ward's McLaren F1, but he torched his car! Is Kain out of his mind?
Adams: No, Simone, this is payback!
Kain tosses the gas canister and gazes into the camera with serious malice in his eyes. The camera cuts to Mark Ward, who is fuming with rage as the camera returns to Kain, who shook his head.
Kain: Mark, Mark, Mark. Did you really think that you could one-up me, in this game of ours? Are you still enraged by the fact that I showed up, out of nowhere, and made you piss in your pants, shaking you up and killing your confidence for that one moment? Did you really think that you would be able to walk away, unscatched, from delaying my flight recently, in order to not make it to my first tag-team championship match? You better think again, little man. I know you all too well and if you think this is game you can win, you are sorely mistaken.
Using his right hand, he lifts a finger and points towards the burning car.
Kain: I want you to think of this moment as your empire slowly, but surely crumbling to the ground. I told you before; I'm not done with you. Not by a longshot! Admittedly, you had me beat at London Brawling. You earned my respect, as I have earned yours. But this fight between us isn't over and if you think you can continue to walk around and think that you'll never face me again, think again on that one as well. I have no intention of backing down from any fight and you and I have a score to settle. Somewhere down the road, you and I will test each other's mettle in combat, one way or another. That being said, I also want you to think of this as a warning. I'm the man around here; NOT YOU. I'm the man that makes Sin City Wrestling what it is today. Without me, Mark Ward, you or Christain are NOTHING.
He smirks as Mark Ward is shaking with anger all over in his office chair, humiliated and enraged beyond all reason.
Kain: Do me a favor, you worthless asshole. Stay the fuck out of my way. You let me do what I want, when I please, how I please, and nothing bad will happen in the future. You also make sure to call off your watchdogs, Nick Jones and Jordan Williams, your two best friends, off of anyone that doesn't deserved to be harmed and finally, for the time being, I suggest you give Casey Jones the rematch he deserves with Spike Staggs for the SCW heavyweight championship. You weren't there, but you must have enjoyed that feeling when Nick Jones and Jordan Williams screwed him over. I am not friends with the man, but he deserves one more shot, so I suggest you give it to him. And when I'm done defending the tag-team titles, Mark Ward, when I have no other choice but to drop them, you are going to give me a shot at the SCW heavyweight championship. I don't care who it is against; against Nick Jones, against Jordan Williams, against Spike Staggs, against Casey Williams, it doesn't matter who. You know that I am the man destined to usher this place into greatness and make it better than you or Christain Underwood could!
Do all of this and we will be fine. You don't and your burning car will be the least of your problems!
Suddenly, security arrives on the scene as Kain quickly vanishes from the shot. Mark Ward clenches his fist and then hops over his office chair and rushes out the office as the camera fades into black.
---
The scene cuts to the ticket counter outside of the Glacier Gardens.
Salesman: Next!
Tom Dudely walks up to the ticket window.
Tom: I want a ticket.
Salesman: Will that be VIP seating, lower level, or nosebleeds?
Christian: I think he'll take outside seating.
Both Tom and the salesman are startled as Christian Underwood steps out of the shadows behind the ticket window. Tom's expression turns to anger as he looks at SCW's "other" boss through the glass.
Christian: Don't you learn Tom? I thought that you were too smart to risk your job by defying my suspension. I guess I was wrong. One thing that I am right about, though, is that you will not be getting inside this building again tonight.
Tom: We'll see about that.
Tom fishes a cell phone out of his pocket and starts pushing buttons.
Christian: Go ahead and call Mark. I'm pretty sure that you're pretty low on his priority list right now though. I guess you'll just have to wait out here in the cold.
Tom jams his phone back into his pocket and starts walking away. Christian calls out after him.
Christian: Thanks! Enjoy the view from your seat!
The scene fades.
---
Justin Decent: Coming in just three weeks...!
BOMBSHELL ROULETTE CHAMPIONSHIP MATCH - ROULETTE RULES
BECKY "RAGDOLL" JONES VS ALEXIS MORRISON
---
The camera returns to the ring which has now been gloriously transformed into a den of holiday torture; the ring ropes have been completely removed, and save for two neutral sides, replaced by razor sharp strands of barbed wire. On the floor of the two neutral sides, rests planks of wood with barbed wire laid out upon it. And to add a bit of festive cheer (yeah, right!), as per the stipulations of the match, the barbed wire (in lieu of ropes) has been decorated with silver and red garland and decorative holiday lights.
Simone: That looks absolutely morbid.
Adams: I have to admit I'm feeling a bit squeamish, myself. I mean, we've had some rough matches here in SCW, but this is our first barbed wire match. That is just taking things to the extreme!
Simone: If you think you feel squeamish, imagine how the participants are going to feel.
As if on que, "Darkside" blasts across the sound system of the building, heralding the start of the Main Event of the evening!
Justin: Ladies and gentlemen, the following contest is the Christmas Lights Barbed Wire match! It is scheduled for one fall to a finish!
The crowd applauds with apprehensive anticipation for this sure-to-be violent encounter.
Justin: Introducing first, accompanied to the ring by Sapphira! He is originally from Utrecht, in the Netherlands, but now resides in New York, New York, weighing 239 pounds ... Goth!
"Darkside" blasts across the sound system as Goth walks out to the ring, he is dressed in a long black Goth like robes. He is followed to the ring by Sapphira, who is wearing her usual Goth dress. Goth stops halfway the entrance way and stares at the crowd who are booing the owner of the AWA who grins and walks further on. Sapphira removes his robes and remains at ringside while Goth carefully climbs the steps to the neutral side of the ring and steps inside to await his opponent.
Adams: Did you hear what Goth had to say during his promo about his opponent, Jordan Williams?
Simone: I did indeed! He does not care if the two are partners this January during the Stable Wars match! Goth is just as willing to hurt Jordan as he would be anyone else.
Adams: That's going to make for an interesting time between now and then.
Justin: His opponent hails from Atlanta, Georgia, weighing 253 pounds ... Jordan P.S. Williams!
"Thugz Passion" by Tupac blasts the system and Jordan Williams walks out to a mixture of cheers and boos. Jordan avoids the fans who have their hands out for him to high five before he climbs onto the apron and into the ring. Jordan climbs onto the middle rope and throws up his double guns pose before jumping down to the mat.
Simone: Jordan was not happy over the fact that Christian supposedly pushed his weight around to book this match.
Adams: Funny. He doesn't seem to mind too much when it's Mark Ward who's drunk with power.
Simone: Of course not. That's because when that happens, it's usually to Jordan's benefit. That right there shows Jordan Williams is little more than a raging hypocrite.
The referee, Jasmine St. John, carefully enters the ring as Goth and Jordan stare one another down. The lights in the building slowly dim and the ring is illuminated by the multitude of Christmas lights adorning the ring. The bell sounds!
Ding!
Ding!
Ding!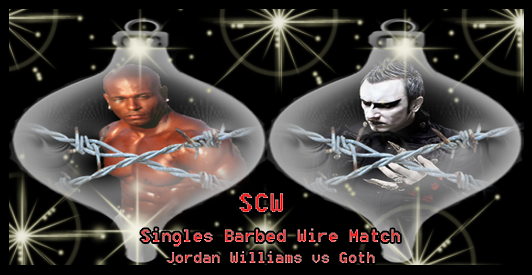 Adams: God this is giving me the heeby jeebies!
Goth and Jordan end their stare down and slowly start to circle the ring, carefully keeping their distance between their backs and the barbed wire. They size each other up in the center of the ring when they dive forward, locking up in the classic collar and elbow. They struggle briefly and Goth takes the upper hand and slowly begins to back Jordan up, and closer toward the barbed wire.
Simone: This is going to be one major factor in this match. The vast majority of wrestlers use the ropes as a key factor in their arsenal. In a match like this, there are no ropes to utilize against your opponent.
Adams: Unless of course your plan is to slice an' dice them.
Goth forces Jordan back and almost has him backed against the dangerous barbed wire when Jordan uses his vast wealth of ring experience and ducks back and down, arm dragging Goth over to escape his predicament.
Simone: Very crafty maneuver there by Jordan Williams! You know everyone speaks of Goth's ring knowledge and his psychological warfare against opponents, but this is one time I think Goth is in there against someone who has him bested in experience.
Goth gets up slowly, a sneer on his face, and he and Jordan lock up again. Jordan shifts his weight and grabs Goth by the hair and goes to run him into the barbed wire, eliciting a shriek from the crowd onhand, but Goth puts his foot up against the barbed wire to prevent it! Goth's foot goes down to the mat and Jordan tries to force his head into the wire but Goth is struggling against it, bracing himself!
Simone: For all their bravado, neither of these men wants to be the first to have blood drawn.
Adams: Would you?
Goth turns into Jordan and buries a knee into his ribs, knocking Jordan back off of him. Goth then delivers a solid boot to the midsection of Jordan and then brings a European uppercut to his head, sending the former multiple champion staggering back. Goth then ensnares Jordan's head into a side headlock and now it is Goth who is trying to force his opponent's head into the mass of entangled, jagged wire.
Adams: There is no way that this one is going to have any real technical displays by either dude.
Simone: Absolutely none. This one is all about blood and violence.
Jordan sneaks a foot behind Goth's ankle, blocking his attempts and then counters, bringing the gothic enigma down with a modified side Russian legsweep. Jordan turns over to grab him but Goth sweeps his feet out from under him and uses his weight to pin him down while he brings three fists into Jordan's skull. Jordan rolls him over and now it is Jordan who is on top and driving the fists home. The two men roll over, trading swings, and the crowd cries out in alarm!
Adams: They're at the edge! They're at the edge!
They stop rolling right at the very edge of one of the neutral sides of the ring with no barbed wire ropes! Goth is behind Jordan and he starts pushing, trying to force Jordan over the edge!
Simone: If either of those men take a tumble, they are going to be in for a world of hurt! there are beds of barbed wire down on those two sides of the ring!
Jordan is holding on desperately to the apron and bracing his feet as Goth tries to force him off of the edge! Jordan is hanging halfway over at the waist as Goth is using all of his strength to try to throw him off the apron by force! Jordan forces himself back up by sheer strength and will power alone! He rolls back over and plants both feet into Goth and kicks him back and down to the mat. Both men climb back to a vertical base and begin to circle once again. Then, from out of nowhere, Jordan jumps up and connects with a perfectly executed dropkick. Goth goes down and Jordan is right on him, pulling him back to his feet. Jordan goes for a whip into the mass of wire but Goth reverses it and Jordan simply collapses to the mat, preventing any painful mishaps.
Adams: Oh that was close!
Simone: And fast thinking by Jordan.
Goth comes right for him but Jordan spins on the mat and uses his own legs to take Goth's out from under him. Jordan leans over to grab him but Goth lunges up and tackles him to the canvas! Goth wraps both hands around Jordan's throat in a vice-like grip and starts choking he life out of him while Jasmine calls for an immediate halt!
Adams: Hey can she do that? I mean, can she actually force a break from something like a choke in a match like this?
Simone: She's the referee, Jason. She can do anything she wants.
Jasmine orders Goth to end the choke hold and then grabs his arm and tries to force the break when he releases Williams and stands upright, staring the referee down with anger burning in his eyes. Goth then goes back and grabs Jordan, pulling him to his feet. He slaps on a side headlock to again try to push him into the ropes but this time Jordan counters by lifting him up and over with a release belly to back suplex.
Simone: Right on the back of his head!
Adams: That Jordan is always thinking.
Simone: Yes it's called self preservation.
Jordan stands up with an all-too familiar arrogant smirk on his face. He grabs Goth and drags him to his feet. Jordan then goes to Irish whip him into the barbed wire -- but Goth reverses it suddenly and he sends Jordan into the jagged steel instead!
Adams: Oh my God! Oh my God!
The crowd seemingly shouts in unison in alarm as Jordan arches his back and pulls his arms away, his face grimacing in agony!
Simone: Jesus! First blood goes to Goth!
Adams: First blood is right! Jordan's back and arms are bleeding already!
Jordan staggers forward, grasping his arms, and Goth dives into him with a lariat that sends Williams crashing back to the canvas! Jordan rolls over to shield himself but this leaves his back wide open as Goth digs his nails into the damage and rakes his back!
Simone: That is sick!
Adams: That is Goth!
Jordan forces himself up to his knees and Goth grabs him around the throat from behind and swings three clubbing blows down into his exposed head and chest! Goth grips Jordan around the throat with both arms and then starts to spin around in a circle, bringing Jordan with him for the ride until Goth just lets him go and Jordan hits the mat!
Adams: Goth is sick tonight!
Goth walks over to where Jordan has landed and grabs him by the legs, then falls back and catapults Jordan over -- and Jordan lands chest first right into the barbed wire!
Simone: No!
Adams: I never thought I'd see the day I felt bad for Jordan Williams!
Jordan just hangs there in the mass 'web' of barbed wire, his agony obvious! Jasmine tries to get Goth to back off so that she can get Jordan loose but he'll have none of it as he grabs Jordan by the head and forces his head against the barbs and rakes him deep! On the outside, Sapphira is screeching in glee and clapping!
Adams: That chick is nuttier than a Christmas fruitcake!
Jordan finally staggers back and his forehead is bleeding profusely by this time!
Simone: Jesus! Jordan Williams is in serious trouble!
Goth grabs him in a double underhook and suplexes Jordan up and over, bringing him crashing down with a heavy impact! Goth rolls over and makes the cover!
1.....
2..... Jordan kicks out!
Simone: I don't know how the hell Jordan did that but give the man props, no matter your opinion of him!
Goth grabs Jordan and drags him over to one of the neutral sides and again tries to force him over the edge! Despite his injuries, Jordan grabs hold of the apron and a nearby web of barbed wire and hangs on! Goth pushes and struggles but Jordan is going nowhere! Jordan swings his elbow back, driving it into Goth's head repeatedly until finally his grip eases. Jordan rolls over and Goth grabs him by his bloody head and swings a fist down into his head! Goth then drags him to his feet and goes for another fist but Jordan blocks it from out of nowhere and then answers back with a fist of his own, stunning Goth!
Adams: You know if Jordan hadn't turned into such a wanker, this would be about where the fans started to rally behind him.
Jordan punches him again but Goth rakes his eyes, temporarily blinding him! Goth then goes for an Irish whip but Jordan counters! He ducks into the maneuver and grabs Goth in a bearhug and suplexes him over -- and Goth lands upside down against the barbed wire! Sapphira screams incoherently! Goth falls down to the mat, clutching his back and the barbs are sticking into his leather pants as well!
Simone: Jordan can make a come back now. he really needs to get it together because he has found a hell of an opponent here in Goth tonight!
There are deep cuts and scratches in Goth's back and Jordan waits behind him as his opponent slowly rises to his feet. Jordan then grabs him around the waist from behind and brings him over with a German suplex! Jordan holds on, drags him up and repeats the maneuver a second time -- and a third! Goth lays limp on the mat and Jordan covers him, hooking the leg!
1.....
2..... Goth kicks out!
Adams: Wow! Just ... wow!
Jordan grabs Goth in a side headlock and goes to run him head-first into the barbed wire but Goth manages to put the breaks on, holding himself at bay! Jordan strains to get him there when Sapphira reaches into the ring and grabs Jordan's foot and pulls, taking it out from under him! Jordan stumbles down to one knee, forcing a release of Goth.
Simone: Jordan has got to be careful with that wicked witch! He's alone out there and Sapphira is as dangerous as her man!
An incensed Jordan stands up and turns to face her down. he starts yelling at her when Goth is up and he clotheslines Jordan from behind, knocking him against the barbed wire again!
Adams: And there's the benefit of having someone out there!
Sapphira removes the black sash from around her waist and she throws it to Goth who catches it and he wraps it around Jordan's throat from behind and he starts choking the life out of him! Jasmine jumps in and tries ordering Goth to end this but Goth is simply ignoring her demands, tightening the grip as much as he can while a hurt and bleeding Jordan struggles and flays his arms! Goth then looks to the open side of the ring and smiles.
Simone: Oh my God. he's not going to...
Goth drags Jordan up with the sash as a handle and goes to hurl him off of the ring apron but Jordan's experience plays a factor as he drops down and uses the momentum to counter and he instead throws Goth off of the apron! Goth goes flying and lands right in the bed of tangled barbed wire to the screams of the fans!
Adams: No but Jordan sure as hell will!
The camera catches Goth laying back-down in the barbed wire and he looks to be in agonizing pain! Sapphira runs over and is screaming and shrieking at the top of her lungs as Jasmine looks out and reluctantly, starts to issue her mandatory count!
1...
2...
3...
4...
5...
Goth slowly starts to get up, the barbs sticking to his flesh and attire!
6...
7...
8...
9... And he manages to crawl back onto the apron and end the count!
Jordan immediately dives down onto him and drops one ... two ... three straight elbows into his back. Jordan then returns the favor from earlier and he slowly rakes his own nails across Goth's bleeding back! Jordan then just starts unloading on Goth, beating down against his head and body with lefts and rights! Goth tries to shield himself but the blows continue to rain down on him!
Simone: Jordan is acting as a man possessed!
Adams: The Marauder is loose!
Jordan then grabs a fist full of Goth's hair and drags him over to where the web of barbs is and sticks his head through the jagged strands. Jordan then turns Goth around and pulls his opponent's pale features against the barbed wire! Sapphira screams wildly as Goth struggles and yells out as his skin is raked open!
Adams: I think I'm going to be sick! I never thought Jordan could be *this* sadistic!
Goth manages to put a boot into Jordan's stomach and literally kick him off. Jordan stumbles back and Goth is able to free himself from his predicament with the blood running down his face.
Simone: The sick part is I'm not sure the blood phases that lunatic!
Goth wipes his face with his hand and stares at the crimson stain on his fingers. he then looks up at Jordan and snarls -- literally -- and he suddenly charges at Jordan who catches him with a lightning fast powerslam! Jordan hooks the leg!
1.....
2.....
3 - No! Goth kicks out!
Jordan then drags him up again and sets him into a double underhook position. Jordan lifts him up but not the entire way and he just dumps Goth on the back of his head and shoulders in a jackknife powerbomb! Goth is folded over for the cover!
1.....
2.....
3 - Goth powers out and the momentum throws Jordan off and he falls off of the apron and into the barbed wire on the floor! The crowd screams in alarm as Jordan lays there, bleeding and his face a mask of crimson pain!
Simone: My God these two men are literally putting one another through Hell!
Adams: I think this is going way beyond anything Christian intended!
Goth is slow to recover as Jasmine has no other alternative than to begin her count against Jordan.
1...
2...
3...
4...
5...
6...
Goth then breaks the count, rolling out of the ring. He leans down and grabs Jordan, pulling him up from the bed of wire as the barbs stick to him and his attire. Goth rolls Jordan back in and then climbs back in himself. Goth covers him.
1.....
2.....
3 - Jordan gets the shoulder up!
Goth throws him back down and covers him a second time.
1.....
2..... Jordan kicks out again!
Goth grabs Jordan by the head and he starts pummeling him in his open wounds, then proceeds to lunge forward with his teeth and...
Adams: He's BITING him! Goth is BITING Jordan Williams!
Simone: I knew he was sick but Jesus Christ!
Adams: Will you stop that!? It's Christmas! This is no time to be bringing Jesus Christ's name into anything!
Jordan yells and kicks as Goth chomps down but finally relents and ends the biting! Goth drags Jordan up and ducks behind him for a release belly to back suplex right on Jordan's head!
Simone: Jordan might be out of it!
Goth with the cover!
1.....
2.....
3 - No! Kick out!
Adams: Not quite!
Goth pulls him up again and doubles Jordan over with a boot to the midsection. Goth then grabs him in a front facelock...
Simone: Chaos DDT? If he hits it, Jordan is history!
Goth goes for it when Jordan suddenly counters, bringing Goth over with a Northern Lights suplex!
1.....
2..... Goth kicks out!
Both men get up, obviously hurt and bleeding profusely! Jordan comes rushing him but Goth counters with a spine buster! He jackknifes Jordan into a cover!
1.....
2.....
3 - Kick out!
Goth yells in frustration and turns to glare at Jasmine who reiterates it was only a count of 'two'! Goth pulls Jordan's limp form to his feet with a degree of difficulty and pushes him back against the barbed wire.
Simone: I think Jordan was able to use his arms that time to block most of the damage.
Goth stalks around the ring in a circle until he flies at Jordan -- and a spray of green mist emits from Jordan's lips and right in Goth's eyes!
Simone: What the Hell was that!?
Goth falls back, clutching his eyes, blinded! He staggers around, swinging blindly, when Jordan rushes him and catches him in a Running Float-over Neckbreaker Drop!
Adams: TG4U!
Jordan staggers to his feet and walks over toward the corner of the ring where he slowly, carefully, starts to ascend!
Simone: Is he nuts!? If he falls on that barbed wire...!
Jordan slowly stands, sizing the downed Goth up, and he leaps and hits...
Adams: High Fly Flow!
Jordan clutches his ribs as he covers Goth, hooking a leg!
1.....
2.....
3!
The crowd can not help but cheer! Not for Jordan specifically but for having been treated to such an epic contest!
Simone: What a match! My God what a match we just saw! Jordan Williams has earned this one! He can say whatever it is that he wants but Goth took him to the absolute limit!
Justin: The winner of the math ... Jordan Williams!
Adams: I think we're going to need some help out here for these two... too late!
The crowd cheers as Primetime Matthew Kennedy races down the aisle and to the ringside area! He slides inside of the ring and attacks Jordan from behind with a flying bulldog! Goth is slowly getting to his feet and Primetime runs right into him with a clothesline! Primetime starts kicking first Goth, and then Jordan!
Simone: Primetime better get the Hell out of there! Help is coming for Jordan and Goth!
The crowd boos as Nick Jones, accompanied by Big B and Tony, race down the aisle towards the ring!
Adams: And here's the calvary!
Nick and the Entourage are intercepted by SCW Heavyweight Champion, Spike Staggs, Casey Williams and Jamie Staggs! A three-way brawl erupts on the floor! Primetime grabs Goth to continue his attack but Jordan slams a double axehandle into his back, stopping him! Jordan then holds Primetime by the arms and allows Goth free reign to attack Kennedy with fists and kicks!
Adams: I think Primetime needs some help!
Simone: Where the hell is Aleksei!?
The camera cuts to the outside of the building in the parking lot of the Glacier Gardens and random fans and staff are standing and watching as a wild brawl is taking place between the aforementioned Aleksei Koji and Tom Dudely! The two men are trading blows back and forth between them, pummeling each other's heads and bodies with lefts and rights! Tom drives a knee up into Aleksei's stomach and throws him against the hood of a car! Tom comes in after him but Aleksei kicks him off and tackles him to the pavement! The two men roll around on the ground, trading clubbing blows while staff and security attempt to break the pair up!
Back inside, security is trying in vain to break the fight up on the floor between Nick and the Entourage and NXT! Goth switches places with Jordan and he now is holding Primetime while Jordan grabs him by the jaw and reads him the riot act, slapping him across the face! Jordan goes to strike him but Giani Di Luca jumps in and grabs Jordan's arm! Giani spins Jordan around and he starts to swings lefts into Williams's head as Primetime breaks loose from Goth and snapmares them both over!
Now Christian Underwood is out on the stage and madly beckoning through the curtains and suddenly reinforcements surge through in the form of the locker room! Derek Thorne! Rage! Gabriel! Despayre! Synn! Kain! Max Burke! Trevor Irons! Frost! Daniel Tyler! Blade Alexander! Argento! Thatcher Rex! They all race down and fight to aid the security to pry the brawling NXT and Legends apart!
Simone: This is a freaking mad house!
Adams: Would this be a good time to wish everyone a Merry Christmas?
Simone: I think it would, Jason! While we get order restored, everyone out there have a Merry Christmas!
Adams: And a Happy New year!
Jason then holds a mistletoe up over Belinda's head and steals a quick peck on the cheek as the show comes to a close.
---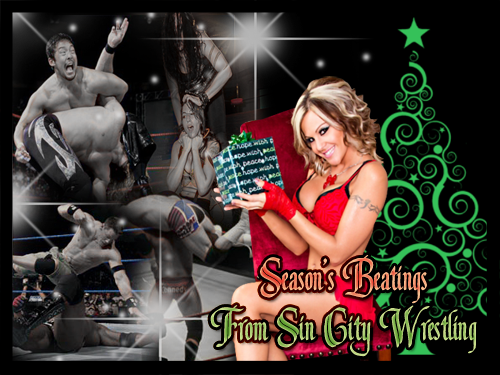 ---
THANK YOU: To Chris, Mark, Erik, Aleksei, Maggie, Tom, Mete, Craig, Vixen, Mike. Also to Vixen again for all the match graphics and the one above too, and to our roleplayers. Thank you for making SCW a success in 2012, to everyone who has helped out in some way during 2012, we thank you. Have a very happy holiday time, look out on New Years Eve for the next card. Be good and we'll see you in 2013!