The SCW in accordance with Generation-X Entertainment is proud to present...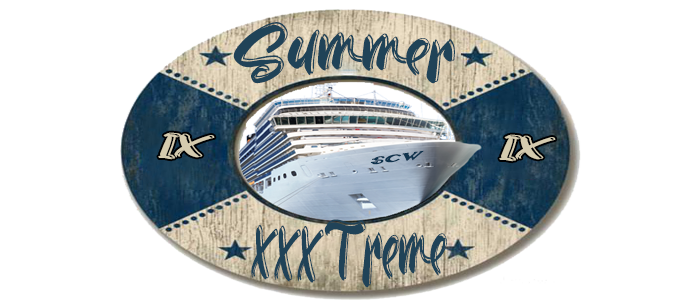 ---
DATE: 07/18/2021
Deadlines:
First RP Period Deadline:
United States: 11:59pm EST Saturday 07/10/2021
England: 04:59am Sunday 07/11/2021
Second RP Period Deadline:
United States: 11:59pm EST Friday 07/16/2021
England: 04:59am Saturday 07/17/2021
SINGLES RP NOTES: One RP per character minimum
Two RPs per character maximum
One RP per RP period allowed
10k word limit per RP
ALL TAG TEAM RP NOTES:
One RP per team member per RP period
5k word limit per RP
Locale: Sun Princess Cruise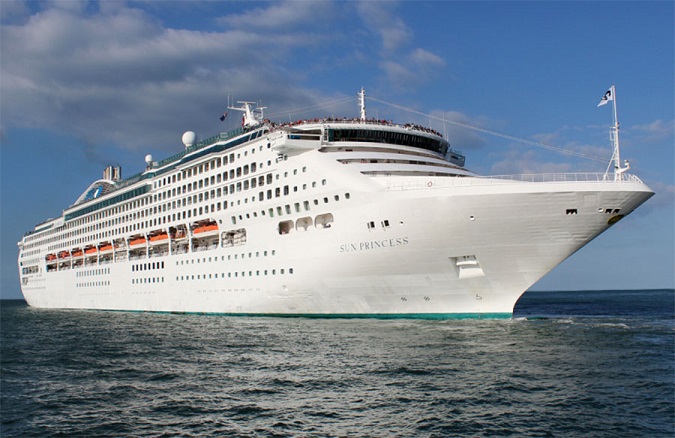 ---
It's HERE! The hottest event of the summer in all of the SCW Universe! The temperatures have been soaring the world over but on the open sea, they are about to reach SCORCHING levels as we board the Sun Princess for the 2021 Summer XXXTreme IX!
---
Summer XXXTreme IX will be broadcast free on the Armed Forces Network for all the brave men and women around the world, defending our freedom!
---
Friendly reminder, SCW General Manager Brooke Saxon made note of some strict rules to ensure the safety of fans, staff and the wrestlers alike;
1- Each ticket purchased will come with a safety bag. (A safety Bag includes a company logo face Mask, one .5 oz bottle of hand sanitizer, and a pair of XL gloves. Masks must be worn in all areas of the building.
2- Tickets to all shows going forward will only be sold at the SCW shop and only available to the local residents in which the show is being held.
3- Tickets will be sold no earlier than 48 hours of the show. (For SCW, look at it as the promo deadline is when tickets go on sale for that show and SCU shows.)
4- Everyone entering the building will get screened to read their temperature.
5- All food sold going forward will be already wrapped. All drinks will now be sold only in cans or bottles. No fountain type drinks.
6- Food can only be consumed in the designated areas in which masks can be taken off temporarily. All merch bought at the event will be done by credit cards, the shops will no longer take cash.
Anyone not abiding by these rules will be removed and barred from all future SCW/SCU and GRIME shows.
---
SINGLES MATCH - LAST CHANCE QUALIFIER
SHANE BORDERLAND vs AGOSTINO ROMANO
"Hot Stuff" Mark Ward and Christian Underwood are nothing if not generous! They know that their talent are always out seeking opportunities to prove themselves and secure championship gold. They knew that both Agostino Romano as a former two-time Internet Champion and the newcomer, ring veteran Shane Borderland, had much to prove. So, these two men kick this evening off in a match where the winner will move on later this evening and be the third and final challenger in the Ultimate X Over the Pool match for the Roulette Championship!
---
BOMBSHELL ROULETTE CHAMPIONSHIP - ULTIMATE X OVER THE POOL
KRYSTAL WOLFE (c) vs MAKI vs BEA BARNHART
It has been a long and hard journey for these three women but we hold the first of the two traditional Ultimate X Over the Pool matches, this being for the Bombshell Roulette Championship! The champion, Krystal Wolfe, has proven herself to be a worthy champion but in this match, ring skill plays less of a factor when champion and challengers each attempt to scale across the Ultimate X to secure the championship belt in the center of the X! And if you fall into the pool, you're out of the match! And Krystal has her work cut out for her as both Maki and Bea Barnhart have fought to earn their way as her contenders here tonight!
---
SINGLES MATCH
KEIRA FISHER-JOHNSON vs AZURINE VEBBINS
Despite her recent string of success stories inside the six-sided ring, word has gotten out that Keira Fisher-Johnson has been in something of a slump - mentally. Her original match for this event had to be changed and tonight, she goes up against none other than Azurine Vebbins. Keira is everything a Bombshell strives to be, and Azurine will certainly be looking to use her as a stepping stone on her way to the top!
---
WORLD MIXED TAG TEAM CHAMPIONSHIP
AUSTIN JAMES MERCER and TEMPEST vs MILES "MILO" KASEY and SELEANA ZDUNICH
Both Miles Kasey and Seleana Zdunich worked their way to get this chance at championship gold, both winning their respective Golden Ticket matches this past week! But will the ends justify the means because this means those two lucky stars now get to face the gargantuan and merciless Mixed Tag Team Champions - Tempest and Austin James Mercer for the gold! The champions won the titles in their first time teaming together... could these fresh faced challengers repeat history in their favor?
---
SINGLES MATCH
GOTH vs BRAYDEN HILTON
This next match is truly a battle of the generations! Youth versus experience! Brayden Hilton arrived like a house on fire and has let everyone know that HE is the next big thing! But in doing so, he has also dropped hints that he was interested in a match against ring legend and SCW Hall of Famer Goth. Well, who are we to argue? What Brayden wants - Brayden gets! So its the brash upstart rookie vs the ring legend! Brayden may come away from this one wishing he had kept his mouth shut!
---
SINGLES MATCH
ROXI JOHNSON vs CHAR KWAN
Char Kwan is nothing, if not confident. And despite the fact she did not walk away the winner of her match with Seleana this past week, she is all but refusing to admit that she was defeated. Is Char in a state of denial? Well she had best clear the cobwebs because there will be NO denying anything when she finds herself opposite of a true living legend in the Bombshell division; none other than Roxi Johnson!
---
GLITTER BOMB MATCH
CANDY vs VIOLET AMELIA HOLT
Violet Amelia Holt started this one - BIG surprise there! Why anyone goes out of their way to pick on Candy is beyond me, but Violet did, and this match has been signed, sealed and delivered to hopefully settle whatever grudge exists between these two. Well, on Violet's part. We don't think Candy is capable of bearing a grudge with -- ANYONE! And to make matters more interesting, Mark Ward sought to torment Christian by giving Candy what she wanted - a GLITTER BOMB match!
---
SINGLES MATCH - OPEN CHALLENGE
CHRISTINA ROSE vs JESSIE SALCO
When a star the magnitude of Christina Rose issues an open challenge, you'd be a fool not to force yourself front ad center to answer! Because a match against a wrestler the caliber of the record setting champion will make or break ANYONE'S career! And that is EXACTLY the opportunity Jessie Salco has went after when she got ahead of everyone else and answered Christina's challenge! This one could easily steal the show!
---
ROULETTE CHAMPIONSHIP - ULTIMATE X OVER THE POOL
ALEX JONES (c) vs CALEB STORMS vs TBD
It's the men's turn to scale the Ultimate X Over the Pool to retrieve the Roulette title belt from the center! Alex Jones has been a dominant and defending champion, but all the skill and experience in the world may be for naught in a match like this! Plus, not only is he facing a familiar and formidable challenger in Caleb Storms, but an unknown commodity in whomever wins the Last Chance Qualifier earlier in the night!
---
SINGLES MATCH - BEST TWO OUT OF THREE FALLS
SAMANTHA MARLOWE vs ANDREA HERNANDEZ
Andrea claimed and "confirmed" that she was done with Samantha Marlowe, and being who he is, Christian couldn't help but go against that boastful declaration and schedule one more match between these two rivals, just ONE! The FINAL match and this time it will have a definitive outcome because this match will be a Best Two Out of Three Falls so there will be no dispute over who is the winner, and who walks away the victor of not just the match, but the overall feud as well!
---
BLINDFOLD MATCH
BELLA MADISON vs MERCEDES VARGAS
This all started several weeks ago when a mystery attacker took a weapon to the leg of Bella Madison, costing her a shot at championship gold. That attacker turned out to be none other than Mercedes Vargas who used the opportunity to steal Bella's spot in the contender match for herself! Now, these two women have been fighting back and forth and now they meet to finally (hopefully) settle the score between them once and for all! And when she won the right to decide the stipulation between them, Bella chose something VERY appropriate! Mercedes blind sided her, so she is going to blind Mercedes - Blindfold that is!
---
TAG TEAM MATCH
FENRIS and BROTHER DAVID SHEPHERD vs SENOR VINNIE and BULLDOG BILL BARNHART
The war between Fenris and David Shepherd has been ongoing for well over three months, and we thought we saw it all in their epic one on one this past Into the Void X when "it" happened, and by "it," we of course mean THE KISS! We thought that meant everything had changed between the two, but it would seem we were mistaken because the insults and arguing just keep coming! Christian saw no other alternative but (to be a dick) to make Fenris and David have to work together as a team, and face two men who are not just close friends but have teamed together in the past; former World and Internet Champion Senor Vinnie and his pal, former Mixed Tag Champion "Bulldog" Bill Barnhart!
---
SINGLES MATCH - TITLE VERSUS TITLE
AMBER RYAN (c) vs MYRA RIVERS (c)
Who is THE most dominant female in Sin City Wrestling? That debate started six weeks ago when Myra Rivers made the bold claim with her record setting title reign as clear evidence. The reigning World Champion Amber Ryan took offense and a war between the two top and most dominant women in SCW was ignited! The bosses know a money maker when they see one so tonight, the answer will be settled! Two champions will walk into this match, and one woman will walk out with not one but TWO championship belts as this is not just for bragging rights, but it is Winner Take All!
---
And in the MAIN EVENT...
---
SINGLES MATCH - TITLE VERSUS TITLE
MARK CROSS (c) vs MAC BANE (c)
With his pinfall win over Mac Bane in this past week's mixed tag team match, Mark Cross secured for the Superstars this Main Event slot! And like their Bombshell counterparts, these two men will seek to answer just who is the more dominant of the two Superstars; the World Champion or the Internet! And don't be fooled, this past week's win for Cross does not answer that question, nor does it give him a distinct edge going into this match. Mac is just as wild and experienced as Mark, and Mac knows that a cocky Superstar like mark just might let such a win go to his head. If he does, and if Cross becomes overconfident, Mac Bane knows then that it is the right time to strike and walk out with two championship belts!
Tune in to see all this and so much more as we bring you SUMMER XXXTREME IX